Why Genius Brands Stock Was Up Big Today
What happened
Shares of Genius Brands (NASDAQ: GNUS) jumped 9.2% in today's trading session, according to data from S&P Global Market Intelligence. The children's entertainment stock gained ground amid momentum for the broader market.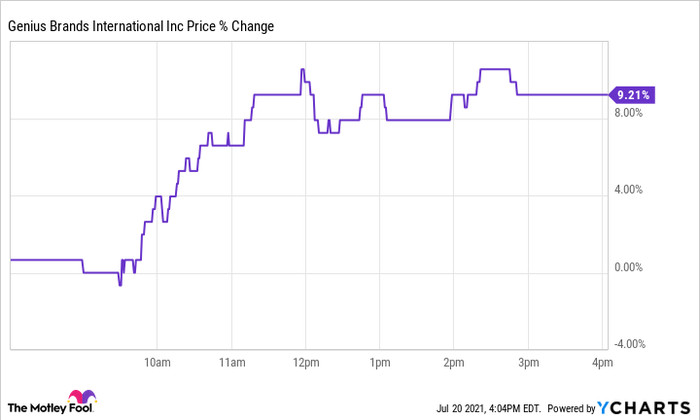 There doesn't appear to have been any business-specific news powering Genius Brands' rally. The market rebounded after steep sell-offs a day earlier, and many heavily shorted meme stocks made especially strong gains thanks to the momentum.
So what
Concerns about inflation and surging case numbers for the COVID-19 delta variant have pressured stocks recently, but investor confidence ticked up in today's trading. The S&P 500 and Russell 2000 indexes closed the session up roughly 1.7% and 3.6%, respectively, and Genius Brands stock bounced in conjunction with the move. GameStop, Naked Brand, Express, and Newegg were among other popular meme names to make big gains on the day.
Now what
Genius Brands is a small-cap company with a market capitalization of roughly $500 million and a speculative business outlook. The company has been posting steep losses, and sales performance thus far has been mostly unimpressive. Its Kartoon Channel! streaming platform relies on an ad-based model, and the business has put up just $3.2 million in sales over the trailing-12-month period.
Creating content is resource intensive, but Genius Brands does have roughly $143.6 million in cash, and it's looking at potential acquisition opportunities to help grow the business. The company's focus on the children's entertainment niche could eventually have a big payoff, but there's not a lot of visibility on how the business will perform going forward, and the stock continues to look like a risky investment.
10 stocks we like better than GENIUS BRANDS INTL.
When our award-winning analyst team has a stock tip, it can pay to listen. After all, the newsletter they have run for over a decade, Motley Fool Stock Advisor, has tripled the market.*
They just revealed what they believe are the ten best stocks for investors to buy right now... and GENIUS BRANDS INTL. wasn't one of them! That's right -- they think these 10 stocks are even better buys.
*Stock Advisor returns as of June 7, 2021
Keith Noonan has no position in any of the stocks mentioned. The Motley Fool has no position in any of the stocks mentioned. The Motley Fool has a disclosure policy.
Source