3 Beaten-Down Life Science Stocks to Buy at a Discount
The beating that life science stocks have taken lately is enough to make most investors think twice before risking another hard-earned dollar in this topsy-turvey corner of the stock market. If you can detach your emotions from your math skills, though, you know that there's no better time to buy.
Veeva Systems (NYSE: VEEV), Twist Bioscience (NASDAQ: TWST), and Teladoc Health (NYSE: TDOC) are all leaders in their respective niches and likely to remain so. Here's why you want to take advantage of their new bargain prices as soon as possible.
Veeva Systems
Shares of Veeva Systems peaked last summer, but the company has been under pressure along with a lot of other high-growth tech stocks. Now that it's fallen 34% from its high-water mark, Veeva looks like a terrific bargain.
Veeva Systems has been falling in sympathy with other companies that market cloud-based software as a service (SaaS). While potentially higher interest rates don't bode well for start-ups in need of capital, Veeva Systems is already producing a sustainable profit and is likely to continue doing so for many years to come. During its fiscal year third quarter, which ended Oct. 31, Veeva Systems reported operating income that soared 31% year over year to an annualized $132.7 million.
Veeva Systems markets cloud-based software specifically designed for the biopharmaceutical industry. Startup drugmakers don't necessarily need to subscribe to Veeva's clinical-trial facilitating services. With more clinical trials going digital, though, drugmakers that can't afford their own custom-built software don't have any better options.
There are competing software vendors that can help established drugmakers market their drugs, and others help start-ups drugmakers develop new drugs. Veeva Systems' integrated product ecosystem makes it the only SaaS vendor that life science businesses can rely on at every stage of their life cycle. With lots of sticky subscriber revenue, investors can look forward to strong growth for many years to come.
Twist Bioscience
Shares of Twist Bioscience haven't sparkled since this life science gem peaked last January. Now that the life science stock has fallen around 71%, it looks like a bargain that risk-tolerant investors can't ignore.
Twist Bioscience is the clear leader in a new industry that most of its potential clients don't even know about yet. There isn't another company that can hold a candle to the low prices Twist charges to produce large volumes of custom DNA.
The market for synthetic DNA is still budding and Twist Bioscience isn't producing a net profit yet. The company could enter positive territory soon though. Revenue is rapidly outpacing Twitst's internal costs of synthetic DNA manufacturing.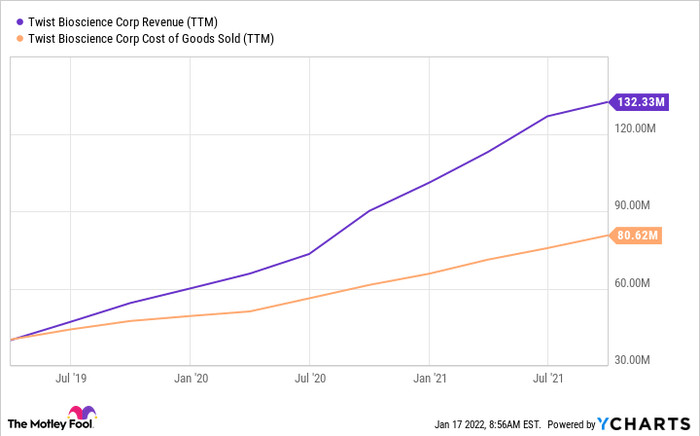 TWST Revenue (TTM) data by YCharts
Before Twist came along, nature held a very long-running monopoly on large-scale DNA synthesis. Twist's proprietary method can write over a million pieces of DNA at prices that are encouraging its use beyond biomedical research. For example, Twist is helping Microsoft find ways to use synthetic DNA to store large amounts of digital data.
Teladoc Health
This is a formerly high-flying healthcare stock that has been tumbling despite an impressive performance from its underlying business. After falling hard over the past year, Teladoc Health shares are trading at pre-pandemic prices.
Fear of decelerating revenue has been the heaviest drag on Teladoc Health's stock price. Analysts have also been unimpressed with contributions from Livongo Health, an applied health signal monitoring business Teladoc spent $18.5 billion to acquire in 2020.
Despite a tough year to make comparisons, Teladoc Health facilitated 39% more telehealth visits in 2021 than in 2020. Based on preliminary estimates, 2021 revenue soared around 86% year over year.
Teladoc Health stock has been trading at a relatively low price of just 6.3 times trailing sales. That seems awfully low for a company growing by leaps and bounds. Investors want to keep their eyes open for signs of competition down the road. For the foreseeable future, though, it looks like this company will continue leading the rapidly growing market for telehealth services.
10 stocks we like better than Veeva Systems
When our award-winning analyst team has a stock tip, it can pay to listen. After all, the newsletter they have run for over a decade, Motley Fool Stock Advisor, has tripled the market.*
They just revealed what they believe are the ten best stocks for investors to buy right now... and Veeva Systems wasn't one of them! That's right -- they think these 10 stocks are even better buys.
*Stock Advisor returns as of January 10, 2022
Teresa Kersten, an employee of LinkedIn, a Microsoft subsidiary, is a member of The Motley Fool's board of directors. Cory Renauer owns Twist Bioscience Corporation. The Motley Fool owns and recommends Microsoft, Teladoc Health, Twist Bioscience, and Veeva Systems. The Motley Fool recommends Mobileye. The Motley Fool has a disclosure policy.
Source