Why Airline Shares Are Higher Today
What happened
The airline industry, though still troubled, is showing signs of a rebound, and that has investors buying in on Thursday.
Shares of American Airlines Group (NASDAQ: AAL) led the push higher, up 9.8% as of 1 p.m. EST, with shares of Spirit Airlines (NYSE: SAVE) and United Airlines Holdings (NASDAQ: UAL) up 7% apiece and shares of Delta Air Lines (NYSE: DAL) up 5.9%.
So what
It's been a difficult year for the www.fool.com/investing/stock-market/market-sectors/industria..." target="_blank">airline industry, with the stocks weighed down by a pandemic-induced fall in travel demand. These stocks all lost more than half their value in the early days of the pandemic, and haven't seen much of a bounce back until recently.
That's finally starting to change. News that at least two COVID-19 vaccines are on their way has helped reassure investors that the industry can make it through the crisis without major bankruptcies, and the airlines are beginning to take steps that indicate the worst might be over.
American grabbed the limelight on Thursday after hosting a media flight to mark the return of service for the Boeing 737 MAX. The plane is back after 20 months on the ground due to safety concerns, and American is leading the way in trying to reassure passengers the plane is safe to fly.
American has the 737 MAX back in its schedule for late December flights, and intends to add the planes back aggressively in the months to come. The plane's size and fuel efficiency should work well during a recovery, and its return is a boost for the carriers that fly it.
Delta is also helping investors feel more optimistic. On Thursday CEO Ed Bastian in a memo to employees said he expects the airline to burn through between $12 million and $14 million per day in the current quarter, a "solid improvement" over the $24 million daily burn rate in the third quarter. Revenue is likely to come in at just 30% of 2019's total, but he's encouraged by the progress both the company and public health officials are making.
"While it will take months for a vaccine to be broadly distributed, it's a clear sign of light at the end of the tunnel," Bastian wrote. "Widespread vaccinations among our customers and our employees will be essential to Delta's sustained recovery and the start of our rebound."
Spirit is a sleeper pick to be one of the early beneficiaries of a recovery thanks to its industry-low costs, which should help it to stimulate demand with low fares. United and American have been laggards among the airline stocks, and are likely getting a lift as their survivals grow more certain.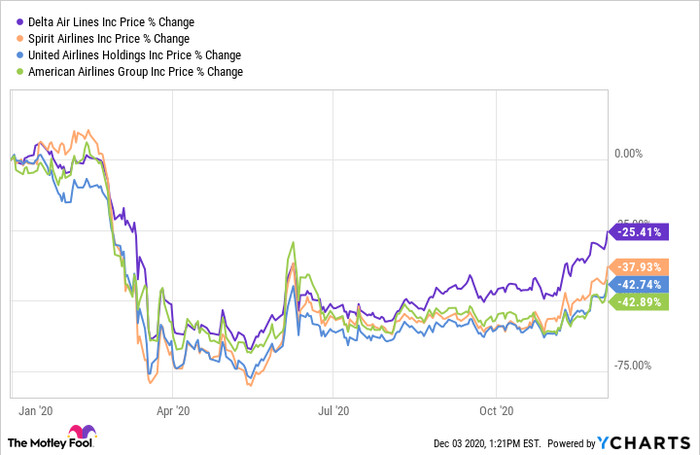 Now what
While the danger of owning these stocks is slowly lifting, it is still a tricky time to be an airline investor. Even in the best-case scenario a full recovery will take years, and airlines have badly bruised their balance sheets raising capital to survive the crisis and will need time to pay down their debt.
As Bastian said, we can now see the light at the end of the tunnel, but the tunnel is long and dangers remain. Airline stocks should be limited to a small part of a well-diversified portfolio, and I'd favor a top operator like Delta over some of its rivals as a long-term investment.
We're making progress, but we are not through the turbulence yet.
10 stocks we like better than Delta Air Lines
When investing geniuses David and Tom Gardner have a stock tip, it can pay to listen. After all, the newsletter they have run for over a decade, Motley Fool Stock Advisor, has tripled the market.*
David and Tom just revealed what they believe are the ten best stocks for investors to buy right now... and Delta Air Lines wasn't one of them! That's right -- they think these 10 stocks are even better buys.
*Stock Advisor returns as of November 20, 2020
Lou Whiteman owns shares of Delta Air Lines and Spirit Airlines. The Motley Fool owns shares of Spirit Airlines. The Motley Fool recommends Delta Air Lines. The Motley Fool has a disclosure policy.
Source