Got $3,000? 5 Buffett Stocks to Buy and Hold Forever
Warren Buffett stands atop the pantheon of history's most successful investors. If you were lucky enough to own a $3,000 stake in Berkshire Hathaway (NYSE: BRK.A)(NYSE: BRK.B) when he took control of the company in 1965, that position would now be worth nearly $81 million.
The Oracle of Omaha's knack for finding high-quality long-term investment opportunities has led to market-crushing results, and his storied performance means the investing world tends to keep a close eye on his company's holdings. Let's take a closer look at five top stocks backed by Berkshire Hathaway that are worth buying and holding for the long term.
1. Apple
With Apple's (NASDAQ: AAPL) share price having surged roughly 32.1% over the last year and the company currently sporting a market capitalization of more than $2.76 trillion, it's not unreasonable to look at the stock with a bit of a cautious eye. On the other hand, there's basically never been a bad time for long-term investors to buy the stock in the company's history.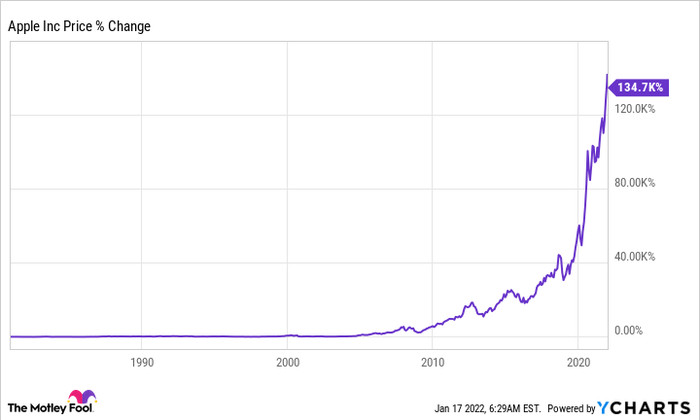 AAPL data by YCharts
Apple stands as the largest stock holding in the Berkshire portfolio, by far. Based on the last 13F filing from Buffett's company, the iPhone-maker accounts for nearly 43% of the investment conglomerate's stock holdings. That signifies an incredible vote of confidence from the modern era's most successful investor.
Between its market-leading mobile hardware and fast-growing software and services ecosystem, Apple's core businesses continue to look very strong, and it's likely that the company will also score wins in some exciting new fields. The California-based tech giant is already a leader in the wearable technology space, and it has huge opportunities in augmented reality hardware, autonomous electric vehicles, and other emerging product categories. The recent run-up in valuation means investors may want to dollar-cost average into Apple stock, but the company looks well-positioned to continue growing over the long term.
2. Verizon
With a multi-billion-dollar investment in the fourth quarter of 2020, Berkshire Hathaway quickly made Verizon Communications (NYSE: VZ) one of its largest stock holdings. Internet communications are at the heart of modern business operations, and the telecom giant's top-rated service and infrastructure advantages should help it continue to be a category leader.
Verizon has been spending big to secure spectrum band and build out infrastructure for 5G, but it's still in the early stages of benefiting from the rollout of the next-generation network technology. In addition to offering consumers a major leap forward with upload and download speeds, Verizon's 5G service will likely also help boost sales and earnings in the enterprise market.
With shares trading at roughly 10 times this year's expected earnings and sporting a 4.8% dividend yield, Verizon stock continues to look attractively valued. Investors even have a chance to buy the stock at prices lower than Berkshire got in at.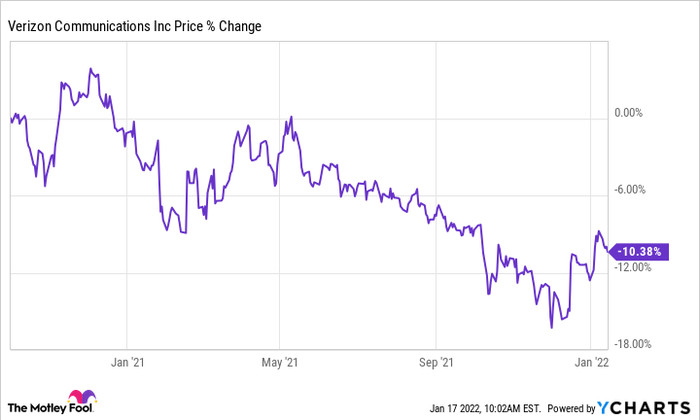 VZ data by YCharts.
3. Snowflake
As a cloud software-as-a-service stock that trades at lofty price-to-sales multiple, Snowflake (NYSE: SNOW) is one of the more unusual companies in the Berkshire Hathaway portfolio. While the investment conglomerate has gradually been shifting more of its portfolio weight toward the technology sector, it's still pretty eye-catching to see Buffett get behind a company that trades at roughly 83 times this year's expected sales.
It's clear that the Oracle of Omaha and the investment team at Berkshire see something special in the data warehousing and analytics player. Snowflake's platform allows data to be gathered and analyzed from otherwise walled-off sources, enabling applications to have quick and easy access to a much wider spectrum of valuable information. The company offers category-leading service in its niche, and with more customers joining its platform and bringing along valuable data, it's benefiting from a network effect that could produce a powerful long-term moat.
4. Amazon
Perhaps more so than any other company, Amazon (NASDAQ: AMZN) is built to win the future. The company's core e-commerce and cloud infrastructure businesses look poised for strong growth over the long term as these industries continue to grow, and its core business pillars should provide the foundation for new growth bets that help the company continue to expand.
With a market cap of more than $1.6 trillion, Amazon is already a massive company, but it still has plenty of room for growth over the long term. The company's strength in e-commerce and cloud services has helped it rapidly build its position in the digital advertising market, and Amazon's excellent collection of resources and proven penchant for innovation suggest that it will be able to continue scoring wins in new categories that drive growth and complement its existing businesses.
5. Berkshire Hathaway
If you want to invest like Buffett, why limit yourself to picking just a handful of stocks in the Berkshire portfolio? Particularly when you can buy shares in Berkshire Hathaway directly and get exposure to all of the stocks in the company's portfolio, its subsidiaries, and its real estate, insurance, and energy businesses. In addition to Apple, Verizon, Amazon, and Snowflake, Berkshire Hathaway also owns substantial stakes in companies including Bank of America, American Express, Coca-Cola, and other industry-leading names.
Even after buying back more than $20 billion worth of its own stock last year, the investment conglomerate has a massive pool of resources and ended its third quarter with a record $149 billion in cash on the books. Owning Berkshire Hathaway stock means that when Buffett and his team of analysts go shopping with that money, your own portfolio gets exposure to those buys before they're made known to the public.
10 stocks we like better than Berkshire Hathaway (A shares)
When our award-winning analyst team has a stock tip, it can pay to listen. After all, the newsletter they have run for over a decade, Motley Fool Stock Advisor, has tripled the market.*
They just revealed what they believe are the ten best stocks for investors to buy right now... and Berkshire Hathaway (A shares) wasn't one of them! That's right -- they think these 10 stocks are even better buys.
*Stock Advisor returns as of January 10, 2022
American Express is an advertising partner of The Ascent, a Motley Fool company. John Mackey, CEO of Whole Foods Market, an Amazon subsidiary, is a member of The Motley Fool's board of directors. Bank of America is an advertising partner of The Ascent, a Motley Fool company. Keith Noonan has no position in any of the stocks mentioned. The Motley Fool owns and recommends Amazon, Apple, Berkshire Hathaway (B shares), and Snowflake Inc. The Motley Fool recommends Verizon Communications and recommends the following options: long January 2022 $1,920 calls on Amazon, long January 2023 $200 calls on Berkshire Hathaway (B shares), long March 2023 $120 calls on Apple, short January 2022 $1,940 calls on Amazon, short January 2023 $200 puts on Berkshire Hathaway (B shares), short January 2023 $265 calls on Berkshire Hathaway (B shares), and short March 2023 $130 calls on Apple. The Motley Fool has a disclosure policy.
Source