Why Activision Blizzard Stock Climbed 12.9% in May
What happened
Shares of Activision Blizzard (NASDAQ: ATVI) climbed 12.9% in May, according to data from S&P Global Market Intelligence. The video game company's stock posted big gains following better than expected first-quarter results published early in the month.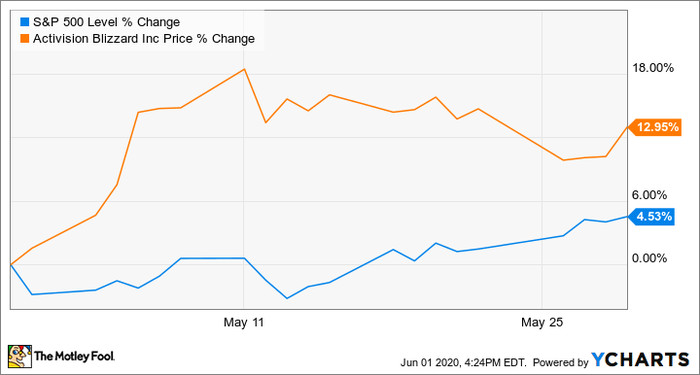 Activision Blizzard released its first-quarter results after the market closed on May 5, delivering sales and earnings that trounced the market's expectations. The company reported adjusted earnings of $0.76 per share on adjusted sales of $1.52 billion. After factoring in a deferred adverse earnings impact of $0.18 per share, the company's adjusted EPS for the period was $0.58. The average analyst estimate had targeted adjusted EPS of $0.38 on revenue of $1.32 billion.
So what
First-quarter results reflected the benefit of increased player engagement due to the coronavirus pandemic. The company's Call of Duty franchise posted great performance across multiple titles in the quarter, and other key franchises also enjoyed better-than-expected engagement as people stayed inside to limit potential exposure to the virus.
Activision Blizzard also announced Tony Hawk's Pro Skater 1+2 (a remake of the first two entries in the classic skateboarding franchise) on May 12. But the unveiling of the upcoming title was already anticipated by industry watchers and doesn't appear to have had much impact on the stock price.
Now what
Activision Blizzard stock has had an impressive run in 2020, climbing roughly 22% while the S&P 500 has dipped approximately 5.5% across the stretch. The video game company has a promising long-term outlook, but the extent to which its recent momentum will be sustained now that quarantine measures are being lifted remains to be seen.
Activision Blizzard is guiding for adjusted EPS of $0.64 on revenue of $1.69 billion in the second quarter. Full-year sales are expected to come in at $6.8 billion, and the games publisher is targeting adjusted EPS of $2.62 for the period. Full-year bookings are projected to hit $6.9 billion.
Shares trade at roughly 26 times the average analyst target for this year's earnings.
10 stocks we like better than Activision Blizzard
When investing geniuses David and Tom Gardner have a stock tip, it can pay to listen. After all, the newsletter they have run for over a decade, Motley Fool Stock Advisor, has tripled the market.*
David and Tom just revealed what they believe are the ten best stocks for investors to buy right now... and Activision Blizzard wasn't one of them! That's right -- they think these 10 stocks are even better buys.
*Stock Advisor returns as of April 16, 2020
Keith Noonan owns shares of Activision Blizzard. The Motley Fool owns shares of and recommends Activision Blizzard and recommends the following options: long January 2022 $75 calls on Activision Blizzard and short January 2022 $75 puts on Activision Blizzard. The Motley Fool has a disclosure policy.
Source