2 Dividend Aristocrats to Buy Before Their Next Income Hike
Like most stocks, dividend stocks are mainly attractive because they offer some long-term growth potential. But it's the regular income payouts that tend to offer a more immediate impact on investors' portfolios.
Dividend Aristocrats, which are members of the S&P 500 that have raised their annual payouts for at least 25 consecutive years, often get special investor attention because their long-term payout discipline has proven their intention (and ability) to keep rewarding investors with higher quarterly payments with each passing year.
There isn't necessarily a right time to buy into a Dividend Aristocrat, But getting in before the next payout increase would seem advantageous. With that in mind, let's look at two members of this club, Colgate-Palmolive (NYSE: CL), and Kimberly-Clark (NYSE: KMB), that are due for a dividend increase in April.
1. Colgate-Palmolive
As far as dominating performances go in the markets they operate in, you'd be hard-pressed to find a much better operator than Colgate-Palmolive's. The company routinely accounts for roughly 40% of all global toothpaste sales and has similar competitive moats in niches like manual and electric toothbrushes.
That success translates into just the type of steady earnings growth that income investors love to see. Organic sales rose 4% in the past year, and CEO Noel Wallace and his team are predicting to once again land right within their annual target of between 3% and 5% growth in 2021. Earnings should rise at about the same pace as higher selling prices are offset by increased advertising spending.
Colgate's dividend is slated to rise 3%, effective April 21, and it currently yields just over 2%. While there are faster-growing companies around, few can approach the toothpaste giant's record of uninterrupted dividend payments, which stretches back to 1895. It has raised its annual dividend consecutively for the past 57 years.
2. Kimberly-Clark
Kimberly-Clark reports its first-quarter results in late April, but shareholders will get a significantly higher dividend starting earlier in the month. The consumer product giant lifted its payout by 6.5% following a fiscal 2020 that saw organic sales expand 6%. Earnings grew much faster thanks to rising prices and the cost-cutting path that CEO Mike Hsu has had the company on for several years.
Kimberly-Clark still has room to catch up with Procter & Gamble (NYSE: PG), whose operating margin is well over 20% of sales. But that gap should close as companies start reopening and demanding more paper products from its enterprise division.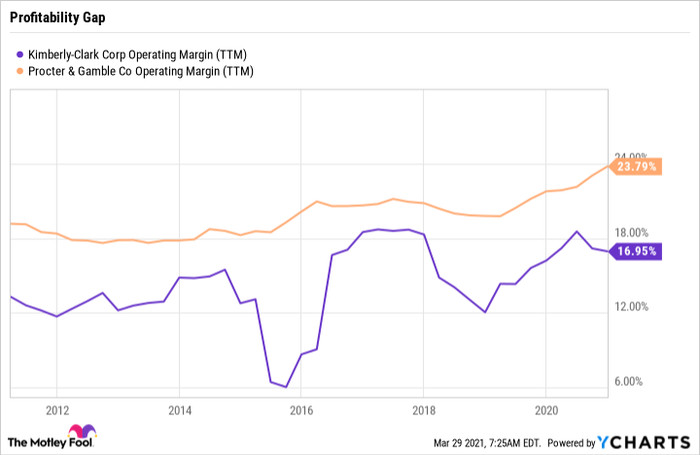 KMB operating margin (TTM) data by YCharts. TTM = trailing 12 months.
Kimberly-Clark trails Procter & Gamble in most other operating and financial metrics, including organic sales growth. Yet investors are being compensated for holding the slightly weaker consumer staples business. Kimberly-Clark's dividend yields more than 3% today compared to just over 2% for P&G. At the same time, shareholder returns will be bolstered by stock buyback spending. After cash flow surged in 2020, management is planning to race to the end of its current $5 billion repurchase plan by the end of the year.
Buying Kimberly-Clark stock today gets you into the stock just before it moves into the even more exclusive club of Dividend Kings: Its fiscal 2021 dividend increase will mark its 50th consecutive year of rising payments.
A streak that long doesn't happen by accident. It also implies that, just like with Colgate-Palmolive, shareholders can expect many more dividend increases following one set to hit investors' accounts in April.
10 stocks we like better than Kimberly-Clark
When investing geniuses David and Tom Gardner have a stock tip, it can pay to listen. After all, the newsletter they have run for over a decade, Motley Fool Stock Advisor, has tripled the market.*
David and Tom just revealed what they believe are the ten best stocks for investors to buy right now... and Kimberly-Clark wasn't one of them! That's right -- they think these 10 stocks are even better buys.
*Stock Advisor returns as of February 24, 2021
Demitri Kalogeropoulos has no position in any of the stocks mentioned. The Motley Fool has no position in any of the stocks mentioned. The Motley Fool has a disclosure policy.
Source