Why DraftKings Stock Plummeted 39.8% in October
What happened
Shares of DraftKings (NASDAQ: DKNG) sank 39.8% in October, according to data from S&P Global Market Intelligence. The online betting company's stock fell after a large share sale valuing the company significantly lower than previous highs.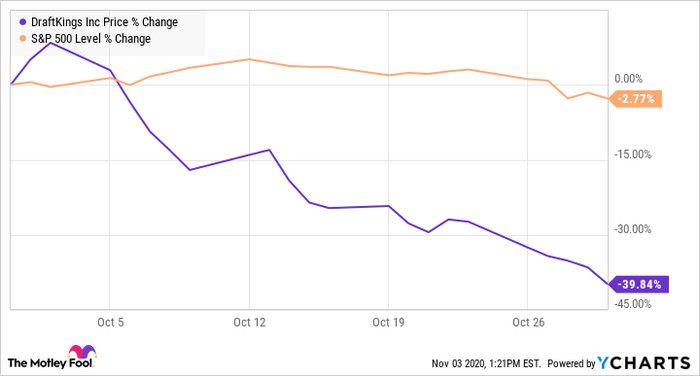 DraftKings, which had its initial public offering in April, sold 32 million shares on Oct. 7 at at a price of $52 per share. The $1.6 billion sale, which saw half of shares sold by DraftKings and half by investors, raised roughly $830 million in funds for the company. That valuation came in significantly below the stock's closing price of $56.79 the day before the new offering, and shares continued to move lower as the month progressed.
So what
The potential for additional share offerings and dilution likely caused DraftKings stock to continue trending lower following the Oct. 7 sale. The company had roughly 376 million shares outstanding after the new stock offering, with roughly half of the company's shares being owned by insiders and the other half being freely tradable. The company's share price may have also faced additional pressure in the lead up to, and following, an unspecified amount of insider-held stock becoming tradable on Oct. 20.
DraftKings likely also felt the impact from coronavirus-related pressures last month. Postponement for some NFL games due to confirmed cases of COVID-19 among some players and staff elevated the risk that the season would be disrupted, but it looks like those potential issues have been resolved through rescheduling.
Now what
DraftKings stock has regained some ground early in November's trading. Shares are up roughly 6% in the month so far.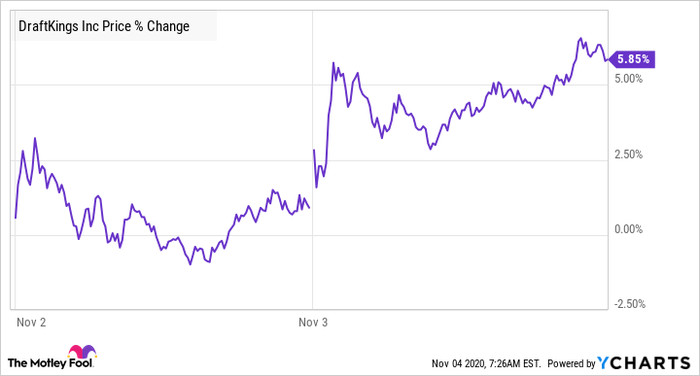 The market for online betting has big room for growth, but DraftKings' future will be shaped by an uncertain regulatory climate and the prospect of tough competition even if lawmakers take soft stances on the industry. DraftKings now has a market capitalization of roughly $14.7 billion.
10 stocks we like better than DraftKings Inc.
When investing geniuses David and Tom Gardner have a stock tip, it can pay to listen. After all, the newsletter they have run for over a decade, Motley Fool Stock Advisor, has tripled the market.*
David and Tom just revealed what they believe are the ten best stocks for investors to buy right now... and DraftKings Inc. wasn't one of them! That's right -- they think these 10 stocks are even better buys.
*Stock Advisor returns as of October 20, 2020
Keith Noonan has no position in any of the stocks mentioned. The Motley Fool has no position in any of the stocks mentioned. The Motley Fool has a disclosure policy.
Source