Tech Sell-Off: 2 Growth Stocks to Buy For the Long Haul
What are the qualities of a business that is likely to outperform the market over the long run -- say, 10 years or more? Here are two of the most important, in my view. First, said business needs to have a solid competitive advantage. Second, it needs to be riding the wave of an industry that is still in growth mode. These are not sufficient conditions, though.
For instance, a corporation's management team is also critical to its long-term success. Still, finding businesses with the two criteria mentioned above is a good start. And buying such companies for a discount is even better. Let's look at two excellent stocks, both of which have been hammered in the recent sell-off, that fit the bill: Airbnb (NASDAQ: ABNB) and Etsy (NASDAQ: ETSY).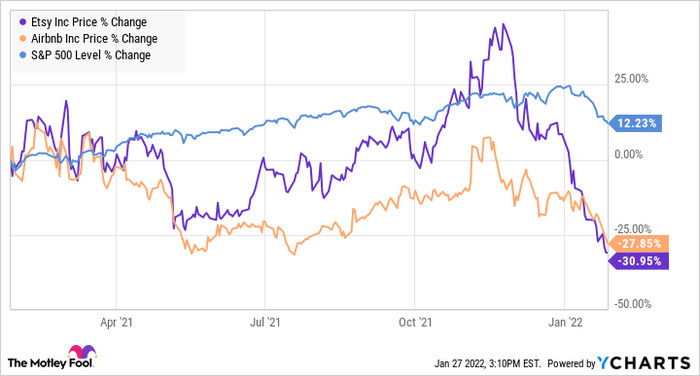 1. Airbnb
Airbnb has been around since 2007, but it took a long time for the company to become a leader in its industry. All that time may have been worthwhile, though. Airbnb has successfully built a competitive advantage that protects its business from competitors. The company benefits from the flywheel effect, which means the value of a service increases as more consumers use it.
In the case of Airbnb, both customers and hosts on its platform stand to gain from increased use of the service. Hosts gain access to a larger potential clientele with each new person seeking vacation rentals on the platform. Meanwhile, clients benefit from having more rentals to choose from as more hosts list their properties on the platform.
Airbnb does have competitors, some of which also benefit from the flywheel effect. They include companies such as Booking Holdings, which owns popular websites like booking.com and priceline.com. Other competitors include Expedia Group, which owns the vacation rental service HomeAway. However, the hospitality industry is massive and can accommodate multiple winners in the long run.
Airbnb, which offers customers home rentals and helps them book various activities and experiences, estimated its addressable market to be worth $3.4 trillion.
In the third quarter of 2021, Airbnb recorded revenue of $2.2 billion, 70% higher than the year-ago period and 36% higher than Q3 2019, before the pandemic disrupted its business. The company also reported a net income of $834 million during the period, an improvement of 280% compared to Q3 2020 and a 213% growth compared to Q3 2019.
It also ended the quarter with more than 4 million hosts who had garnered more than a cumulative 1 billion guest arrivals over the years. Airbnb has barely scratched the surface of its addressable market. While it is unlikely to gobble up the entire pie all by itself, thanks to its competitive edge, the company will continue to post solid financial results.
Airbnb became a publicly traded company in late 2020, and it has underperformed the market since. The company's forward price-to-earnings (P/E) ratio remains very high at about 188, compared to the S&P 500's average of around 22. With the market souring on high-growth stocks with rich valuations lately, Airbnb may remain volatile in the short term.
But for those willing to hold onto its shares for a long time, Airbnb looks well-positioned to perform better than most in the next decade and beyond.
2. Etsy
Etsy's business also benefits from the flywheel effect. The company runs an e-commerce platform dedicated to specialized, handcrafted, and vintage goods. These are generally not items one can find just anywhere, and Etsy has become a top destination for buyers looking for such goods and the sellers looking to offload them.
The company will benefit as more people join the platform, as it will become more attractive to potential buyers and sellers. This is an important factor since the e-commerce industry is highly competitive. No one wants to go head-to-head with the likes of Amazon, but Etsy carved out a successful niche for itself.
Even though Etsy competes in the same industry as Amazon and other e-commerce giants, its platform will continue to thrive because it offers shoppers a very different basket of goods.
The company ended Q3 with roughly 7.5 million active sellers, representing a 102.7% year-over-year increase. Etsy's active buyers grew by 37.8% year over year to almost 96 million during the period. The company's revenue came in at $532.4 million during the quarter, 17.9% higher than the year-ago period. On the bottom line, Etsy's net income decreased by 2% to $89.9 million.
Etsy also has a massive addressable market to tap into, which it estimates to be $1.7 trillion. Its revenue and earnings will continue to grow as it makes headway into the opportunities ahead. Etsy has also underperformed the market of late, a negative showing that it owed partly to market-wide issues, but the company's valuation probably didn't help.
The company currently has a forward P/E ratio of 34.8, which remains above the average for the S&P 500. However, this metric is about as low as it has been in more than a year for the company, which creates a prime opportunity to acquire its shares while they are on sale. Like Airbnb, Etsy has the tools to reward shareholders in the long run handsomely.
Interested investors should consider purchasing shares of this tech stock before it recovers from its recent woes.
10 stocks we like better than Airbnb, Inc.
When our award-winning analyst team has a stock tip, it can pay to listen. After all, the newsletter they have run for over a decade, Motley Fool Stock Advisor, has tripled the market.*
They just revealed what they believe are the ten best stocks for investors to buy right now… and Airbnb, Inc. wasn't one of them! That's right -- they think these 10 stocks are even better buys.
*Stock Advisor returns as of January 10, 2022
John Mackey, CEO of Whole Foods Market, an Amazon subsidiary, is a member of The Motley Fool's board of directors. Prosper Junior Bakiny owns Amazon. The Motley Fool owns and recommends Airbnb, Inc., Amazon, Booking Holdings, and Etsy. The Motley Fool has a disclosure policy.
Source