Why Shares of Lumber Liquidators Are Down Today
What happened
Shares of Lumber Liquidators (NYSE: LL) fell more than 15% on Monday morning, vastly underperforming the market on a terrible day for stocks. The company does import product from China, so part of the drop could be related to coronavirus concerns. But the more likely culprit is the silencing of an anonymous advocate for the stock who had been credited for helping to push the shares higher in recent days.
So what
Lumber Liquidators is still trying to recover from a 2015 report alleging that the retailer had sold and installed laminate flooring that contained higher-than-accepted levels of chemicals known to cause cancer. The stock is down more than 85% over the past five years, but in recent days had made a remarkable climb higher.
Shares of Lumber Liquidators gained more than 45% over two trading days last week, with the jump credited to an anonymous contributor on the Reddit WallStreetBets board who goes by the non-publication-friendly name "closethef***inglight."
The poster used the forum to lay out a bull case for Lumber Liquidators built around strong trends in housing and renovations, the potential for a short squeeze, and a previously disclosed $25 million payment due to Lumber Liquidators from the government.
Over the weekend a forum moderator banned the user from the WallStreetBets board, saying, "The influx of media attention over the past week ... has made it clear that some users are attempting to use this forum to pump their positions." That decision has seemingly deflated some of the excitement about Lumber Liquidators.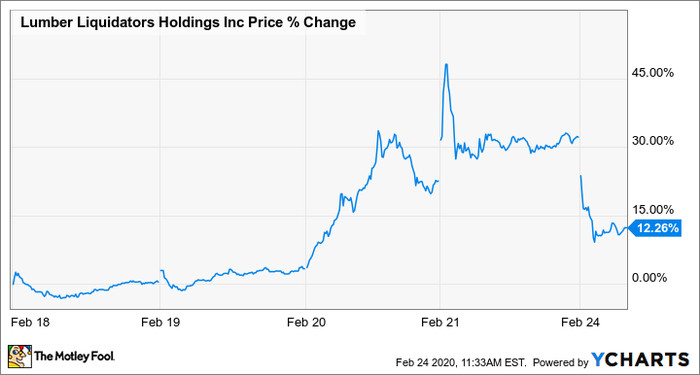 Now what
Nothing the poster said is untrue, but most of it was already known or at least built into the bull case for Lumber Liquidators shares. The company also does still have issues. In early February it announced the resignation of its CEO, and it faces tough year-over-year comparisons in 2020 that could weigh on sentiment even if the worst is behind it.
Lumber Liquidators is an interesting company to watch right now, but the stock got way ahead of itself late last week and is now in correction mode.
10 stocks we like better than Lumber Liquidators
When investing geniuses David and Tom Gardner have a stock tip, it can pay to listen. After all, the newsletter they have run for over a decade, Motley Fool Stock Advisor, has tripled the market.*
David and Tom just revealed what they believe are the ten best stocks for investors to buy right now... and Lumber Liquidators wasn't one of them! That's right -- they think these 10 stocks are even better buys.
*Stock Advisor returns as of December 1, 2019
Lou Whiteman has no position in any of the stocks mentioned. The Motley Fool has no position in any of the stocks mentioned. The Motley Fool has a disclosure policy.
Source