Boeing Space Launch System Aborts 1 Minute Into an Engine Test
Boeing (NYSE: BA) has run into yet another problem.
First there were the two crashes of its 737 MAX, which kept the plane grounded for nearly two years. Then, the company's space program ran into difficulties when its long-awaited Starliner spacecraft failed to reach the International Space Station in 2019.
And now, Boeing has suffered yet another setback. Over the weekend, a test firing of the RS-25 engines that will power the Space Launch System (SLS) that the company is building for NASA was cut short just a minute into an eight-minute test.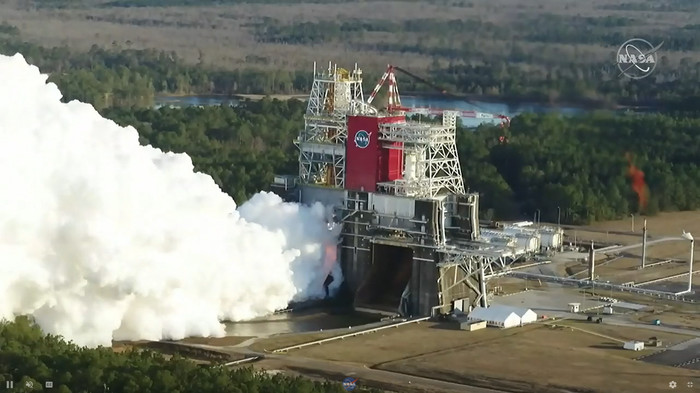 The test of Boeing's SLS this weekend, which was quickly cut short. Image source: NASA.
Technically, these engines were originally built by Aerojet Rocketdyne (NYSE: AJRD), which is now in the process of being acquired by Lockheed Martin (NYSE: LMT), so there's blame aplenty to go around. But Boeing is the prime contractor on the SLS project, and so it's responsible for making sure all the parts that go into the gigantic spacecraft -- designed to carry American astronauts back to the moon, and then to Mars -- work seamlessly.
The "hot fire test" of SLS's four engines started out well enough Saturday evening. But 67 seconds into the test, which had been planned to run for eight minutes (the length the engines would run in an actual space launch), they shut down for unknown reasons.
In a statement, outgoing NASA administrator Jim Bridenstine insisted the agency gathered valuable data from the test despite the shutdown, and NASA SLS program manager John Honeycutt said the agency will now analyze the data and try to find the "right path forward."
Depending on how long that takes, though, NASA may have to delay into 2022 a planned 2021 SLS launch for a mission circumnavigating the moon.
10 stocks we like better than Boeing
When investing geniuses David and Tom Gardner have a stock tip, it can pay to listen. After all, the newsletter they have run for over a decade, Motley Fool Stock Advisor, has tripled the market.*
David and Tom just revealed what they believe are the ten best stocks for investors to buy right now... and Boeing wasn't one of them! That's right -- they think these 10 stocks are even better buys.
*Stock Advisor returns as of November 20, 2020
Rich Smith has no position in any of the stocks mentioned. The Motley Fool has no position in any of the stocks mentioned. The Motley Fool has a disclosure policy.
Source