Kimberly-Clark Earnings: What to Watch
Kimberly-Clark (NYSE: KMB) stock sat out much of the stock market rally in 2019, with shares underperforming both the wider market and the returns of chief rival Procter & Gamble (NYSE: PG). The consumer products giant posted sluggish sales growth even as P&G's expansion pace set a multi-year high.
This week, Kimberly-Clark has a chance to change that investing narrative by closing the operating gap with its peer and demonstrating that its transformation plan is finally starting to show concrete financial benefits. With that bigger picture in mind, let's look at the metrics to watch when the owner of the Kleenex tissue and Huggies diaper brands announces its earnings results on Thursday, Jan. 23.
Market share checkup
Kimberly-Clark's last earnings report showed that it had a significant challenge ahead to break its multi-year streak of market share losses. Organic sales growth slowed to 4% in the fiscal third quarter from 5% in the prior quarter. At the same time, P&G's expansion pace set a modern record at a scorching 7%. Both companies raised their growth outlooks in late October, but Kimberly-Clark's boost still leaves it trailing its rival and the wider industry.
The good news is that the consumer goods company is taking the challenge seriously. Another clue to that aggressive approach came in early January when Kimberly-Clark announced a shakeup in its international management ranks.
CEO Mike Hsu will likely discuss that transition on Thursday in terms of market share goals in emerging markets like China. Yet the concrete answers in this week's results will come from metrics like pricing and volume, which have been weak lately. Faster growth can't occur without an improvement to last quarter's 1% volume decline.
Earnings trends
The picture has been much brighter on the financial front, as falling commodity costs combined with savings from the restructuring plan to boost earnings. Operating profit last quarter jumped 8% to $859 million and cash flow soared to $886 million from $692 million a year ago. The company is taking a meaningful step toward P&G's market-leading profit generation, but still has a way to go.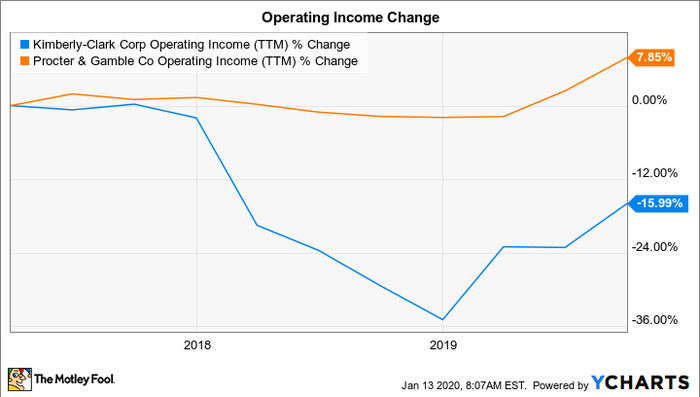 KMB Operating Income (TTM) data by YCharts
These wins have allowed Kimberly-Clark to direct more cash toward direct shareholder returns, with dividends and stock repurchase spending on pace to reach $2.2 billion for the full 2019 year. Still, investors this week will want to see evidence that the company can use its cash in ways that can speed up long-term growth, whether through marketing, supply chain upgrades, or innovative product and packaging development.
Looking forward
Investors will focus on Kimberly-Clark's official 2020 outlook this week, and any big movements in the stock might be tied to those comments. Assuming it reaches its updated 2019 targets, the company will have posted roughly 4% growth to mark a solid improvement over the prior year's 1% uptick.
We'll find out on Thursday whether Hsu and his team are expecting another acceleration in 2020. Kimberly-Clark's new outlook will also show whether the company might again lose market share to P&G, which currently is projecting organic sales gains of as much as 5% and core earnings growth of between 4% and 9%.
10 stocks we like better than Kimberly-Clark
When investing geniuses David and Tom Gardner have a stock tip, it can pay to listen. After all, the newsletter they have run for over a decade, Motley Fool Stock Advisor, has tripled the market.*
David and Tom just revealed what they believe are the ten best stocks for investors to buy right now… and Kimberly-Clark wasn't one of them! That's right -- they think these 10 stocks are even better buys.
*Stock Advisor returns as of December 1, 2019
Demitrios Kalogeropoulos has no position in any of the stocks mentioned. The Motley Fool has no position in any of the stocks mentioned. The Motley Fool has a disclosure policy.
Source