Cable Companies Could Be a Threat to Verizon's Wireless Business
At the time it probably seemed like a great idea. Verizon (NYSE: VZ) has unused capacity built into its wireless network, and it can't convert every single person in the United States into a Verizon Wireless customer. It may as well monetize its network's excess by letting cable giants Comcast (NASDAQ: CMCSA) and Charter Communications (NASDAQ: CHTR) use it as the backbone for their fledgling wireless services.
But in retrospect, maybe it wasn't the best idea after all. Although the two companies' wireless businesses combined still don't hold a candle to Tracfone, Verizon's biggest third party user of its network, it only took the two newcomers a couple of years to catch up with the nation's second-biggest reseller of cellphone service. That's Consumer Cellular, with its three million customers, give or take.
If nothing else, the sheer pace of Comcast's and Charter's growth should prompt Verizon to consider that it's feeding what will become serious competitors.
Wholesale wireless service
They're called a mobile virtual network operator, or MVNO for short. The term simply refers to cellular service providers that don't actually own the network they plug their customers into.
Rather, these small providers lease access to wireless networks operated by bigger names like Verizon and AT&T, and take care of their own billing, selling, and customer service. Tracfone, Net10, Boom Mobile, Straight Talk, and Expo Mobile are just some of the MVNOs that utilize Verizon's network.
It also includes Comcast's Xfinity Mobile and Spectrum Mobile, both of which launched using Verizon's infrastructure, and both of which still appear to be exclusively using Verizon's network.
Most importantly, both are making inroads with consumers very rapidly. Charter began offering cell phone service in the third quarter of 2018, and now serves a little more than one million subscribers. Comcast's service started in the second quarter of 2017, and it's signed up more than two million customers.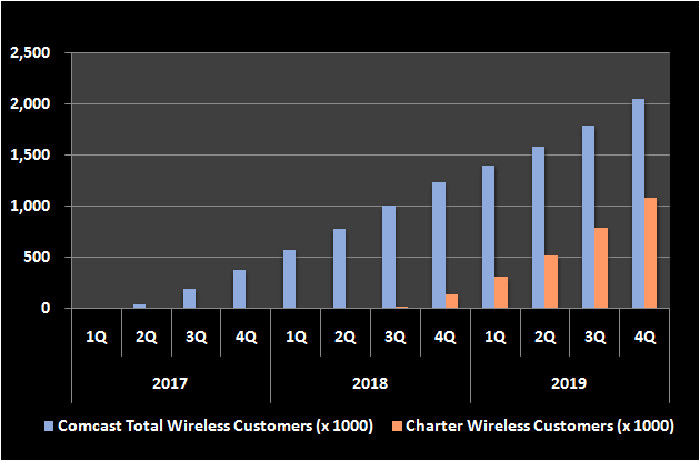 Data Source: Comcast Investor Relations, Charter Investor Relations. Chart by Author.
That's only a fraction of Verizon's 94.5 million wireless customers reported as of the end of 2019, which boasts numbers similar to rival AT&T's. But the pace is the concern, particularly in light of the advantage cable names stumbled into.
New wireless connectivity isn't totally wireless
The technology of combining WiFi connectivity and physical wires to keep cellphones linked to a network is something most major wireless carriers have tinkered with, as the number of connected devices has exploded and put a strain on spectrum. But the switch, or "handoff" from one connection type or hub to another, has proven tricky and expensive.
Surprisingly, cable companies have had the solution all along. The physical lines they own running down the street to your house can be readily adapted to serve as WiFi antennas called strand-mounted small cells. And Comcast's and Charter's broadband customers may not even realize they're actually utilizing their home wifi when using their smartphones while at home. This mixed connection approach is a far more economical one to operate, letting cable companies into the mobile phone business without complete reliance on others' networks.
And yes, Comcast and Charter have every intention of extracting the benefits of scaling up this hybrid approach. As Charter CEO Tom Rutledge plainly stated during the company's third-quarter earnings call, "We're uniquely positioned to take advantage of wireline and wireless network convergence over time with our fully distributed wireline network."
Moffett Nathanson's analysts believe the cable giants may be thinking in more mercenary terms, though. In October, the firm suggested that Charter may choose to buy citizens broadband radio service (CBRS) spectrum to develop a partial wireless network in places where doing so would yield a strong return on the investment. Yet, the company would continue to utilize Verizon's network in areas where the return on an investment in a home-grown network would be weak.
Exactly what sort of savings this hybrid approach might produce depends on several factors. But Moffett Nathanson's report puts things in perspective, stating that "We suspect that Altice is already assuming they can offload as much as half of their traffic onto strand-mounted small cells, allowing them to sell unlimited plans for just $20 per month."
The same report went on to say "Even without core network control under the Verizon MVNO contract, Charter (and Comcast) look poised to pursue the same strategy by leveraging eSIMS and, in their case, their own strand-mounted small cells," jibing with Rutledge's comment.
If Comcast or Charter can get anywhere close to selling a mobile service for $20 per month (even if it's just to existing internet customers), even the most loyal Verizon customers will have something to think about.
Put it on your radar
It's not an existential threat to Verizon, at least not yet. But it eventually could be.
The MVNO/wholesale industry took shape at a time when the only way to make a mobile phone work was with a direct connection to a tower with a licensed radio frequency. That limitation is no longer in place, and cable companies' infrastructure leaves them well positioned to offer cheap wireless service.
Verizon is in a particularly difficult situation, as Comcast and Charter are content to let Verizon tackle the difficult, less rewarding part of their job just so they can poach its customers.
10 stocks we like better than Verizon Communications
When investing geniuses David and Tom Gardner have a stock tip, it can pay to listen. After all, the newsletter they have run for over a decade, Motley Fool Stock Advisor, has tripled the market.*
David and Tom just revealed what they believe are the ten best stocks for investors to buy right now... and Verizon Communications wasn't one of them! That's right -- they think these 10 stocks are even better buys.
*Stock Advisor returns as of December 1, 2019
James Brumley owns shares of AT&T. The Motley Fool recommends Comcast and Verizon Communications. The Motley Fool has a disclosure policy.
Source