Why Shares of QuantumScape Shot Higher in December
What happened
Shares of QuantumScape (NYSE: QS) gained 79.7% in December, according to data provided by S&P Global Market Intelligence, as excitement grew over the newly public electric vehicle battery manufacturer. That number actually undersells the enthusiasm surrounding QuantumScape during the month, with the stock up as much as 180% at one point mid-month.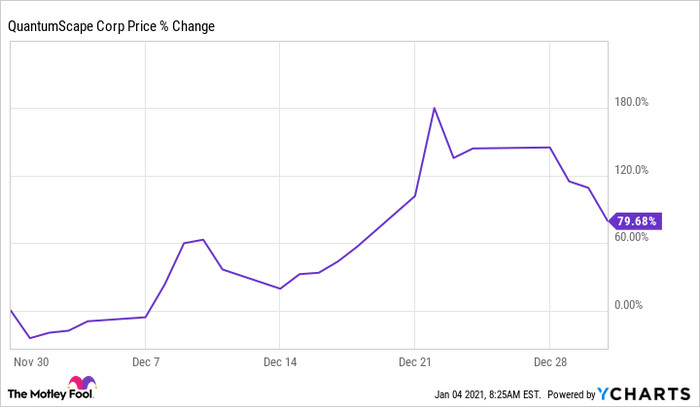 So what
QuantumScape has been a Wall Street darling since going public in late November, with investors intrigued by the promise of its solid-state lithium-metal battery. Solid-state batteries in theory would be a substantial improvement over lithium-ion batteries now used in vehicles, offering greater energy storage, lower costs, and higher levels of safety and stability.
The company captured Wall Street's attention early in the month during a presentation outlining its technology, claiming its battery will store more than 80% more energy than existing generation batteries at just a fraction of the cost. QuantumScape counts Volkswagen as an investor and potential lead customer, and hopes to have its batteries commercialized and in VW vehicles before the end of the decade.
QuantumScape also jumped along with other electric vehicle-related companies after a major automotive trade association urged lawmakers to move aggressively to support EV adoption.
Now what
At its peak during the month QuantumScape was valued higher than either Ford Motor or Fiat Chrysler, two automakers with billions in revenue. There's a lot to like about QuantumScape and its potential, but it appears the market got ahead of itself in its enthusiasm.
QuantumScape shares were under pressure late in the month, and that downward trend looked set to continue in the first trading day of January. But even with the recent sell-off, the stock has more than doubled in barely six weeks.
There's a lot of momentum driving these shares right now, and investors should expect continued volatility. There's a place for QuantumScape as a small, speculative part of a diversified portfolio, but I'd caution against rushing in to buy during this current frenzy.
10 stocks we like better than QuantumScape Corporation
When investing geniuses David and Tom Gardner have a stock tip, it can pay to listen. After all, the newsletter they have run for over a decade, Motley Fool Stock Advisor, has tripled the market.*
David and Tom just revealed what they believe are the ten best stocks for investors to buy right now... and QuantumScape Corporation wasn't one of them! That's right -- they think these 10 stocks are even better buys.
*Stock Advisor returns as of November 20, 2020
Lou Whiteman owns shares of Ford and QuantumScape. The Motley Fool has no position in any of the stocks mentioned. The Motley Fool has a disclosure policy.
Source