1 Stock Dividend Lovers Need to Know
NextEra Energy (NYSE: NEE) is a utility, for sure. But it's really two businesses in one. Investors looking at the stock need to understand just what's going on at this industry giant and, more importantly, what that means for the future. Here's a primer on what you need to know about NextEra Energy before you buy it.
Core and explore
NextEra Energy owns one of the largest regulated electric utilities in the United States. Its Florida Power & Light business serves over five million customers. The company recently expanded its reach in the state, as well, buying Gulf Power from Southern Company, a move that added another 460,000 customers in the state.
This is the core of the utility's business, and it operates in a great location. Florida has seen a material influx of residents in recent years as people look to move to a warmer climate and a low tax state. There's no particular reason to expect this trend to change, which means more customers to serve over time. That, in turn, will translate into more growth as the company expands and upgrades its operations to ensure it can safely meet demand. The key is that spending for these purposes has historically led and should continue to lead to regulator approval for rate increases.
Atop this solid foundation, NextEra is building a large and diversified renewable power business, which it calls NextEra Energy Resources. That's a pretty uninspiring name for what NextEra claims is the world's largest generator of renewable power from solar and wind. This business, however, is just as boring as the utility operation because NextEra generally signs long-term contracts with its customers. Those contracts usually include regular price increases, as well. With the world increasingly shifting toward clean energy, NextEra expects continued growth in this division, too. In fact, the renewable power operation is likely to be the company's key growth driver.
All in all, the utility plans to spend between $12 billion and $14 billion a year on capital investments across these two divisions. That, in turn, is projected to result in impressive earnings and dividend growth. Earnings are pegged to expand at a 6% to 8% clip. Dividends, meanwhile, are projected to increase by as much as 14% in 2020. A conservative payout ratio is what allows NextEra to grow its dividend at a faster rate than earnings. Although there's no way to tell what the future holds, management seems to expect strong dividend growth to continue. Even if the dividend only grows along with earnings, however, NextEra would still provide dividend growth investors with one of the faster-growing utility dividends in the industry.
The fly in the ointment
So far NextEra sounds like a great stock for just about anyone looking to buy a utility. Only investors are well aware of how well this company is doing right now. The yield it offers is a miserly 1.9%, which isn't much higher than what you could get from an S&P 500 Index fund. It's also materially lower than the 2.7% or so on offer from Vanguard Utilities ETF, which is a rough proxy for the utility sector. More troubling, the yield is near historic lows for the company. Any investor looking to maximize the amount of income they generate won't be too happy here. There are simply better options for yield seekers.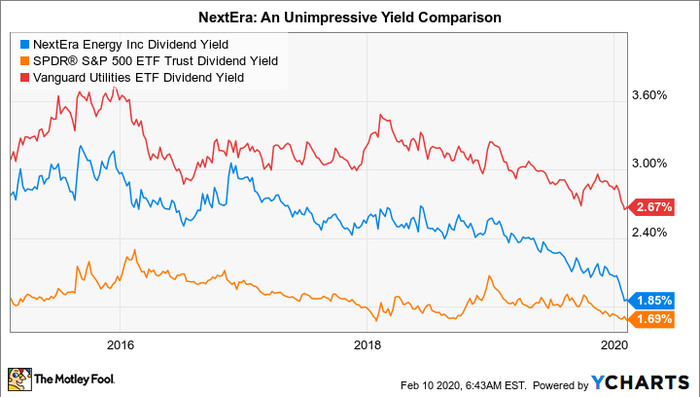 NEE Dividend Yield data by YCharts
Since yield and price move in the opposite direction, it shouldn't come as too much of a surprise that NextEra's stock is near all-time highs. That's left the utility with an elevated price-to-earnings ratio of roughly 35 times compared to a five-year average closer to 20. That's not the only valuation metric that's screaming caution, either. NextEra looks expensive on price to sales, price to book value, and price to cash flow measures, too. So value investors aren't likely to appreciate what's on offer here, either.
Who should consider this utility?
NextEra is a well-run utility with solid growth prospects that is rewarding investors with robust dividend growth. That dividend growth, in the end, is the primary attraction here. If you are an income investor or tend to favor stocks with low valuations, then, despite all the positives, NextEra is best left on your wishlist for now. For those willing to pay up for dividend growth, though, this is a utility that deserves your attention.
10 stocks we like better than NextEra Energy
When investing geniuses David and Tom Gardner have a stock tip, it can pay to listen. After all, the newsletter they have run for over a decade, Motley Fool Stock Advisor, has tripled the market.*
David and Tom just revealed what they believe are the ten best stocks for investors to buy right now... and NextEra Energy wasn't one of them! That's right -- they think these 10 stocks are even better buys.
*Stock Advisor returns as of December 1, 2019
Reuben Gregg Brewer has no position in any of the stocks mentioned. The Motley Fool recommends NextEra Energy. The Motley Fool has a disclosure policy.
Source