Ford Motor's Shares Rise as Investors See Reasons for Optimism
What happened
Shares of Ford Motor Company (NYSE: F) were up on Tuesday afternoon amid a broad-based rally, as new data made investors more optimistic about the impact of the coronavirus pandemic on businesses in the U.S.
As of 1:15 p.m. EDT, Ford's shares were up about 8.1% from Monday's closing price.
So what
Ford's shares have been hit hard over the last month, for obvious reasons: The company's decision to close all of its factories in North America and Europe -- and several in other parts of the world -- leaves it with little revenue for the time being, while its costs remain substantial.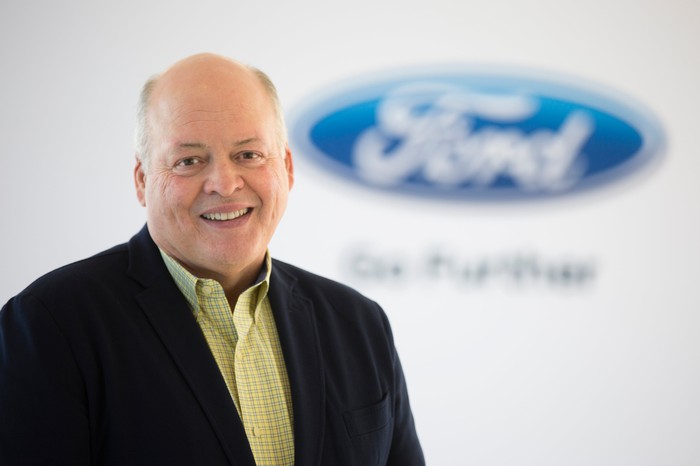 CEO Jim Hackett's steady and reassuring leadership has been exactly what Ford has needed in the current crisis. Image source: Ford Motor Company.
Ford has an ample cash hoard to get through the crisis, but that didn't stop credit-rating agencies from taking away the Blue Oval's hard-won investment-grade status. On the other hand, CEO Jim Hackett has been a bright spot for auto investors, making prudent decisions at a stressful time and keeping Ford's corporate morale up with his steady leadership.
Still, with Ford's dividend suspended for the time being, one of the most powerful bullish arguments for its stock is gone -- or at least on hold for the duration. But assuming that the U.S. and Europe can avoid economic disaster as the COVID-19 outbreak recedes, Ford will almost certainly be fine in the long run.
I think investors are tuning into that likelihood now, and scooping up Ford's shares while the discounted pricing lasts.
Now what
Ford has been good about keeping its investors and other stakeholders informed of its moves as the crisis has unfolded. We won't have to wait too long to hear much more directly from Hackett and his team -- Ford is scheduled to report first-quarter earnings after the market closes on April 28.
10 stocks we like better than Ford
When investing geniuses David and Tom Gardner have a stock tip, it can pay to listen. After all, the newsletter they have run for over a decade, Motley Fool Stock Advisor, has tripled the market.*
David and Tom just revealed what they believe are the ten best stocks for investors to buy right now... and Ford wasn't one of them! That's right -- they think these 10 stocks are even better buys.
*Stock Advisor returns as of March 18, 2020
John Rosevear owns shares of Ford. The Motley Fool has no position in any of the stocks mentioned. The Motley Fool has a disclosure policy.
Source