The 5 Best Energy Stocks of 2020
The energy industry had a divergence of fortunes in 2020, and may have accelerated some long-term trends taking place over the past decade. Oil stocks had a rough year, highlighted by oil prices going negative for a short period of time early in the pandemic. On the flip side, renewable energy stocks had an outstanding year as political winds turned, the economics of renewable energy projects improved, and speculators jumped into the market.
Given all of these factors, it's no surprise that some of the most speculative renewable energy stocks did the best in 2020. Blink Charging (NASDAQ: BLNK), Pacific Ethanol (NASDAQ: PEIX), Enphase Energy (NASDAQ: ENPH), ReneSola (NYSE: SOL), and SunPower (NASDAQ: SPWR) were the energy industry's leaders, and they had some things in common.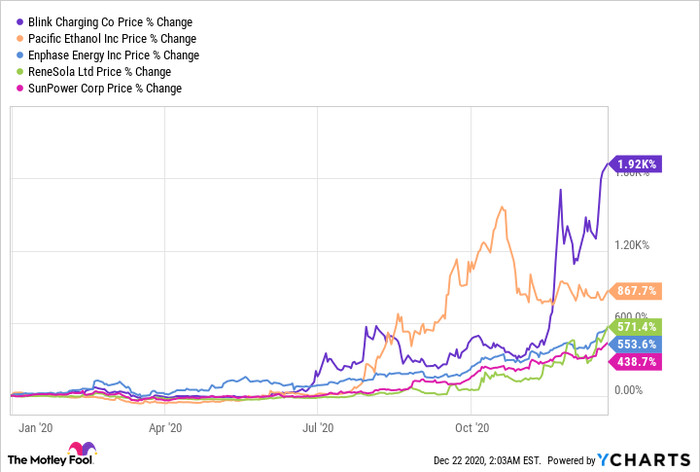 Speculation reigns supreme
Each of these companies is in some way related to renewable or alternative energy. There's ethanol fuel, electric vehicle chargers, and solar companies in the mix. Another thing these companies have in common is that they didn't grow anywhere near what you might think to justify the kind of performance you see above. In fact, some of these companies saw revenue decline in 2020.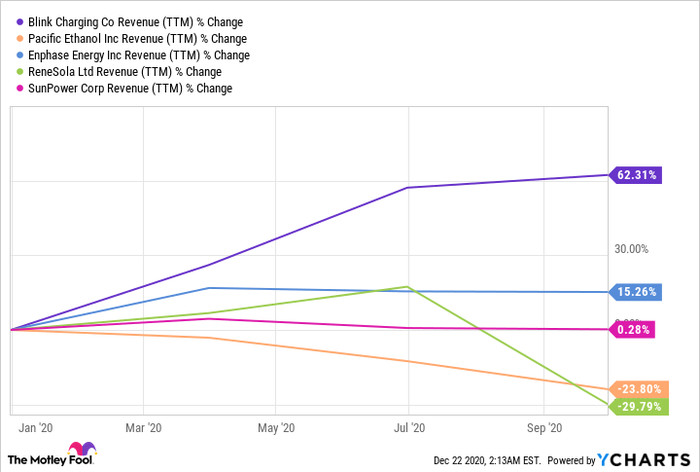 BLNK Revenue (TTM) data by YCharts
The market is generally a forward-looking mechanism, so investors may be seeing a brighter future for alternative and renewable energy stocks -- but I think it's clear that in energy, speculation reigned supreme in 2020. At first, there was a pivot away from fossil fuels to renewable energy stocks, which didn't see the kind of decline in revenue that investors were expecting early in the pandemic. If renewable energy could hold its own in an environment when oil was trading near $0, the industry must be in good shape.
The election caused another bout of speculation, this time around on stimulus for the renewable energy industry. After four years of the industry fighting the Trump administration, investors thought a Biden administration would be much more friendly to renewable energy, and stocks improved as Biden's odds improved. Ironically, a huge policy change has already been pushed through with the stimulus package agreed to this week, which includes a subsidy extension for wind, solar, and energy storage while providing billions for renewable energy research and development.
Pacific Ethanol was helped by all of these factors, but it also benefited from a boom in sanitizer needs during the pandemic. Management quickly shifted to sanitizer production, and is seeing strong margins on those sales. It could be a profitable move for the business, even if results don't quite show that this is a great transition long term.
Growth expectations improve
Beyond the speculative move, there were certainly signs throughout the year that alternative energy would have an even brighter future than expected. On the electric vehicle side, sales continued swiftly and EV stocks became some of the hottest on the market. Tesla (NASDAQ: TSLA) was one of the market's best stocks of the year, while Workhorse Group (NASDAQ: WKHS), Lordstown Motors (NASDAQ: RIDE), and NIO (NYSE: NIO) went from unknowns to hot names for investors.
Newer technologies like hydrogen for energy storage and clean fuel also got a lot of attention, and could potentially be disruptive to energy long term. Hydrogen isn't likely to be a big transportation fuel, but it's the best long-duration energy storage tool we have today, meaning it could be transported and stored for longer than batteries, potentially even over the course of multiple months.
Low interest rates are also fuel for alternative and renewable energy stocks. Wind and solar projects in particular are financed over the course of decades, so a lower interest rate translates to lower-cost energy long term. And it doesn't appear that rates are going up anytime soon.
All of these factors brightened the outlook for each of these stocks. Blink Charging could have more EVs on the road to charge, and demand for Enphase, ReneSola, and SunPower could increase.
Overvalued? Probably
Have these stocks run too far too fast? Probably, but that's not uncommon in a boom market. You can see below that price-to-sales ratios are astronomical for some stocks, particularly Blink Charging and Enphase Energy. Meanwhile, only two companies can show any P/E ratio at all.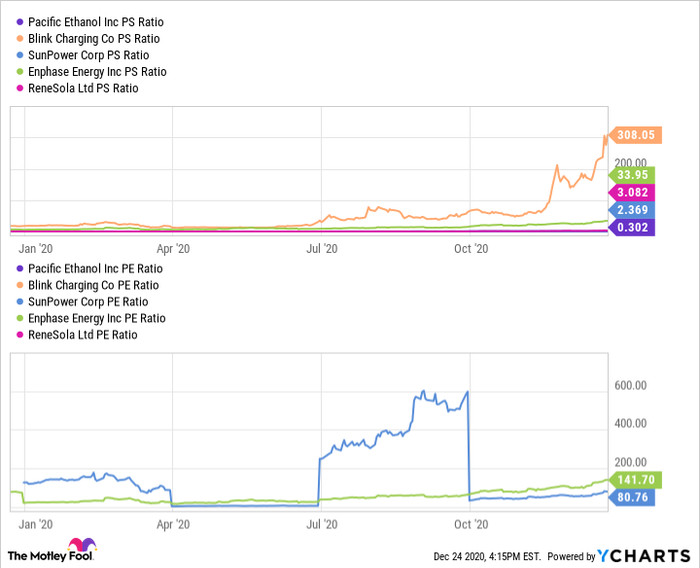 PEIX PS Ratio data by YCharts
This doesn't mean the hot streak is going to end soon. Renewable energy stocks in particular are benefiting from a structural shift in the industry's products long term. I don't see that shift slowing in the next decade, and that creates an opportunity that investors saw as too good to pass up in 2020.
10 stocks we like better than Blink Charging Co
When investing geniuses David and Tom Gardner have a stock tip, it can pay to listen. After all, the newsletter they have run for over a decade, Motley Fool Stock Advisor, has tripled the market.*
David and Tom just revealed what they believe are the ten best stocks for investors to buy right now... and Blink Charging Co wasn't one of them! That's right -- they think these 10 stocks are even better buys.
*Stock Advisor returns as of November 20, 2020
Travis Hoium owns shares of SunPower. The Motley Fool owns shares of and recommends Tesla. The Motley Fool has a disclosure policy.
Source