3 Dividend Aristocrats to Buy and Hold Forever
The Dividend Aristocrats -- stocks that have increased their dividends each year for at least 25 consecutive years -- are an elite group, especially right now. In recent years, the Great Recession and the oil price downturn of 2014-2017 forced some then-Aristocrats -- and a few would-be ones -- to slash their dividends, taking them off the list for at least another quarter-century.
However, that means that the companies that remain on the list have already proven their commitment to shareholders by upping their dividend during some very tough times. But beyond their proven reliability, here's why ExxonMobil (NYSE: XOM), Coca-Cola (NYSE: KO), and Illinois Tool Works (NYSE: ITW) are the kinds of top dividend stocks you can buy and hold forever...or at least for a long time horizon.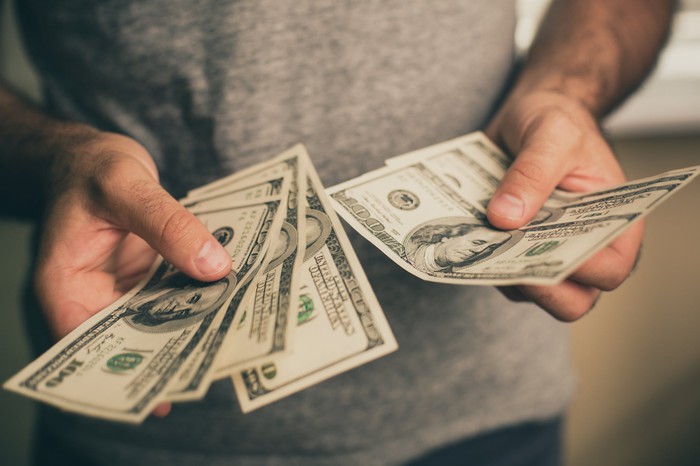 Buying top dividend stocks can help your portfolio outperform over the long term. Image source: Getty Images.
An important milestone
Oil major ExxonMobil's dividend increases during the Great Recession and the oil price downturn may have been small, but the conservatively run company still plugged them in like clockwork, even taking on additional debt to do so.
Over the last five years, though, the stock market hasn't been kind to the oil and gas giant, resulting in a 23% drop in share price during that time frame. Some investors were concerned about Exxon's declining production numbers, and others about its unusually high debt levels.
But there's a silver lining to this cloud: The share price decline, coupled with those annual dividend increases, recently pushed Exxon's dividend yield over 5% for the first time in the 21st century. Exxon's offshore investments in Guyana seem to be paying off, as it continues to discover vast quantities of oil and gas in its Stabroek offshore block, and is about to begin producing oil from the region after years of exploration and infrastructure installation.
While its debt load has increased 48.3% over the last five years, its debt-to-EBITDA ratio of 1.0 is among the lowest of the oil majors. With an increased yield that's still reliable and new opportunities to increase production, Exxon looks poised for long-term success.
An American classic
In 2011, a startling statistic was making the rounds: 3.1% of all beverages consumed in the world (besides water) were Coca-Cola products. I haven't been able to verify if that's still true nearly a decade later, but it shows how important the world's largest beverage company is on a global scale.
That power is rooted in Coke's strong brand: According to its website, 94% of the global population recognizes the red-and-white Coca-Cola logo, and Coke products are sold in every country in the world besides North Korea. Meanwhile, the company has a 57-year history of annual dividend increases, and the stock currently yields 2.9%.
Although there's a lot of news about consumers moving away from high-calorie carbonated beverages, it's worth noting that Coca-Cola is more than just sugary soda pop. The company's 2018 purchase of U.K.-based Costa Coffee for $4.9 billion makes it the world's second-largest coffee brand, behind Starbucks. Sales of Coke Zero Sugar have been increasing, and the company is optimistic about its just-released Coca-Cola Energy Drink.
As tastes change, Coca-Cola is poised to use its powerful brand and massive advantages of scale to follow the money...and continue upping its dividend. That makes it a safe stock to buy and hold.
All over the map
While ExxonMobil is specifically focused on oil and gas, and Coca-Cola on beverages, fellow Dividend Aristocrat Illinois Tool Works has a more diversified portfolio, manufacturing everything from the simple (six-pack rings and door handles) to the complex (welding systems and commercial dishwashers). No single segment dominates the company's earnings: Automotive original equipment manufacturing is the company's largest segment but only contributes about 20% of revenue.
Despite its diversified product lineup, Illinois Tool Works commands relatively high margins for a manufacturing company. In the most recently reported quarter (Q3 2019), the company sported a 25% operating margin. Management believes it can increase that margin to about 28% in 2023. That should be more than enough to continue fueling the company's annual dividend boosts, which have been going on for 47 consecutive years.
Despite these many increases, though, Illinois Tool Works' current yield is only 2.3%. While there are other Dividend Aristocrats -- including ExxonMobil and Coca-Cola -- with better yields, Illinois Tool Works' diversification and high margins make it an excellent pick to buy and hold for the long term.
Check in or check out
Of course, nobody's going to actually hold onto a stock forever. And checking in on your portfolio every so often to ensure it's meeting your goals is a must. But if you're the type who buys a stock and then checks out of the financial world for months -- or years -- at a time, it will help your peace of mind to know you have a batch of reliable dividend stocks like ExxonMobil, Coca-Cola, and Illinois Tool Works in your portfolio.
10 stocks we like better than Illinois Tool Works
When investing geniuses David and Tom Gardner have a stock tip, it can pay to listen. After all, the newsletter they have run for over a decade, Motley Fool Stock Advisor, has tripled the market.*
David and Tom just revealed what they believe are the ten best stocks for investors to buy right now... and Illinois Tool Works wasn't one of them! That's right -- they think these 10 stocks are even better buys.
*Stock Advisor returns as of December 1, 2019
John Bromels owns shares of Coca-Cola and Starbucks. The Motley Fool owns shares of and recommends Starbucks. The Motley Fool has a disclosure policy.
Source