Why Cresco Labs Stock Popped Today
What happened
Shares of Cresco Labs (OTC: CRLBF) jumped 12.3% on Monday after it announced the opening of a major new marijuana dispensary.
So what
The cannabis company said its massive new dispensary in South Beloit, Illinois, is now open for business, selling a wide range of recreational-use products. "At 7,208 square feet, this is one of the largest dispensaries in Illinois and across our entire portfolio," said Cresco Labs co-founder and CEO Charlie Bachtell in a press release.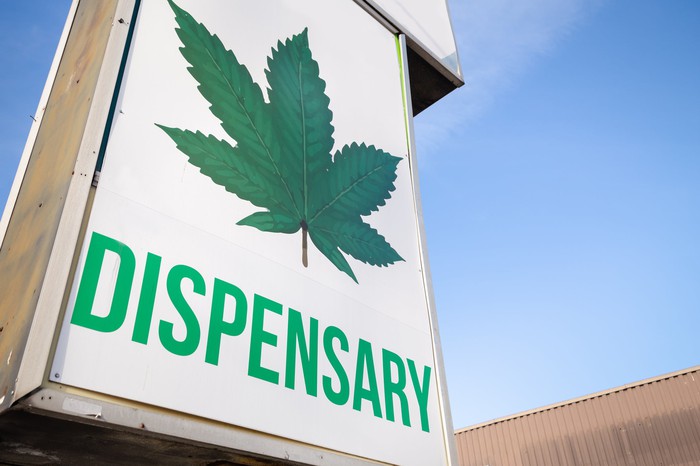 Cresco Labs' stock rose sharply on Monday as investors cheered the opening of its new marijuana dispensary. Image source: Getty Images.
The company is also adapting its processes to better allow for social distancing during the ongoing coronavirus pandemic. Customers will be able to place orders on Cresco's e-commerce website and pick them up at its new dispensary the same day.
Now what
Cresco has a strong presence in Illinois, with eight dispensaries now and a ninth scheduled to open later this year. It also possesses the largest cannabis cultivation capacity in the state. In turn, Bachtell says his company is well-positioned to benefit from the market's rapid expansion.
"Illinois cannabis sales set a record in June reaching approximately $77 million, which translates to an almost billion-dollar annualized run rate," Bachtell said. "With our 6x increase in cultivation capacity and focus on going deep in the state, we continue to command an outsized share of this market."
10 stocks we like better than Cresco Labs Inc.
When investing geniuses David and Tom Gardner have a stock tip, it can pay to listen. After all, the newsletter they have run for over a decade, Motley Fool Stock Advisor, has tripled the market.*
David and Tom just revealed what they believe are the ten best stocks for investors to buy right now... and Cresco Labs Inc. wasn't one of them! That's right -- they think these 10 stocks are even better buys.
*Stock Advisor returns as of June 2, 2020
Joe Tenebruso has no position in any of the stocks mentioned. The Motley Fool owns shares of and recommends Cresco Labs Inc. The Motley Fool has a disclosure policy.
Source