The Coronavirus Vaccine Is a Negative for Netflix Stock for This Reason
Netflix's (NASDAQ: NFLX) stock price plunged in Monday trading following an announcement from Pfizer that its development of a vaccine for COVID-19 was showing real promise of being effective. While the market rose overall on this news, stocks that had benefited from increased online activity over the past nine months or so fell in price, including Netflix.
However, most investors likely expected pre-pandemic viewing patterns to return once society learned to manage the disease. So, while it's understandable that the stock price dipped on the news, the bigger reason why investors should be concerned about Netflix's stock price is related to something different.
Netflix's real problem lies in its balance sheet -- an ongoing issue that could derail the stock's growth over time.
Reduced viewership is not the problem...
Stocks like Netflix sold off Monday in anticipation of a drop in online activity. With more people potentially returning to work or entertainment outside of the home upon the distribution of an effective coronavirus vaccine, the public will potentially have less time for Netflix and let their subscriptions lapse.
However, investors should not forget that Netflix charges by the month, not by the program, and just raised the cost of its standard plan. The company charges $13.99 per month regardless of whether a family spends one hour or 100 hours per month watching its programs. Thus, reduced viewership is unlikely to reduce revenue substantially.
Netflix has benefited recently from the popularity of original programming such as The Queen's Gambit. Also, popular programs such as The Crown and Cobra Kai will soon release new episodes. So its new content releases are clearly keeping many subscribers happy.
...instead, investors need to worry about this issue
The pandemic led to another significant but often overlooked benefit -- positive free cash flow. In the just-released third quarter of 2020, Netflix reported a free cash flow of almost $1.15 billion. This stands in contrast to the year-ago quarter when Netflix announced a negative cash flow of $551 million.
Despite the recent subscription price increase, the company also announced that it expects cash flow to turn negative in the fourth quarter as more programs restart production following coronavirus-related shutdowns. Since increased competition in streaming forced Netflix to become a content provider back in 2013, cash flow has remained an ongoing issue.
In 2019, Netflix reported a net income of $4.13 per diluted share, or just under $1.9 billion. Unfortunately, this profit picture appears deceptive when the numbers are examined more closely. For the same period, Netflix reported a negative cash flow of almost $3.3 billion. The company also experienced negative cash flow in each of the previous four years. This indicates that net income does not reflect the company's true costs.
Netflix has not relied heavily on share issuance for cash. The number of basic shares only rose by about 3.4 million in the last 12 months, just under 0.8%. Instead, Netflix has turned to the debt markets to address the cash burn. Over the last year, long-term debt rose by just under $800 million in an environment where Netflix temporarily halted much of its production.
In 2019, when production was in full swing, long-term debt surged by almost $4.4 billion. Today, Netflix holds more than $15.5 billion in long-term debt. This represents a massive burden for a company worth $10.3 billion after subtracting liabilities from assets.
How this affects Netflix stock
The near-term effects on the communications stock remain unclear. Still, the resumption of negative cash flows again puts Netflix on an unsustainable path. Its debt level could force either stock dilution or a production slowdown. Either could hurt Netflix stock more than reduced viewership.
So far, investors seem to have ignored this issue. Even when considering the sell-off caused by reports of a vaccine, Netflix stock has still risen by more than 55% in 2020. Such growth has consistently led to value investors missing out on the Netflix opportunity.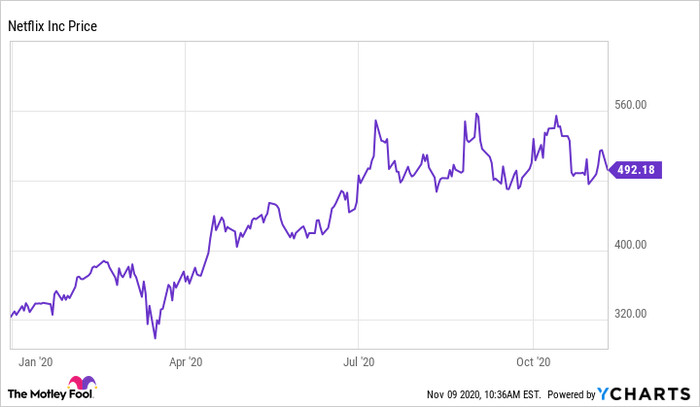 For Netflix to sustain itself long term, revenue will have to cover all production costs at some point. Until the company directly addresses this problem, investors may want to think twice before buying the recent dip.
10 stocks we like better than Netflix
When investing geniuses David and Tom Gardner have a stock tip, it can pay to listen. After all, the newsletter they have run for over a decade, Motley Fool Stock Advisor, has tripled the market.*
David and Tom just revealed what they believe are the ten best stocks for investors to buy right now... and Netflix wasn't one of them! That's right -- they think these 10 stocks are even better buys.
*Stock Advisor returns as of October 20, 2020
Will Healy has no position in any of the stocks mentioned. The Motley Fool owns shares of and recommends Netflix. The Motley Fool has a disclosure policy.
Source