Here's Why Roku Stock Is Soaring Even Though the Market Is Down Today
What happened
Shares of connected-TV platform Roku (NASDAQ: ROKU) were climbing higher on Monday morning even though the market was broadly down. That's because the company announced a deal with Comcast's (NASDAQ: CMCSA) NBCUniversal to bring its streaming-video channel Peacock to Roku's platform.
As of 10:15 a.m. EDT on Monday, Roku stock was up 14%. For the year, it's up 36%, handily beating the market.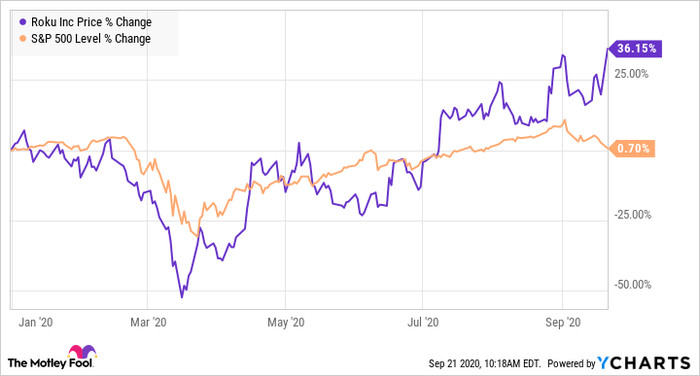 So what
Peacock was one of the few prominent streaming video-on-demand services not available on Roku. NBC's other channels were there. But the two companies were actively negotiating a deal for Peacock. And, as of Friday, it wasn't going well.
According to the website The Verge, all of NBCUniversal's channels were about to be pulled from Roku, unless Roku agreed to NBCUniversal's terms for Peacock. A Roku spokesperson told The Verge that NBCUniversal's terms weren't favorable. Likewise, NBCUniversal said Roku's demands were unreasonable. But something happened over the weekend, and NBCUniversal's channels are staying on Roku, and Peacock is launching on the platform in the next couple of weeks.
Investors wondered which company actually had the upper hand in negotiations. If you're NBCUniversal, you can't just have great content; you need it to be widely distributed. If you're Roku, it's not enough to power millions of TVs; you need third-party content. Who needs the other more?
Roku stock is going up today because investors believe NBCUniversal caved to Roku. But the terms for the agreement weren't given; in reality, it could have been a fair compromise. It's mutually beneficial: Content needs distribution, and distribution needs content.
Now what
It doesn't matter what the precise terms of the agreement were; this is still a win for Roku. Notably, Peacock is still unavailable on Amazon Fire TV. This gives the Roku platform a slight edge over one of its top competitors, at least for now.
HBO Max, owned by AT&T's WarnerMedia, is now the biggest fish Roku has yet to land. HBO made headlines over the weekend by winning 30 Emmy awards, far ahead of rival Netflix. This shows the importance of HBO Max for Roku. But having now landed Peacock, many analysts believe a deal between the two could happen soon, which could propel a growth stock like Roku even higher.
10 stocks we like better than Roku
When investing geniuses David and Tom Gardner have a stock tip, it can pay to listen. After all, the newsletter they have run for over a decade, Motley Fool Stock Advisor, has tripled the market.*
David and Tom just revealed what they believe are the ten best stocks for investors to buy right now... and Roku wasn't one of them! That's right -- they think these 10 stocks are even better buys.
*Stock Advisor returns as of August 1, 2020
John Mackey, CEO of Whole Foods Market, an Amazon subsidiary, is a member of The Motley Fool's board of directors. Jon Quast owns shares of Roku. The Motley Fool owns shares of and recommends Amazon, Netflix, and Roku. The Motley Fool recommends Comcast and recommends the following options: short January 2022 $1940 calls on Amazon and long January 2022 $1920 calls on Amazon. The Motley Fool has a disclosure policy.
Source