Electronic Arts Earnings: What to Watch
Electronic Arts (NASDAQ: EA) has been left out of the stock market rally over the past year as investors worry about slowing growth in the wake of the pandemic. Those concerns are likely overblown -- EA entered fiscal 2022 with a strong content pipeline and its biggest pool of engaged gamers to date.
Those assets are even more valuable as the business shifts toward a subscription model that delivers steadier sales and robust earnings and cash flow. Let's take a look at what investors can expect to hear on these points when EA posts its fiscal 2022 first-quarter results on Wednesday, Aug. 4.
Looking beyond growth
Investors aren't expecting much in the way of sales growth. Management's previous revenue guidance of $1.475 billion is up just 1% year over year. And net bookings (a measure of consumer sales in the period) should drop 10% in the first quarter after soaring 15% during fiscal 2021. But that's mainly a timing quirk related to the pandemic and the company's game release schedule. Management said back in May bookings will grow for the full year to $7.3 billion.
Within the headline sales figure, keep an eye on engagement. Franchises like Apex Legends and FIFA maintain huge audiences that have built habits around socializing with friends through those titles. We'll find out on Wednesday if these bonds held up even through economic reopenings in markets like the U.S. and Europe. A miss in this arena would show up in sluggish user gains and reduced hours spent within EA's gaming portfolio.
Cash and profits
EA's business, like its rival Activision Blizzard, is becoming stabler and more profitable thanks to the push toward digital purchases. Games are also becoming more of a subscription sale than a one-off purchase around launch time.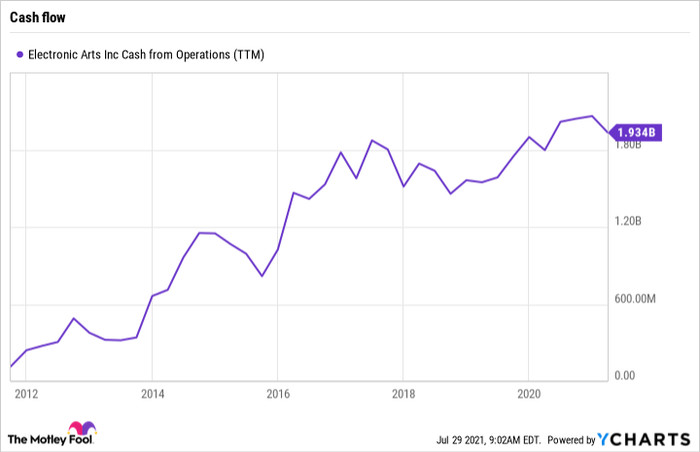 Data by YCharts.
That makes the video game company more of a software-as-a-service play with all the financial benefits that brings. "There couldn't be a more dramatic illustration of the way the business has evolved," CFO Blake Jorgensen told investors in May, "with our focus on engagement and ongoing entertainment now generating three-quarters of our net bookings."
Profitability is key to watch on this score as operating margin rises over time. Cash flow should be impressive in fiscal 2022 too after hitting a record $1.9 billion the previous year.
The updated outlook
Investors weren't happy with the initial 2022 outlook that CEO Andrew Wilson and his team issued three months ago. But executives noted at the time that the forecast included some conservative assumptions, including no synergies from EA's recent mobile development studio purchases. The guidance didn't count on big growth in the Battlefield franchise, either.
That situation sets up a potentially good week ahead for shareholders if EA raises its 2022 forecast. Heading into the report, current guidance calls for sales to rise 21% this year, mainly thanks to the addition of its newly acquired mobile brands.
10 stocks we like better than Electronic Arts
When our award-winning analyst team has a stock tip, it can pay to listen. After all, the newsletter they have run for over a decade, Motley Fool Stock Advisor, has tripled the market.*
They just revealed what they believe are the ten best stocks for investors to buy right now... and Electronic Arts wasn't one of them! That's right -- they think these 10 stocks are even better buys.
*Stock Advisor returns as of June 7, 2021
Demitri Kalogeropoulos owns shares of Activision Blizzard. The Motley Fool owns shares of and recommends Activision Blizzard. The Motley Fool recommends Electronic Arts. The Motley Fool has a disclosure policy.
Source