3 Top Stocks to Buy During the Sell-Off
There are probably many investors that have only entered the stock market in recent years. While they may have experienced the unique, and brief, bear market caused by the pandemic in 2020, the S&P 500 and Nasdaq Composite have both entered bear market territory again this year.
The current bear market is more broad-based and less due to a single event, making it more comparable to past stock market down cycles. Those have proven to be some of the best opportunities for investors to set up a portfolio for long-term gains, and ultimately, financial freedom. By buying proven companies with solid financials, investors should be able to turn this sell-off into one of those same opportunities.
Proven winners
This is the time to buy proven, winning businesses at discounted prices. Home Depot (NYSE: HD) is a great place to start. Home Depot's price-to-earnings (P/E) ratio is down to a near-decade low of under 18.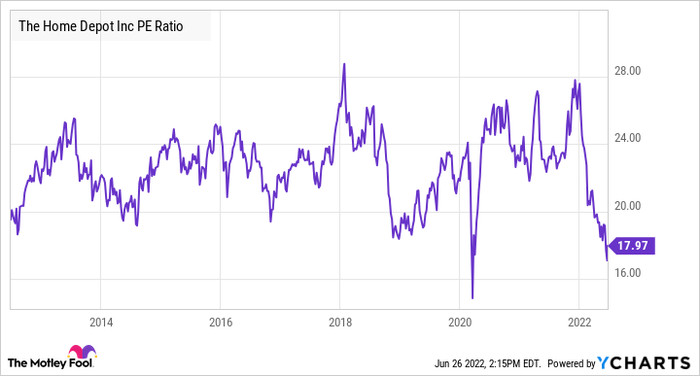 HD PE Ratio data by YCharts
But it's not just about price and valuation. Home Depot's business is as strong as ever. And that's saying something. The home improvement chain leader has seen sales more than double over the past decade, outpacing that of its only real rival, Lowe's. It recently raised fiscal 2022 guidance even further for sales, operating margin, and net earnings. The continued business strength combined with an attractive valuation makes Home Depot a good buy during this market sell-off.
Best time to have a backstop
Business strength isn't the only support investors can lean on during tough economic times. Two other companies that provide backstops in a bear market or recession are popular GPS device maker Garmin (NYSE: GRMN) and global infrastructure company Brookfield Infrastructure Corporation (NYSE: BIPC).
These two companies offer some similar protections for investors, but also more diversity. One common trait that supports their investors is a steadily rising dividend. Even through the pandemic, both have generously boosted their payouts.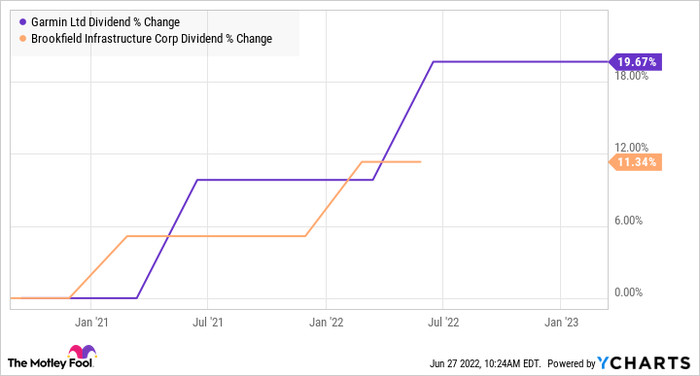 And the businesses themselves also offer protections. Like Home Depot, Garmin has a very strong underlying business. It has grown revenue for six consecutive years and expects another 10% jump in 2022. Garmin also has a pristine balance sheet with about $3 billion in cash and marketable securities and no debt as of the end of the first quarter. That kind of fiscal position not only allows the company to weather economic downturns, it also provides opportunities to grow during times where prices for potential acquisitions might be lower.
Brookfield doesn't have that kind of balance sheet because it is in a very different business. The company has a diverse group of global hard assets that typically require taking on some debt to acquire. But it does provide inflation protection, as its utilities, transportation, and energy assets offer stable cash flows and geographic diversity. Investors can breathe easy even during tough times as Brookfield has about 90% of its business regulated or contracted, and 70% indexed to inflation.
Shares in both companies have dropped nearly 15% in just the last three months. With the support both provide during troubled times, and dividends recently yielding 2.7% and 3.3%, respectively, Garmin and Brookfield also make good buys during this market sell-off.
10 stocks we like better than Home Depot
When our award-winning analyst team has a stock tip, it can pay to listen. After all, the newsletter they have run for over a decade, Motley Fool Stock Advisor, has tripled the market.*
They just revealed what they believe are the ten best stocks for investors to buy right now... and Home Depot wasn't one of them! That's right -- they think these 10 stocks are even better buys.
*Stock Advisor returns as of June 2, 2022
Howard Smith has positions in Brookfield Infrastructure Corporation, Garmin, and Home Depot. The Motley Fool has positions in and recommends Garmin and Home Depot. The Motley Fool recommends Brookfield Infrastructure Corporation and Lowe's. The Motley Fool has a disclosure policy.
Source