Is Aurora Cannabis Stock a Buy?
Stocks in the cannabis sector have been on a wild ride since Canada legalized recreational marijuana use in October 2018. At first, there was a broad spike in prices as investors bid up the entire industry. But later, cannabis growers came back down to earth, and stock moves started to be more closely tied to the specific situations of the individual companies.
For those companies, a great deal hangs on the question of whether the U.S. will legalize marijuana at the federal level, and if so, when. Until that's answered, different operators are taking different paths. Aurora Cannabis (NYSE: ACB) has been a popular stock with retail investors, but the direction it's taken has not led to profitability, and it's now in the midst of a major course correction. The outcome of that will determine whether the stock becomes a winner.
The turnaround plan
Aurora has spent much of the past year raising capital and restructuring its business in an effort to contain its losses. The changes included cutting jobs, closing operations to consolidate production, and selling additional stock. The goals are to reduce expenses, more closely scrutinize capital expenditures, and improve the balance sheet en route to attaining profitability.
In its fiscal 2021 first quarter, which ended Sept. 30, Aurora had revenue of about $52 million. This was a decline from the prior-year period -- definitely not what investors in a growth industry are hoping to see. Also, in a recent business update, Aurora warned that its "back to basics" business strategy "will delay the company's ability to achieve positive adjusted EBITDA as management invests in its consumer business."
Competitors are moving forward
While Aurora looks inward as it focuses on its transformation, competitors are looking outward for growth opportunities -- and attempting to establish frameworks in anticipation of the possible legalization of marijuana at the federal level in the U.S.
For example, in early November, fellow Canadian grower Aphria (NASDAQ: APHA) purchased U.S.-based craft brewer SweetWater Brewing, which sells the most popular hemp-flavored beer in the country. When it announced the deal, Aphria said that it provides "a platform and infrastructure within the U.S. to enable it to access the U.S. market more quickly in the event of federal legalization." Aphria will also be merging with Tilray to create one the largest cannabis company in the world in terms of revenue.
Canopy Growth has strong ties with American beverage giant Constellation Brands (NYSE: STZ). Last year, Constellation added nearly $200 million to the $4 billion investment it originally made in Canopy Growth.
Most recently, HEXO (NYSE: HEXO) and Molson Coors announced that their joint venture, Truss CBD USA, is launching a new, non-alcoholic, sparkling CBD-infused drink in Colorado.
The bottom line
While Aurora's stock is rebounding from the lows it sank to in October, it's hard to call it a long-term buy when its competitors are aggressively planning for the future. On top of that, Aurora's peers are growing their revenues more quickly than it is.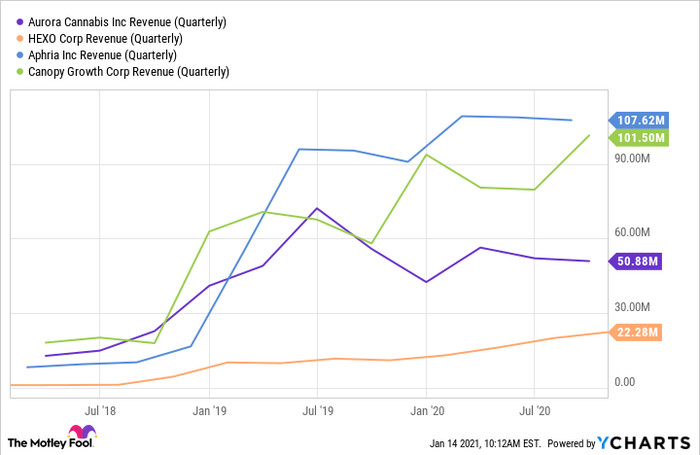 ACB Revenue (Quarterly) data by YCharts
Aphria, for example, just reported that for its fiscal 2021 second quarter, which ended Nov. 30, revenues grew by 33% year over year to a company record.
There are likely to be many winners over the long term in the cannabis sector, so one good approach to investing in it would be to hold a small basket of stocks in the industry. But I don't think that Aurora Cannabis has deserved a spot in that basket -- at least not yet. Investors should keep an eye on the company's efforts to cut costs and reach positive EBITDA before initiating a position.
Here's The Marijuana Stock You've Been Waiting For
A little-known Canadian company just unlocked what some experts think could be the key to profiting off the coming marijuana boom.

And make no mistake – it is coming.
Cannabis legalization is sweeping over North America – 15 states plus Washington, D.C., have all legalized recreational marijuana over the last few years, and full legalization came to Canada in October 2018.
And one under-the-radar Canadian company is poised to explode from this coming marijuana revolution.
Because a game-changing deal just went down between the Ontario government and this powerhouse company...and you need to hear this story today if you have even considered investing in pot stocks.
Simply click here to get the full story now.
Howard Smith has no position in any of the stocks mentioned. The Motley Fool owns shares of and recommends Constellation Brands. The Motley Fool recommends HEXO. The Motley Fool has a disclosure policy.
Source