Cathie Wood Just Bought These 3 High-Growth Stocks That Could Make You a Fortune
Cathie Wood has been around Wall Street for decades, but the founder and CEO of ARK Investment Management took the spotlight in 2020 when her five flagship exchange-traded funds (ETFs) crushed the broader market, each generating returns of over 100% for the year. Those tremendous results made investors sit up and take notice.
Given her results in 2020, it's worth watching what Wood is buying -- even if some of those stocks may not exactly be your cup of tea. To further increase my chances of finding winning investments from among her picks, I look for companies that boast industry-leading positions, robust secular tailwinds, and large and growing total addressable markets.
Three stocks Wood bought last week meet all of those lofty criteria.
Okta: The cutting edge of identity management
The ARK Next Generation Internet ETF (NYSEMKT: ARKW) focuses on companies that will benefit from broad technological trends including cloud computing, mobile communication, big data, and the Internet of Things. One of the biggest stumbling blocks for companies looking to make use of many of those technologies is the prevalence of hacking and unauthorized access that plagues the modern era. Ensuring that only those with the proper credentials can access critical networks is a big job, and Okta (NASDAQ: OKTA) is there to answer the call.
The company is the leader in cloud-based identity management and authentication services. Okta manages access across any application, person, or device, and handles not only employees, but also serves as the gatekeeper allowing partners, contractors, and customers to access those systems they are authorized to use. Rather than simply connecting to a company's network, Okta integrates with more than 6,500 of the most-used enterprise software applications, including Amazon Web Services, salesforce.com, Zoom Video Communications, and Microsoft Office 365.
Okta has been named the industry leader in its niche for seven years running by research company Gartner. It was also singled out by Forrester as a leader in the field for both its Identity-as-a-Service (IDaaS) and its Zero Trust eXtended Ecosystem. These industry accolades help illustrate the value of Okta's offerings.
If you need further evidence, look no further than its recent results. Okta's revenue increased 43% last year, while subscriptions climbed 44%. The company's remaining performance obligation (RPO) -- which represents revenue that is under contract but has not yet been recognized -- grew even faster, by 49%, which signals the trajectory of its future growth.
With the acquisition of Auth0 last month, Okta expanded its addressable market from $55 billion to $80 billion. Considering that it generated revenue of just $835 million last year, even if the company only captures a small part of its total addressable market, the stock could grow several-fold from here.
Wood only opened a position in Okta last week, so this could be the beginning of a long and lucrative association.
The Trade Desk: No cookies in its diet
Another trend that still has legs is the transition to digital advertising -- and more specifically, programmatic advertising. To ensure that it has exposure to this large and growing trend, the ARK Next Generation Internet ETF is betting big on The Trade Desk (NASDAQ: TTD).
Not only is the company the leading independent demand-side advertising platform, but it partners with the world's largest ad agencies rather than competing against them. This gives The Trade Desk a large and growing ecosystem in which to expand its market share.
While the digital advertising industry is up in arms due to Alphabet's announcement regarding the pending death of cookies and Apple's moves to increase user privacy, The Trade Desk is uniquely positioned to sidestep most of the issues those changes will create.
First, only about 8% of its advertising spend is reliant on Apple's Identifier for Advertisers (IDFA), so the tech giant's plans to essentially kill it won't materially impact The Trade Desk's business. Second, and perhaps more importantly, The Trade Desk has long prepared for the demise of cookies. The company developed the Unified ID, an identifier that helps target ads, but doesn't contain any personally identifiable information, so it doesn't invade user privacy.
The most important names in the industry use The Trade Desk's Unified ID, including Index Exchange, Magnite, PubMatic, OpenX, SpotX, Criteo, LiveRamp, and Neustar, just to name a few.
In the fourth quarter, The Trade Desk grew revenue by 48% year over year -- its highest growth rate in nearly two years -- while net income nearly tripled. The company's total revenue last year hit $836 million, which pales in comparison to its total addressable market of $1 trillion annually in the coming decade.
These factors no doubt led Wood to increase ARK Next Generation Internet ETF's position in The Trade Desk last week, bringing it to 2.28% of the total $5.27 billion funds under management, and making it the fund's 13th largest position.
Palantir Technologies: Finding needles in haystacks
The ARK Innovation ETF (NYSEMKT: ARKK) focuses on disruptive technology that could potentially change the way the world works, which is likely why it was attracted by Palantir Technologies (NYSE: PLTR). It can take years, sometimes decades, to develop the necessary tools to gather, consolidate, and analyze data trapped in silos. These problems have plagued enterprise companies and governments alike. While Palantir has been public for less than a year, it has been building its data mining and warehousing tools for nearly 20 years -- and it has an extensive tech pedigree.
Palantir is the brainchild of Peter Thiel, one of the co-founders of PayPal (NASDAQ: PYPL), so disruptive technology is right up his alley. The company has been helping defense and intelligence agencies crunch data in the fight against terrorism for years, and has an impressive track record of capturing lucrative government contracts. But that's just the beginning. After honing its craft with the government, Palantir turned its sights to the enterprise market, helping to extract meaningful and actionable data for businesses.
The company's software is exceedingly complex and requires an entire team of engineers to install. Once Palantir's platform is entrenched in a customer's systems, it's highly unlikely that a rival data miner would be able to come in and lure that client away, even if there were a competitor of Palantir's magnitude.
The company grew revenue by 47% in 2020, winning a host of new and increasingly lucrative contracts along the way. The average annual revenue from the company's top 20 customers grew by 34%, while the number of those generating $1 million or more in revenue grew 32%. Additionally, the number of clients contributing $5 million or more grew 54%, while the number generating $10 million grew by 50%.
Palantir's management estimates its total addressable market tops out at $119 billion annually across both its commercial and government segments. Given that the company generated revenue of just $1.1 billion in 2020, it clearly has ample opportunities for growth.
Wood has gradually been building a position in Palantir. It's now one of the top 25 holdings in the ARK Innovation ETF, with its stake amounting to 1.4% of its $17.68 billion funds under management.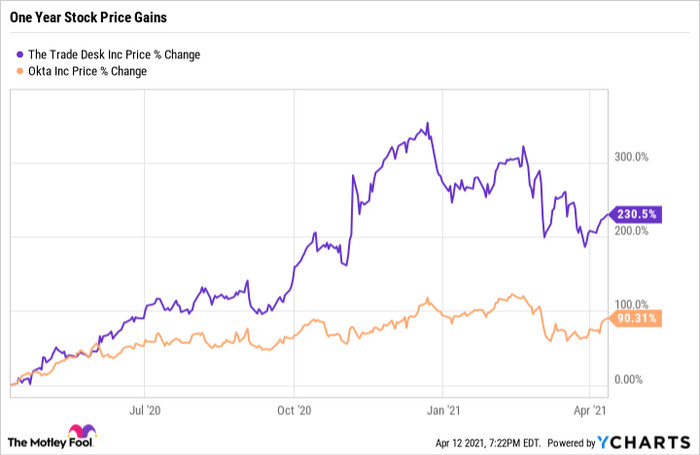 Data by YCharts
Every rose has its thorns
Given the impressive results Wood racked up last year, it would almost seem like a no-brainer to follow her lead, but her noteworthy record notwithstanding, these stocks simply aren't for everyone. In terms of traditional valuation metrics, they certainly aren't cheap. The Trade Desk, Okta, and Palantir are selling at price-to-sales ratios of 41, 37, and 25, respectively -- when a good price-to-sales ratio for a stock is generally between 1 and 2.
That said, these industry-leading companies have plenty going for them, including robust tailwinds and massive market opportunities. Additionally, The Trade Desk and Okta gained 230% and 90%, respectively, over the past year, and Palantir is up by 145% since it debuted on Sept. 30.
For investors who can stomach volatility and have an appetite for a little additional risk, Wood's recent purchases could be just the ticket.
Find out why The Trade Desk is one of the 10 best stocks to buy now
Motley Fool co-founders Tom and David Gardner have spent more than a decade beating the market. After all, the newsletter they have run for over a decade, Motley Fool Stock Advisor, has tripled the market.*
Tom and David just revealed their ten top stock picks for investors to buy right now. The Trade Desk is on the list -- but there are nine others you may be overlooking.
Click here to get access to the full list!
*Stock Advisor returns as of February 24, 2021
John Mackey, CEO of Whole Foods Market, an Amazon subsidiary, is a member of The Motley Fool's board of directors. Suzanne Frey, an executive at Alphabet, is a member of The Motley Fool's board of directors. Suzanne Frey, an executive at Alphabet, is a member of The Motley Fool's board of directors. Teresa Kersten, an employee of LinkedIn, a Microsoft subsidiary, is a member of The Motley Fool's board of directors. Danny Vena owns shares of Alphabet (A shares), Amazon, Apple, Magnite, Inc, Microsoft, Okta, PayPal Holdings, The Trade Desk, and Zoom Video Communications and has the following options: long January 2021 $85.0 calls on PayPal Holdings. The Motley Fool owns shares of and recommends Alphabet (A shares), Alphabet (C shares), Amazon, Apple, Magnite, Inc, Microsoft, Okta, Palantir Technologies Inc., PayPal Holdings, Salesforce.com, The Trade Desk, and Zoom Video Communications. The Motley Fool recommends Criteo and Gartner and recommends the following options: long January 2022 $1920.0 calls on Amazon, long January 2022 $75.0 calls on PayPal Holdings, long March 2023 $120.0 calls on Apple, short January 2022 $1940.0 calls on Amazon, and short March 2023 $130.0 calls on Apple. The Motley Fool has a disclosure policy.
Source