Kansas City Southern Is Reportedly a Buyout Target
Kansas City Southern (NYSE: KSU) is reportedly the target of an unsolicited buyout offer from a group of investors including The Blackstone Group (NYSE: BX), shining a spotlight on the railroad company with strong ties to cross-border trade with Mexico.
The Wall Street Journal reported on Wednesday that a consortium including Blackstone and Global Infrastructure Partners has submitted a sweetened bid for Kansas City Southern after an earlier attempt was rebuffed by the company. Terms of the offer were not known, but the Journal had reported in July that a group including Blackstone was weighing making an offer that would have valued Kansas City Southern at about $20 billion.
The transportation company had a market capitalization of more than $17 billion as of Wednesday's trading. None of the parties involved had any comment on the report.
It's been a bumpy ride for Kansas City Southern investors, with the stock both beating the S&P 500 over the past five years but underperforming other U.S. major railroads. Kansas City Southern's route network goes down the spine of North America with major operations in Mexico, including access to Pacific ports, and its fortunes tend to ebb and flow with U.S./Mexican trade relations.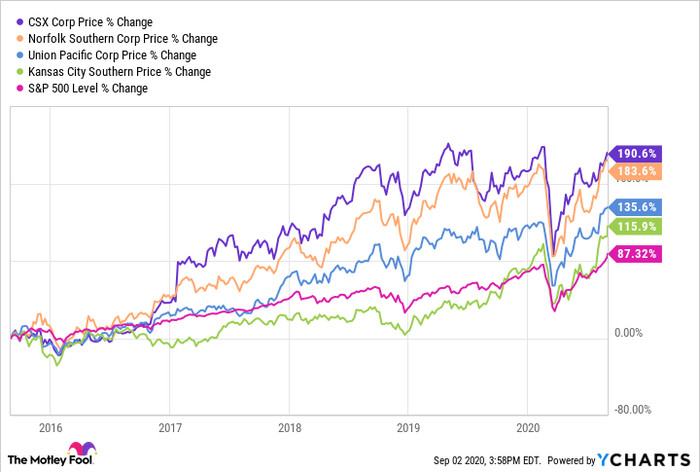 A round of consolidation in the 1990s left the U.S. with five major railroads, and regulators in years past have signaled further dealmaking to reduce that number would be frowned upon. Kansas City Southern is the smallest of the major railroads, but with its assets in Mexico, it would be of interest to an acquirer if a deal could pass regulatory muster.
Private ownership of large railroads is not unheard of in the U.S. Berkshire Hathaway in 2009 acquired Burlington Northern Santa Fe for $26.5 billion in cash and stock.
10 stocks we like better than Kansas City Southern
When investing geniuses David and Tom Gardner have a stock tip, it can pay to listen. After all, the newsletter they have run for over a decade, Motley Fool Stock Advisor, has tripled the market.*
David and Tom just revealed what they believe are the ten best stocks for investors to buy right now... and Kansas City Southern wasn't one of them! That's right -- they think these 10 stocks are even better buys.
*Stock Advisor returns as of August 1, 2020
Lou Whiteman owns shares of Berkshire Hathaway (B shares). The Motley Fool owns shares of and recommends Berkshire Hathaway (B shares) and recommends the following options: long January 2021 $200 calls on Berkshire Hathaway (B shares), short January 2021 $200 puts on Berkshire Hathaway (B shares), and short September 2020 $200 calls on Berkshire Hathaway (B shares). The Motley Fool has a disclosure policy.
Source