Why Expedia Shares Gained 21% Last Month
What happened
Shares of Expedia (NASDAQ: EXPE) were moving higher last month as the online travel agency got a boost from an analyst upgrade, a falling coronavirus case count, progress on the vaccine front, and data showing the economy continuing to recover.
According to data from S&P Global Market Intelligence, the stock finished the month up 21%.
As you can see from the chart below, the stock climbed steadily over the course of August.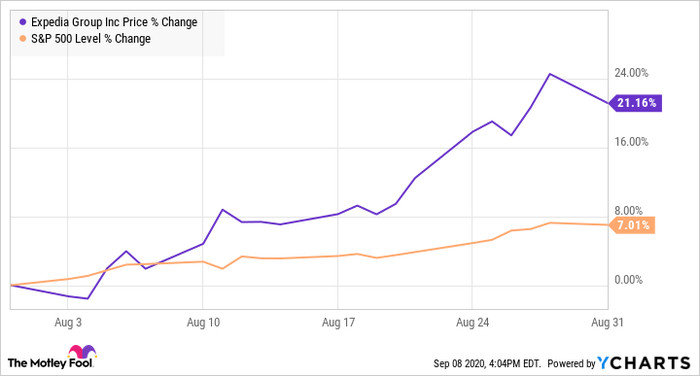 So what
Expedia shares slipped at the end of July after the company issued a dismal second-quarter earnings report. Though revenue plunged 82% during the lockdown-impacted quarter, and the company posted an adjusted net loss of $577 million, investors were willing to look past those figures as Expedia was one of several travel stocks, including Booking Holdings and TripAdvisor, that rose by double-digits during August.
In fact, on August 3, Expedia got an upgrade from BTIG to buy from neutral, as analyst Jake Fuller said the post-earnings sell-off was unwarranted since the company took no impairments and is still on track to make a recovery. He also noted tailwinds from earlier cost cuts and said the stock's valuation was compelling, as it trades at 7 times his estimates for 2022 adjusted earnings before interest, taxes, depreciation, and amortization (EBITDA.)
Expedia shares seemed to gain as coronavirus cases fell from the July peak, lifting the hopes for a recovery in the travel sector, and as the labor department reported 1.7 million new jobs added in July, adding to bullishness on the recovery. Towards the end of the month, FDA approval of a $5, 15-minute test from Abbott Labs helped lift travel and discretionary stocks.
Now what
Surprisingly, Expedia shares are only down 8% year to date despite its business having imploded during the pandemic. Unlike travel companies with high fixed costs, such as airlines and hotels, Expedia's biggest expense line item is advertising, which can easily be scaled up and down, giving the company flexibility that other travel businesses don't have.
Still, Expedia will be at the mercy of the pandemic for the foreseeable future, so investors should keep their eye on COVID-19 case counts and vaccine prospects for insight into the company's future.
10 stocks we like better than Expedia
When investing geniuses David and Tom Gardner have a stock tip, it can pay to listen. After all, the newsletter they have run for over a decade, Motley Fool Stock Advisor, has tripled the market.*
David and Tom just revealed what they believe are the ten best stocks for investors to buy right now... and Expedia wasn't one of them! That's right -- they think these 10 stocks are even better buys.
*Stock Advisor returns as of August 1, 2020
Jeremy Bowman has no position in any of the stocks mentioned. The Motley Fool owns shares of and recommends Booking Holdings and TripAdvisor. The Motley Fool has a disclosure policy.
Source