If You Bought the 5 Most Popular Robinhood Stocks 6 Months Ago, Here's How Much You'd Have Today
These household names were the five most popular Robinhood stocks on May 27, 2020:
| Company | Ticker | Year-to-Date Price Change on 5/27/2020 |
| --- | --- | --- |
| Ford Motor | (NYSE: F) | (35.2%) |
| General Electric | (NYSE: GE) | (34.7%) |
| Walt Disney | (NYSE: DIS) | (16%) |
| American Airlines Group | (NASDAQ: AAL) | (58.2%) |
| Delta Air Lines | (NYSE: DAL) | (55%) |
Data sources: Robinhood and YCharts.
These were some of the darkest days of the COVID-19 market crash in the spring. All of these stocks had fallen much further than the market as a whole and many Robinhood investors were eager to cash in on a quick turnaround. Sales of airline seats and theme park tickets would surely surge over the summer, alongside renewed interest in Ford trucks. GE had just found a buyer of its struggling consumer lighting business and the company's aviation segment would benefit from a refreshed airline sector.
All of these investment theses assumed a quick recovery from the spring's coronavirus lockdowns.
How are these ideas working out in reality?
The summer came and went. The pandemic didn't go away. There is light at the end of the tunnel thanks to several successful coronavirus vaccine programs, but the health crisis itself and the mitigation efforts designed to fight it cut some deep scars in established business ideas. The effects on this short list of popular Robinhood investments were mixed.
Ford reopened its shuttered factories over the summer and launched several promising models that should sell nicely in 2021. The company's strategy for electric vehicles remains unclear but the idea of running its own used-car website could be a winner.
GE's multiyear turnaround story continued with an increased focus on healthcare and renewable energy operations. The lack of a sharp rebound in airline travel led to pressure on General Electrics' aviation business, resulting in another round of job cuts in the jet engine sector.
Disney reopened its theme parks but drew small crowds amid strict social distancing rules. The movie industry is still effectively closed down, forcing the House of Mouse to rethink its entire film business and move many premieres from the silver screen to streaming services.
Delta and American Airlines continue to face dramatic declines in ticket sales and travel plans. Delta's third-quarter sales plunged 79% year over year and American's revenue dropped 73% for the same period. The Center for Disease Control recommended that Americans cancel their travel plans for Thanksgiving due to skyrocketing coronavirus infections. These negative trends didn't stop airline stocks from a dramatic takeoff in November as three separate vaccine trials reported promising results.
Real-world market results
Let's imagine that you invested $10,000 in each of these popular Robinhood stocks six months ago. Here's how those positions would have developed until now: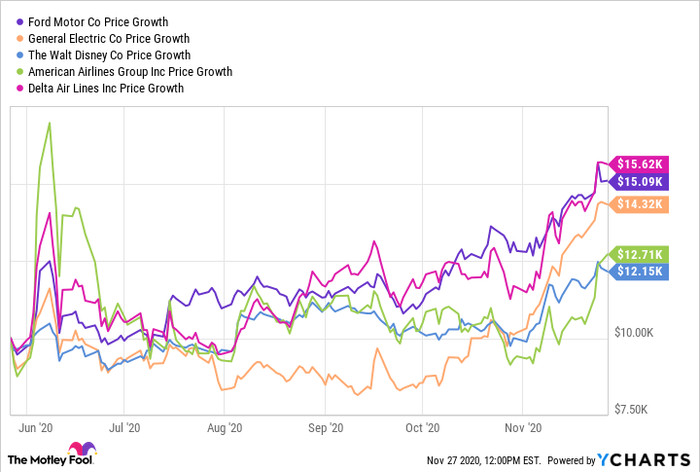 All of these stocks are beating the broader market. The S&P 500 index rose 19.9% over the same period, just below Walt Disney's 21.5% gain at the bottom of this list. The original $50,000 investment has grown to $69,900 today, which works out to an average gain of 40%.
Time will tell how these investments may perform in the long run, but Robinhood's most popular turnaround ideas of the late spring have delivered solid results in the first six months.
I would hesitate to buy most of these stocks today, given that the recent surge in COVID-19 cases may lead to a second round of widespread lockdowns around the country and the world. At the same time, I'm keeping a close eye on high-quality companies like Walt Disney and Ford, ready to pounce if the lockdowns arrive and drive their share prices lower again. In particular, I see Disney repositioning itself as a budding leader in streaming video platforms. I would love to pick up more Disney shares on the cheap, even at the cost of long-term trouble in the company's theme parks and resorts division.
10 stocks we like better than Walt Disney
When investing geniuses David and Tom Gardner have a stock tip, it can pay to listen. After all, the newsletter they have run for over a decade, Motley Fool Stock Advisor, has tripled the market.*
David and Tom just revealed what they believe are the ten best stocks for investors to buy right now... and Walt Disney wasn't one of them! That's right -- they think these 10 stocks are even better buys.
*Stock Advisor returns as of November 20, 2020
Anders Bylund owns shares of Walt Disney. The Motley Fool owns shares of and recommends Walt Disney. The Motley Fool recommends Delta Air Lines and recommends the following options: long January 2021 $60 calls on Walt Disney and short January 2021 $135 calls on Walt Disney. The Motley Fool has a disclosure policy.
Source