Why Desktop Metal Stock Fell 26% in March
What happened
Desktop Metal (NYSE: DM) stock dropped 25.7% in March, according to data from S&P Global Market Intelligence. For context, the S&P 500 index returned 4.4% last month.
Desktop Metal is a 3D printing company that's new to the public markets. It went public in December via a reverse merger with a special purpose acquisition company (SPAC).
So what
We can probably attribute Desktop Metal stock's weak performance last month largely to market-related factors rather than company-specific ones.
Shares of many highly valued stocks pulled back last month. That included the overall 3D printing group. 3D Systems stock dropped 23.4% in March, while Stratasys fell nearly 25%.
Desktop Metal released its fourth-quarter and full-year 2020 results before the market open on March 15. However, that event had little impact on the company's stock, which closed the day up 0.8%. That performance was in line with the market's, as the S&P 500 and Nasdaq indexes rose about 0.7% and 1.1%, respectively.
In the fourth quarter, Desktop Metal generated revenue of $8.4 million and posted a net loss of $25.4 million. That revenue result was up significantly from the third quarter's revenue of $2.5 million.
For full-year 2020, the company's revenue fell 38% year over year to $16.5 million. As with other 3D printing companies, the COVID-19 pandemic hurt demand for Desktop's products last year. Net loss narrowed 13% year over year to $90.4 million, translating to loss per share narrowing 17% to $0.57.
The chart below shows how Desktop Metal stock has performed so far in 2021.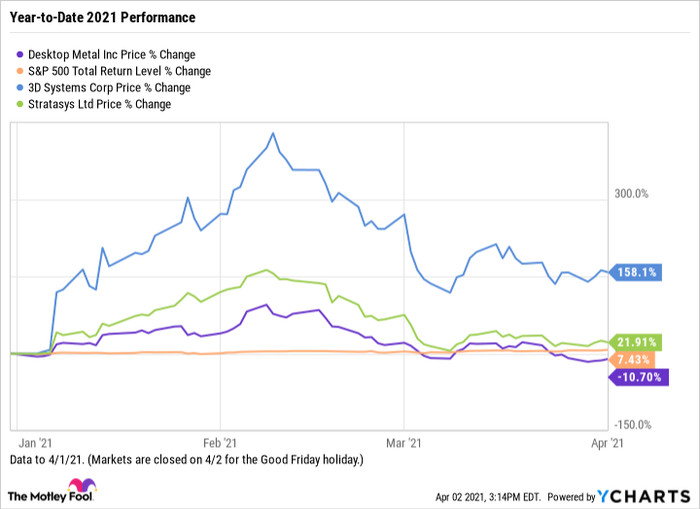 Data by YCharts
Now what
Management guided for 2021 revenue of more than $100 million. The huge expected jump in annual revenue is due to an acquisition. In February, Desktop acquired EnvisionTEC, a polymer-focused 3D printing company.
10 stocks we like better than Desktop Metal, Inc.
When investing geniuses David and Tom Gardner have a stock tip, it can pay to listen. After all, the newsletter they have run for over a decade, Motley Fool Stock Advisor, has tripled the market.*
David and Tom just revealed what they believe are the ten best stocks for investors to buy right now... and Desktop Metal, Inc. wasn't one of them! That's right -- they think these 10 stocks are even better buys.
*Stock Advisor returns as of February 24, 2021
Beth McKenna has no position in any of the stocks mentioned. The Motley Fool recommends 3D Systems. The Motley Fool has a disclosure policy.
Source