3 Reasons Why This IT Stalwart Could Keep Winning
The past two months have been brutal for tech investors, and the pain doesn't seem to be over. At this tricky time, as growth investors seek to protect the downside of their investments while searching for long-term bargains, they might want to look closer at IT consulting stalwart EPAM (NYSE:EPAM). Let's review three key reasons why EPAM has been an amazing investment over the past decade, and why it's likely to win for years to come.
Digital transformation is creating strong tailwinds
EPAM, established in 1993 by Arkadiy Dobkin and Leo Lozner in the Belarusian capital of Minsk, offers a variety of IT services including strategy consulting and software engineering. EPAM helps businesses adopt modern technologies to be more competitive. Among other success stories:
It helped Hotels.com create its award-winning mobile app.
It redesigned United Healthcare's call center to exceed 96% customer satisfaction.
It enabled EPIC Games to develop a scalable and reliable platform to host the Travis Scott Astronomical Fortnite event.
According to Gartner, the total addressable market for IT services is estimated at a massive $1 trillion. Digital platform and product engineering, a subset of that market that EPAM primarily participates in, is estimated at $150 billion. With current revenue below $4 billion, EPAM has less than 3% of the share of this large market opportunity, and a long runway in front of it.
Durable competitive advantages paving the way
EPAM brings expertise in a variety of technologies such as web and mobile app development, cloud computing, data analytics and AI, and virtual and augmented reality. EPAM's focus on continually expanding its technological capabilities through internal innovation as well as steady staple of acquisitions has expanded the company's avenues of growth.
Hiring and retaining strong talent is a key factor of success in the IT industry -- it's true in many industries, but is the difference between success or extinction for IT companies. Top talent in the IT industry wants to work for companies that do the most innovative work while solving the biggest challenges for its customers. EPAM, with its strong track record of success in designing and delivering technically advanced solutions in a timely manner, has gained the trust of its clients, who continue to feed the company more and more challenging projects. EPAM's high-quality work attracts best-of-breed talent, who then deliver more great work for customers.
Top clients are awarding more work to EPAM:
| Number of customers by revenue spent with EPAM | 2017 | 2018 | 2019 | 2020 |
| --- | --- | --- | --- | --- |
| Over $20 million | 10 | 14 | 22 | 28 |
| $10 million-$20 million | 16 | 22 | 27 | 27 |
| $5 million-$10 million | 37 | 45 | 42 | 43 |
| $1 million-$5 million | 169 | 175 | 206 | 225 |
| $0.5 million-$1 million | 84 | 119 | 105 | 107 |
Data source: Company earnings releases.
Additionally, the company has smartly set up its software development centers in diverse markets including Belarus, Poland, Hungary, Spain, India, China, and Mexico. In addition to providing the company access to the best talent across the globe, this approach keeps its costs down, while placing many of its development centers geographically closer to its globally dispersed customer base.
Despite having such a diverse global workforce, EPAM's visionary co-founder and CEO Arkadiy Dobkin has created a unified winning culture at the company, and employees seem to love EPAM. 96% of employees approve of Dobkin, and 88% of employees are willing to recommend EPAM to a friend, per employee survey website glassdoor.com.
EPAM, with its repeatable model of success, has become one of the strongest brands in the industry, and a sticky partner on whom clients increasingly rely.
A profitable growth machine
EPAM's relentless execution has translated its competitive advantages into strong revenue growth -- 24% per year on average from 2015 through 2020.. Understandably, COVID-19 slowed that growth slightly, but the company has rebounded strongly with 2021 revenue growth estimate of 40%, as businesses got back to their spending on digitization. For the third consecutive year, EPAM has been named the top IT Services company on the Fortune 100 Fastest-Growing Companies list.
| Revenue | 2017 | 2018 | 2019 | 2020 | 2021* |
| --- | --- | --- | --- | --- | --- |
| Revenue (millions) | $1,450 | $1,843 | $2,294 | $2,659 | $3,722 |
| Year-over-year growth | 25% | 27.1% | 24.5% | 15.9% | 40% |
EPAM has been profitable for a number of years on a GAAP basis as well as free cash flow basis. Its ability to grow profitability is a testament to the company's scalable business model.
Diversifying for future success
EPAM operates in a highly competitive industry. Well-established industry giants like Accenture and Infosys, along with fast-growing smaller companies such as Globant and Endava, pose very strong competition. These competitors, similar to EPAM, have built a global sourcing strategy, and have established strong reputations with their customers. EPAM will need to further broaden its services and geographical reach, maintain its deep expertise in software engineering, and execute flawlessly to continue its success.
It's also important to note that EPAM draws about 22% of its revenue from its top five customers, and 31% from its top 10 customers. These percentages have stayed relatively steady over the past few years. Losing one or more top customers can materially slow down the company's growth. EPAM should continue to diverse its revenue.
A potential opportunity for investors
EPAM is a great pick-and-shovel consideration for investors looking to participate in the high-risk high-reward technology sector. Even after the recent pullback of over 30% in its share price, EPAM has produced over 675% returns over the past five years, handily beating the S&P 500. With the recent drawdown, shares are trading at a P/E of around 68, down from its high of around 100 a couple of months ago. Now may be a good opportunity for long-term investors to take a small position in the company. With its strong culture of execution, this high-quality business looks set to continue its success.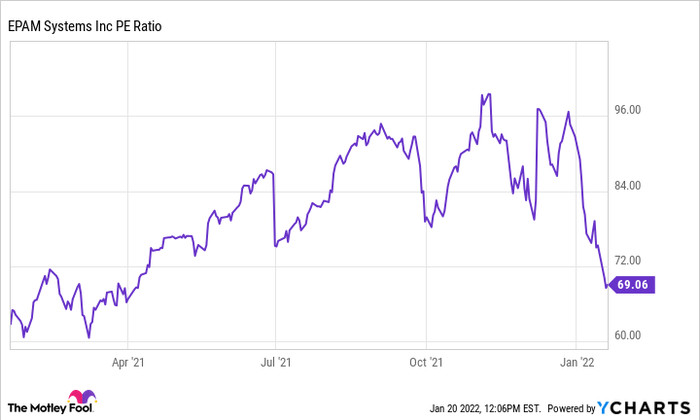 EPAM PE Ratio data by YCharts
10 stocks we like better than EPAM Systems
When our award-winning analyst team has a stock tip, it can pay to listen. After all, the newsletter they have run for over a decade, Motley Fool Stock Advisor, has tripled the market.*
They just revealed what they believe are the ten best stocks for investors to buy right now... and EPAM Systems wasn't one of them! That's right -- they think these 10 stocks are even better buys.
*Stock Advisor returns as of January 10, 2022
Kaustubh Deshmukh (KD) owns Accenture, EPAM Systems, Endava plc, and Globant. The Motley Fool owns and recommends Accenture, EPAM Systems, Endava plc, and Globant. The Motley Fool has a disclosure policy.
Source