AMD's Rumored $30 Billion Xilinx Acquisition Could Supercharge the Stock
Advanced Micro Devices (NASDAQ: AMD) is reportedly in advanced negotiations to purchase chipmaker Xilinx (NASDAQ: XLNX) in a deal that could be worth $30 billion. Finalization of the deal could make AMD a superpower in the semiconductor industry as it would get its hands on a company that could turn out to be a good fit for its existing businesses and expand the chipmaker's reach into new, fast-growing tech trends.
Let's take a look at some of the ways Xilinx could supercharge AMD stock in the long run.
The FPGA opportunity
Xilinx makes field-programmable gate arrays (FPGAs) -- chips that can be bought off the shelf and programmed by developers to perform specific tasks. Their flexibility allows developers to quickly deploy new applications, as they can be tweaked according to the requirements of the task.
For instance, FPGAs were in strong demand last year as telecom companies started rolling out 5G networks, giving Xilinx's top and bottom lines a nice shot in the arm. Additionally, FPGAs are being deployed as accelerators in data centers for several reasons, such as low operational costs and fast computational speeds. Catalysts such as these are expected to drive solid growth in FPGA sales.
According to Xilinx's own estimates, the chipmaker sees its serviceable addressable market jumping to an estimated $28 billion by fiscal year 2024. Data centers are expected to play a key role in this growth, clocking a CAGR of 36%, while the networking and automotive markets are expected to clock 16% and 11% growth, respectively.
Xilinx is in a great position to tap into this growth. It commands an estimated roughly 60% of the FPGA market, so it could unlock a multibillion-dollar opportunity for AMD if the acquisition goes through.
The 5G opportunity
As already discussed, 5G networks have used FPGAs in their initial deployments, but Xilinx has been setting itself up to take advantage of the new wireless standard for a long time to come. The chipmaker has partnered with key 5G infrastructure players such as Samsung, which recently won a multibillion-dollar contract from Verizon to roll out the latter's 5G network.
Samsung has signed other contracts as well to build 5G networks. What's more, it wouldn't be surprising to see other telecom carriers adopt Xilinx's adaptive FPGAs, as they are capable of boosting a 5G network's operational efficiency and capability with the help of beamforming technology.
Xilinx is supposed to start commercial shipments of the adaptive Versal FPGA chips in the current quarter. This should give the company's wired and wireless business (accounting for nearly a third of the revenue) a nice shot in the arm. Demand for 5G chips is expected to grow at more than 63% a year for the next seven years according to some estimates.
Xilinx's higher margins and better cash flow are another positive
The Xilinx acquisition should boost AMD's earnings power as it has stronger margins.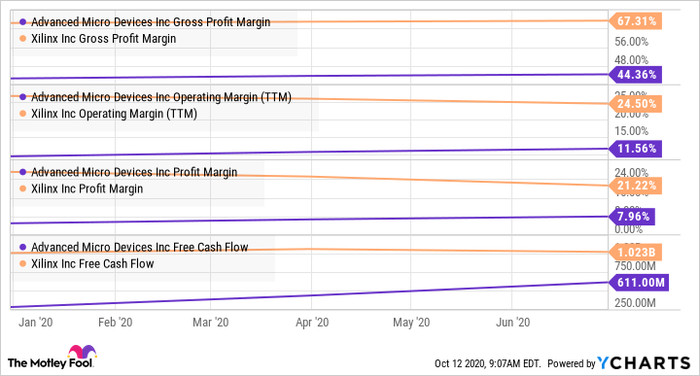 AMD Gross Profit Margin data by YCharts
Xilinx has also generated more than $1 billion in free cash flow over the past year, compared to AMD's $611 million. Additionally, Xilinx's cash position of $3 billion exceeds its total debt of $2 billion.
All in all, AMD should be able to access new markets that are growing at a nice pace, build out its existing data center business, where it is already giving Intel a hard time, and also enjoy superior margins and cash flow -- assuming it acquires Xilinx. All of this could help AMD remain a top growth stock for years to come, and help this highflier deliver more upside.
10 stocks we like better than Advanced Micro Devices
When investing geniuses David and Tom Gardner have a stock tip, it can pay to listen. After all, the newsletter they have run for over a decade, Motley Fool Stock Advisor, has tripled the market.*
David and Tom just revealed what they believe are the ten best stocks for investors to buy right now... and Advanced Micro Devices wasn't one of them! That's right -- they think these 10 stocks are even better buys.
*Stock Advisor returns as of September 24, 2020
Harsh Chauhan has no position in any of the stocks mentioned. The Motley Fool recommends Intel, Verizon Communications, and Xilinx. The Motley Fool has a disclosure policy.
Source