Why Amazon Shares Fell 12% in June
What happened
Shares of Amazon (NASDAQ: AMZN) fell 11.7% in June 2022, according to data from S&P Global Market Intelligence. The e-commerce and cloud computing giant largely followed the negative trend of the overall stock market, with a couple of Amazon-specific events along the way.
So what
The long-awaited 20-for-1 stock split took place on June 6. The event didn't exactly ignite a massive market surge, as Amazon shares posted a gain of 2% that day. Twenty-four hours later, that modest price gain was lost like dust in the wind, underscoring that stock splits usually don't achieve anything substantial. You're just cutting up the same investment into a different number of slices thanks to the rising availability of fractional share trades,
The stock gained more than 5% two weeks later, boosted by a bullish report from analyst firm JPMorgan Chase. Veteran analyst Doug Anmuth thoroughly examined Amazon's Prime loyalty program and found some inspiring results. The e-commerce industry is headed into rough waters in the near term, but Anmuth expects a solid rebound near the end of the year. According to the analyst, the Prime package is a fantastic deal for subscribers with an annual value of roughly $1,100 but a subscription fee of just $139. Therefore, Amazon should be able to raise prices on Prime memberships without scaring away subscribers.
Near the end of the month, another analyst note moved Amazon's shares lower instead. UBS analyst Lloyd Walmsley decreased his 2023 revenue projection by 3% due to macroeconomic risks. So once again, share prices fell 5% in a single day, outpacing the broader market's milder swoon of 2%.
Now what
Amazon is making some news of its own, of course. For example, the company scheduled its next Prime Day event for July 12 and 13, filed lawsuits against counterfeiters using Amazon's marketplace to wrangle their fake luxury goods, and introduced a cloud-based service that can run traditional mainframe workloads. I'm particularly thrilled by the mainframe alternative, which could steal market share from IBM (NYSE: IBM) and Fujitsu (OTC: FJTSY) in a stubbornly resilient industry niche. Seriously, those mainframes are the Keith Richards of the computing market.
But market makers largely shrugged off these substantial new tidbits to focus almost exclusively on broad economic themes and third-party analyst comments. As a result, Amazon's stock now trades 34% lower year to date, pegged to the most attractive valuation ratios in recent memory: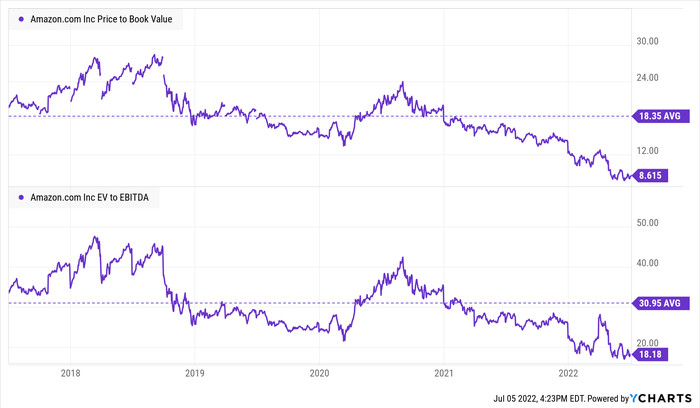 AMZN Price to Book Value data by YCharts.
Find out why Amazon is one of the 10 best stocks to buy now
Our award-winning analyst team has spent more than a decade beating the market. After all, the newsletter they have run for over a decade, Motley Fool Stock Advisor, has tripled the market.*
They just revealed their ten top stock picks for investors to buy right now. Amazon is on the list -- but there are nine others you may be overlooking.
Click here to get access to the full list!
*Stock Advisor returns as of June 2, 2022
John Mackey, CEO of Whole Foods Market, an Amazon subsidiary, is a member of The Motley Fool's board of directors. Anders Bylund has positions in Amazon and IBM. The Motley Fool has positions in and recommends Amazon. The Motley Fool has a disclosure policy.
Source