Why Gogo Stock Gained 38.1% in January
What happened
Gogo (NASDAQ: GOGO) stock gained 38.1% in January, according to data from S&P Global Market Intelligence. The in-flight broadband company's stock fell roughly 44% from October through December, but shares saw substantial recovery early in 2019 thanks to a hardware performance fix, raised full-year guidance, and a rebound for the broader market after 2018's turbulent close.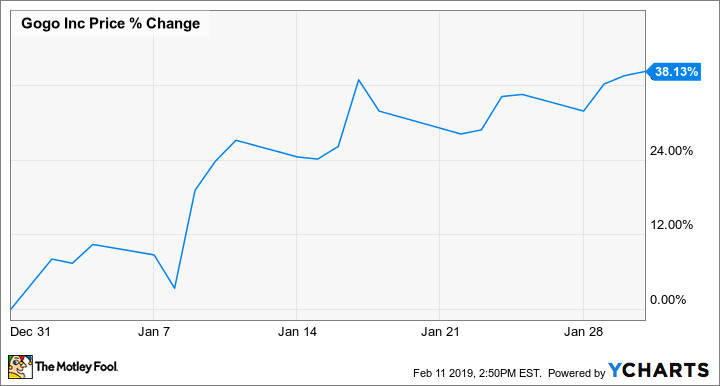 Gogo stock was hit hard in the final quarter of 2018, as steep sell-offs for the market and negative valuation pressures stemming from the issuance of new convertible notes pulled its valuation to five-year lows. With good news on multiple fronts and a more optimistic backdrop for stocks, the in-flight-internet company had some new wind in its sails last month.
So what
Gogo published a press release on Jan. 9, providing an update on its de-icing initiative and issuing guidance for the full-year period. Shares jumped following the release, stating that efforts to fix performance issues caused by de-icing fluid had been successful, and the stock continued to climb as the month progressed. The largely completed de-icing modifications meant the company was able to forgo further expenses it had associated with the project, and Gogo raised its net income target for the full year to the high end of its $45 million-to-$60 million target.
Now what
Gogo stock has trended lower in February, with shares down roughly 9.7% in the month's trading so far. It's unclear at this time what has prompted the decline.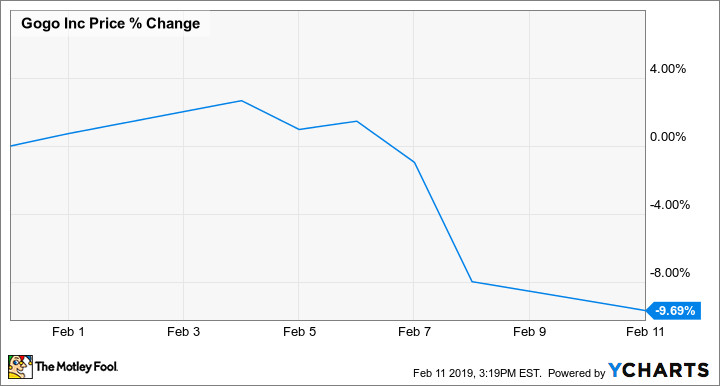 Gogo is scheduled to report fourth-quarter earnings after the market closes on Feb. 21. The company expects full-year sales to come in between $865 million and $935 million, representing roughly 46.5% growth at the midpoint.
10 stocks we like better than Gogo
When investing geniuses David and Tom Gardner have a stock tip, it can pay to listen. After all, the newsletter they have run for over a decade, Motley Fool Stock Advisor, has quadrupled the market.*
David and Tom just revealed what they believe are the 10 best stocks for investors to buy right now... and Gogo wasn't one of them! That's right -- they think these 10 stocks are even better buys.
*Stock Advisor returns as of January 31, 2019
Keith Noonan has no position in any of the stocks mentioned. The Motley Fool has no position in any of the stocks mentioned. The Motley Fool has a disclosure policy.