3 Reasons to Buy Zoom Video, and 1 Reason to Sell
Historians will find few companies more associated with the coronavirus pandemic than Zoom Video (NASDAQ: ZM). The company's name quickly became a verb as friends, family, and co-workers tried to stay connected. And Zoom overcame the unforeseen challenges that resulted from heavy consumer usage of a product that was intended for businesses.
Now that growth is coming back to earth, the stock has fallen 51% from its high last year. Despite that, there are several good reasons to think Zoom could stage a rebound. And one reason it might not.
1. Management demonstrated it can rapidly adapt
In the second quarter of last year, Zoom saw sales climb more than 350% and customers with more than 10 users jump over 450%. That led to some issues. Management pledged a 90-day moratorium on feature development and dedicated all of its time to security and privacy. It executed its seven-point plan and avoided what could have been a growth-crushing problem.
Zoom continues to innovate. Recent announcements at its Zoomtopia conference include video voicemails, whiteboard, and live translation. It also highlighted applications for high-touch use cases like doctor visits and wealth management. Some might argue none are revolutionary. But the incorporation of all of these tools into a video communications platform makes it a compelling product for the enterprises it is targeting.
2. The valuation is actually reasonable
After spending much of 2020 at or near an all-time high, shares started dropping in the fall of last year. Despite that, revenue and profit have continued to grow. It's pushed the price-to-sales and price-to-earnings ratios to all-time lows.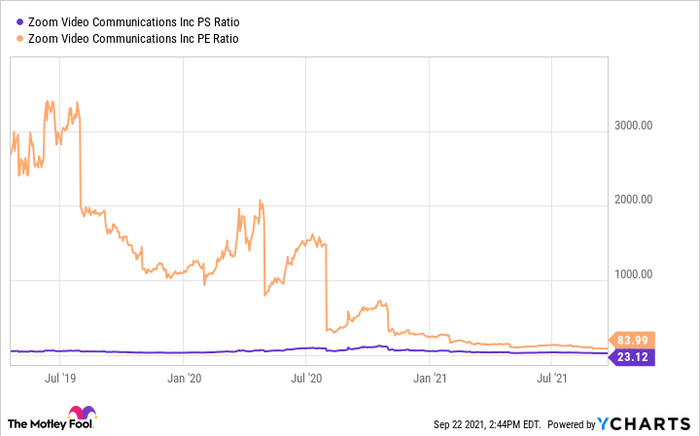 ZM PS Ratio data by YCharts
Of course, that doesn't mean the stock is a great buy. But if sales and profits keep rising, investors looking for cheap stocks should eventually pick up the baton from those who held shares because sales were growing so fast.
Management has projected revenue of more than $4 billion and earnings of $4.77 per share this fiscal year. That would even further depress the above ratios despite Zoom growing sales 51% and profits 43% year over year. If it can maintain growth, Zoom will look like a steal in hindsight.
3. A recent acquisition expands its addressable market
In July, the company announced it would acquire contact center solutions provider Five9 (NASDAQ: FIVN). The deal pairs the cloud-based contact center software with Zoom Phone -- the company's cloud-based phone system. It also adds the $24 billion contact center opportunity to its addressable market. Management has previously pegged the sum of virtual events, telephony, and unified communications at $67 billion.
For its part, Five9 has posted sales of about $500 million over the last 12 months. So there is plenty of opportunity for growth. That said, it won't be easy. The competition is made up of entrenched incumbents and innovative newcomers.
Future growth depends on beating some stiff competition
The market Zoom is entering -- contact center-as-a-service (CCaaS) -- includes some familiar names for technology investors. The Zoom-Five9 combination will have to beat out Amazon's AWS and Twilio, as well as 8x8, Avaya, and Cisco, for deals. It's a crowded field that won't be as easy to win over as the legacy video conferencing industry. Zoom was able to rapidly take share in that space because of the truly abysmal user interfaces and poor technical performance of legacy applications.
Another new development that might impact the deal is the fact that it is being reviewed by a committee chaired by Attorney General Merrick Garland. The move is designed to assess the potential for foreign participation in the U.S. telecom industry. Zoom has a research hub in China, and Five9 has operations in Russia.
Zoom still expects the deal to close in the first half of next year. It's just another potential speed bump as Zoom tries to keep expanding beyond its role during the pandemic. For all of the above reasons, I own shares personally. That said, posting growth will be a lot harder now that Zoom is lapping the pandemic-fueled 2020.
Find out why Zoom Video Communications is one of the 10 best stocks to buy now
Our award-winning analyst team has spent more than a decade beating the market. After all, the newsletter they have run for over a decade, Motley Fool Stock Advisor, has tripled the market.*
They just revealed their ten top stock picks for investors to buy right now. Zoom Video Communications is on the list -- but there are nine others you may be overlooking.
Click here to get access to the full list!
*Stock Advisor returns as of September 17, 2021
John Mackey, CEO of Whole Foods Market, an Amazon subsidiary, is a member of The Motley Fool's board of directors. Jason Hawthorne owns shares of Zoom Video Communications. The Motley Fool owns shares of and recommends Amazon, Five9, Twilio, and Zoom Video Communications. The Motley Fool recommends the following options: long January 2022 $1,920 calls on Amazon and short January 2022 $1,940 calls on Amazon. The Motley Fool has a disclosure policy.
Source