2 Beaten-Down Dividend Stocks That Are Now Yielding 5%
If you're a dividend investor, there are two stocks you'll want to check out right now. Shares of Gilead Sciences (NASDAQ: GILD) and Best Buy (NYSE: BBY) have fallen more than 19% this year. And when dividend stocks fall, that means their yields climb.
Both of these stocks are now paying around 5% annually in dividends. By comparison, you're getting around just 1.4% with the average stock in the S&P 500. Are these dividend stocks potential steals right now, or should you be worried about a possible cut to their above-average payouts?
1. Gilead Sciences
Gilead's 19% year-to-date decline has actually been modest, compared to the S&P 500, which is down 23% over the same time frame. However, it's still a drop in Gilead's share price. And without a change to Gilead's quarterly dividend payment of $0.73, its yield is now 5%. That means on a $20,000 investment, you could be collecting $1,000 per year in dividends, or $250 every three months.
Not only does Gilead pay a fairly high yield, but its dividend payments have also risen over the years. In 2017, the company was making quarterly payments of $0.52, and it's increased by 40% since then, rising by a compound annual growth rate of 7% during that time.
Gilead's business has struggled to generate much in the way of consistent revenue growth in recent years, so it's natural that dividend investors may be worried about the stability of the payout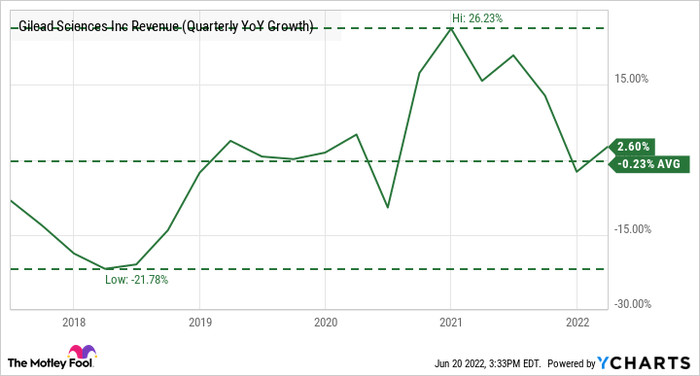 GILD Revenue (Quarterly YoY Growth) data by YCharts.
What's troubling is that Gilead recently made a downward adjustment to its earnings-per-share (EPS) guidance for this year. From a previous range of $4.70 to $5.20 (which would have provided ample room to cover its annual dividend of $2.92 per share), it now projects EPS to be between $3 and $3.50. The good news is that this is largely due to non-cash impairment charges that should not reoccur.
When looking at cash flow, the picture looks much stronger. In the trailing 12 months, Gilead's free cash flow totaled $10 billion, which was easily enough to cover its dividend payments of $3.6 billion during that time.
This sound dividend is not the only reason that growth investors may want to consider Gilead. In addition, there's its potential drug product, lenacapavir. The twice-a-year injectable for treating HIV could be a game changer for patients currently taking medications on a daily basis. The Food and Drug Administration has yet to approve lenacapavir, but if it happens, it could lead to some significant growth opportunities for the healthcare company.
Whether you're looking for growth or recurring income, Gilead's a safe option to buy right now.
2. Best Buy
Retail stocks have been taking a pounding of late, and Best Buy has been no exception. Down 30% this year, it's been an underperforming stock in what's already been a tough year for the markets. In the company's latest quarterly report for the period ended April 30, revenue fell 9% year over year to $10.6 billion.
Best Buy is projecting a comparable-sales decline of 3% to 6% this year as it goes up against some tough comparisons from a year ago, when pandemic-induced spending led to a strong year for the business. But for income investors, there are multiple positives to take away from the earnings report.
The first is that the company still plans to buy back $1.5 billion worth of shares, which it likely wouldn't be planning if it were anticipating a dire performance this year. Secondly, it's projecting adjusted diluted EPS of $8.40 to $9. Although that's a slight downgrade, it's more than double the dividend, which on an annual basis pays $3.52 per share. Even when looking on an unadjusted basis, Best Buy's diluted EPS in Q1 was $1.49, which is 69% higher than its quarterly dividend payment of $0.88.
The electronics retailer raised its dividend by 26% this year, and its payments are now more than double what Best Buy was paying in 2017 ($0.34). The company's 5% dividend yield looks rock solid, even with a decline in revenue this year. And over the long term, it remains one of the better retail stocks to own, given its popularity with tech-oriented consumers, making now an excellent time to invest in Best Buy.
10 stocks we like better than Gilead Sciences
When our award-winning analyst team has a stock tip, it can pay to listen. After all, the newsletter they have run for over a decade, Motley Fool Stock Advisor, has tripled the market.*
They just revealed what they believe are the ten best stocks for investors to buy right now... and Gilead Sciences wasn't one of them! That's right -- they think these 10 stocks are even better buys.
*Stock Advisor returns as of June 2, 2022
David Jagielski has no position in any of the stocks mentioned. The Motley Fool has positions in and recommends Best Buy and Gilead Sciences. The Motley Fool has a disclosure policy.
Source