Which Top Canadian Marijuana Stock Was the Biggest Earnings Week Loser?
Let me settle one thing right off the bat: There were no winners among the biggest Canadian cannabis producers during the frenzy of earnings results announced last week. Aurora Cannabis (NYSE: ACB), Canopy Growth (NYSE: CGC), Cronos Group (NASDAQ: CRON), and Tilray (NASDAQ: TLRY) each performed horribly.
But which of these big three Canadian marijuana stocks was the biggest loser of all? It depends on how you look at their performances.
The tale of the tape
The simplest approach to determining which Canadian marijuana stock was the biggest loser in earnings week is to look at the stocks' performances. One stock experienced the worst decline: Canopy Growth.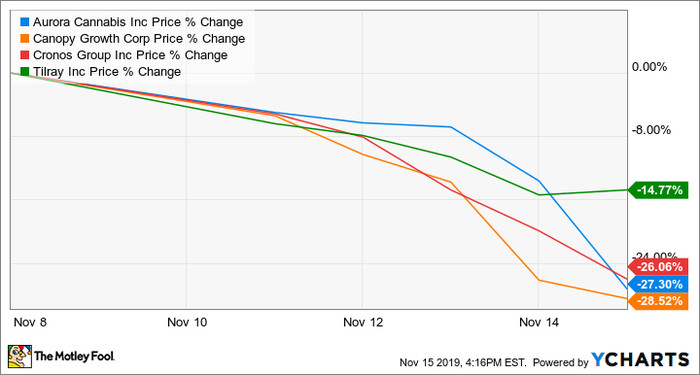 Canopy Growth lost more than a fourth of its market cap last week. But over half of that loss came before the company announced its fiscal 2020 second-quarter results. Investors were already preparing for bad news. The same was true for Tilray, which reported its Q3 results after the market closed on Tuesday.
It was a different story for the second-biggest loser in terms of stock performance. Cronos Group's shares began to slide early in the week. However, most of Cronos' decline came after the company reported its Q3 update Tuesday evening.
Aurora's plunge picked up steam on Thursday after Canopy's disappointing quarterly update that morning. Once investors found out just how bad Aurora's results were, the sell-off continued with gusto on Friday.
Comparing the quarterly results
There's one drawback to only looking at stock performances to determine the biggest loser: Investors could have overreacted to disappointing results for some companies more than they did for others. It's important to also look at the actual quarterly results for each of the top cannabis producers.
The following table summarizes how things went for each of the four biggest Canadian cannabis companies. All percentage changes are for the reported quarter compared to the previous sequential quarter, and all adjusted earnings before interest, taxes, depreciation, and amortization (EBITDA) amounts are in Canadian dollars unless otherwise noted.
| Company | Total Net Revenue Change | Recreational Market Net Revenue Change | Adjusted EBITDA |
| --- | --- | --- | --- |
| Aurora Cannabis | (24%) | (33%) | (CA$39.7 million) |
| Canopy Growth | (15%) | 24% | (CA$155.7 million) |
| Cronos Group | 24% | N/A | (CA$23.9 million) |
| Tilray | 11% | 5% | (US$23.5 million) |
Data sources: Company quarterly updates. N/A = Not Available.
There's a solid argument to be made that Aurora was the week's biggest loser. The company's latest quarterly results were a virtual disaster based on its huge revenue decline in the Canadian adult-use recreational marijuana market and its total net revenue decrease.
On the other hand, Canopy Growth's adjusted EBITDA loss in its fiscal second quarter was staggering. A big part of Canopy's problem related to a restructuring charge and inventory charge related to product returns of cannabis oil and softgel products. However, even without these adjustments, Canopy would have delivered by far the biggest loss among the top Canadian cannabis producers.
The biggest loser
It's a pretty close contest between Aurora and Canopy Growth as to which was the biggest loser last week. I think, though, that the dubious honor should be awarded to Canopy. The company delivered the biggest adjusted EBITDA loss and its stock fell the most of all of the top Canadian pot stocks.
In addition, Canopy doesn't appear to be in as good of a position to turn things around as Aurora. Instead of moving forward with construction at its Aurora Nordic 2 and Aurora Sun facilities, Aurora is delaying those efforts and expects to reduce its capital expenditure by CA$190 million. Aurora also has a plan in place to handle the CA$230 million worth of convertible debentures that mature in March 2020.
Which stock is the biggest winner, relatively speaking, coming out of earnings week? While Tilray's shares fell the least, Cronos Group arguably deserves the nod. Cronos delivered stronger revenue growth and appears to be better positioned thanks to its huge cash stockpile and partnership with tobacco giant Altria.
Here's The Marijuana Stock You've Been Waiting For
A little-known Canadian company just unlocked what some experts think could be the key to profiting off the coming marijuana boom.

And make no mistake – it is coming.
Cannabis legalization is sweeping over North America – 10 states plus Washington, D.C., have all legalized recreational marijuana over the last few years, and full legalization came to Canada in October 2018.
And one under-the-radar Canadian company is poised to explode from this coming marijuana revolution.
Because a game-changing deal just went down between the Ontario government and this powerhouse company...and you need to hear this story today if you have even considered investing in pot stocks.
Simply click here to get the full story now.
Keith Speights has no position in any of the stocks mentioned. The Motley Fool has no position in any of the stocks mentioned. The Motley Fool has a disclosure policy.
Source