Better Buy: Align Technology vs. Intuitive Surgical
Align Technology (NASDAQ: ALGN) and Intuitive Surgical (NASDAQ: ISRG) have both been grand-slam investments for patient shareholders. Both of these healthcare companies dominate their industries, crank out free cash flow, and have huge opportunities ahead.
Both stocks have also been hit hard in the COVID-19 bear market. Which stock is the better buy today?
The case for Align Technology
Align Technology sells clear dental aligners under its Invisalign brand. The company's products have become extremely popular, allowing Align to consistently grab market share away from traditional metal braces.
Align's revenue, profits, and share price have all soared in response.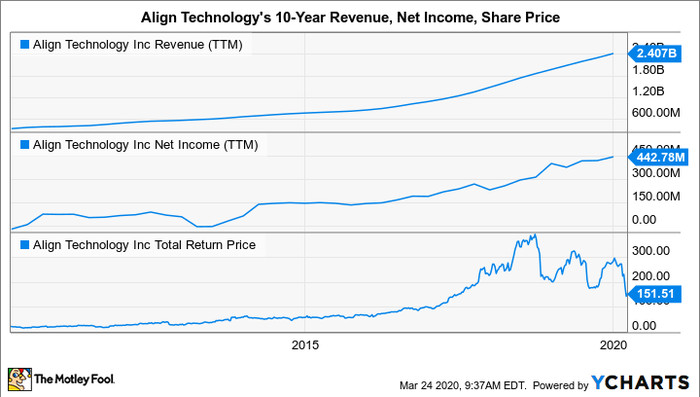 ALGN Revenue (TTM) data by YCharts
This track record of success hasn't mattered to Wall Street recently. Shares have fallen by more than 50% year to date, and they're down by more than 63% since their 2018 highs.
Why have shares been hit so hard? A few primary reasons are to blame:
Management was forced to lower its first-quarter guidance due to the COVID-19 outbreak.
Some of Align's key patents have expired, which has opened up the door for competitors like SmileDirectClub

(NASDAQ: SDC)

.
Align's product appeal is primarily cosmetic, so demand is likely to fall if a global recession is afoot.
The SmileDirectClub threat is particularly concerning. SmileDirectClub has opened up distribution deals with Walmart, Walgreens, and CVS Health. It is also competing more directly now with Align by selling its product directly to orthodontists.
When added together, it's understandable why shares have been whacked so hard.
The upside is that the company's valuation is far more appealing than at any other time in recent history. The stock is currently trading for less than 18 times forward earnings. That's an attractive number for a business that is highly profitable and still has plenty of room to run.
The case for Intuitive Surgical
Intuitive has been the gold standard in robotic surgery for two decades. The benefits of having surgery performed robotically -- smaller incisions, less blood loss, faster recovery times -- has lead to a steady surge in demand. Intuitive's razor-and-blade business model has successfully translated that interest into consistent growth in both revenue and profits.
Intuitive's share price has been rewarded handsomely.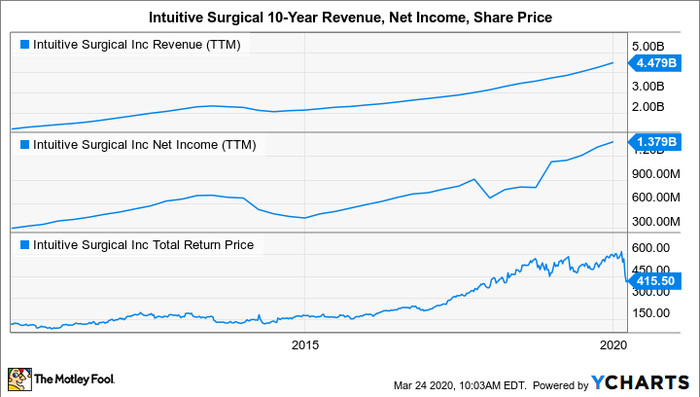 ISRG Revenue (TTM) data by YCharts
The da Vinci maker has continued to innovate, too. Recent product launches include the da Vinci SP (surgery from a single incision point) system, the Ion Endoluminal System (lung biopsy), Iris Augmented Reality (3D image guidance of patient anatomy), and a range of instruments and accessories. When combined, these innovations should ensure Intuitive remains the top dog in its space.
Just like Align, Intuitive's stock has been hit hard in the last month. Shares are currently down 33% from their February high. The company hasn't released any bad news recently that could justify the sell-off, so it's likely the stock has just been caught in the panic selling. The fall has dropped the company's forward P/E multiple to 26. That's still a tad on the high side, but it's not nearly as high as it was just a month ago.
Management previously guided for procedure growth to land between 13% and 16% for 2020. That's quite strong for a mature business.
The better buy
There are numerous reasons for investors to be bullish on both of these businesses right now. Each of them has a track record of success, are highly profitable, and are packed with long-term potential. The lowered valuations are enticing, too.
However, when forced to choose, I'd pick Intuitive Surgical as the better buy right now. SmileDirectClub is a competitor that can't be ignored, and it's possible that a prolonged slowdown will hinder the demand for aligners. While Intuitive is also facing increased competition, it is not nearly to the same extent as Align. For that reason alone it wins my vote, but I'll be the first to admit that both of these businesses are highly attractive right now.
10 stocks we like better than Intuitive Surgical
When investing geniuses David and Tom Gardner have a stock tip, it can pay to listen. After all, the newsletter they have run for over a decade, Motley Fool Stock Advisor, has tripled the market.*
David and Tom just revealed what they believe are the ten best stocks for investors to buy right now... and Intuitive Surgical wasn't one of them! That's right -- they think these 10 stocks are even better buys.
*Stock Advisor returns as of March 18, 2020
Brian Feroldi owns shares of Intuitive Surgical. The Motley Fool owns shares of and recommends Align Technology and Intuitive Surgical. The Motley Fool recommends CVS Health. The Motley Fool has a disclosure policy.
Source