3 Big Developments From American Express' Latest Quarter
The American Express Company (NYSE: AXP) recently reported its third-quarter earnings, and at first glance, there seems to be a lot for current investors to like. The company's total revenue, net of interest expense, increased to $8.4 billion, good for a 9% increase year over year. Total loan growth grew an even more robust 14% over the prior year's third quarter. Net income, helped by a lower tax bracket, increased to $1.36 billion, a 19% increase year over year. To top it all off, American Express is still the best in the credit business, as evidenced by its enviable 1.8% net write-off rate. 
The conference-call transcript from S&P Global Market Intelligence revealed several other important things going on with this credit card giant beneath the latest numbers. Three things in particular stand out -- one is undeniably good, and the others just bear watching in the quarters and years ahead.
In my view, then, here are the three most important highlights from American Express' latest quarter.
| American Express Metrics | 2017 Q3 | 2016 Q3 | Change |
| --- | --- | --- | --- |
| Total Revenues (billions) | $8.44 | $7.77 | 9% |
| Diluted EPS | $1.50 | $1.20 | 25% |
| Net Write-Off Rate | 1.8% | 1.7% | 10 bps |
Data source: American Express.
1. CEO steps down after 16 years at the helm
Kenneth Chenault has been with American Express since the early 1980s and took over as chairman and CEO in 2001. He led the company through tumultuous times, as Warren Buffett, the company's largest shareholder, pointed out. Upon Chenault's announced retirement, Buffett said: "Ken's been the gold standard for corporate leadership and the benchmark that I measure others against. He led the company through 9/11, the financial crisis and the challenges of the last couple of years." Under Chenault's leadership, the company's stock price has outperformed the broader S&P 500 index by a fairly wide margin.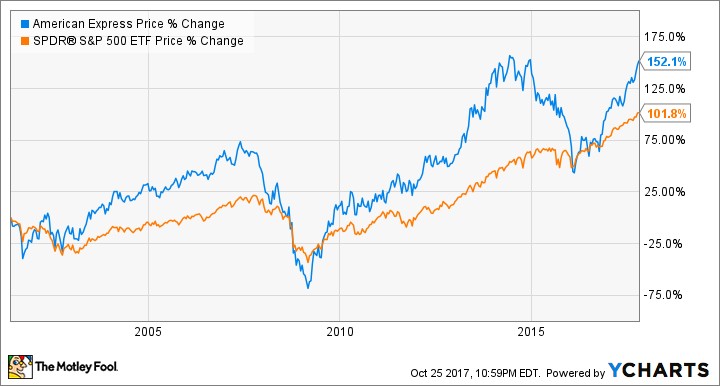 More important to current shareholders, however, is how American Express will fare under Vice Chairman Steve Squeri's leadership when he replaces Chenault on Feb. 1. Squeri, who has been with American Express for three decades, won a strong endorsement from Chenault in the conference call following the earnings release. Chenault said the two had "worked closely" while he was CEO and added:
Steve knows the business and the brand. He knows the marketplace. He is an excellent strategist, a strong leader, and a great partner. We've been moving the company forward in a very competitive environment, and Steve has been there every step of the way. I feel very good about how we are positioned for the next several years.
Later, CFO Jeffrey Campbell insisted he doesn't think the company will "miss a beat" with respect to how leadership change might affect upcoming co-brand card negotiations.
But while everybody is saying the right things and Squeri certainly seems to be more than qualified, it doesn't hurt for investors to take a "trust but verify" approach to any big leadership change. In a field with fierce competition and upcoming important deal negotiations, investors won't have to wait long to see how Squeri takes to the job. Until then, shareholders might want to pay extra close attention to how the business, not the stock price, performs.
2. Costco now fully in the rearview mirror
For the past year, investors became inured to filtering quarterly earnings results with adjusting for the loss of the company's huge co-brand deal with Costco Wholesale Corporation (NASDAQ: COST). In other words, shareholders had to essentially digest two sets of growth rates for each quarter: the actual results, and the results once adjusted for the loss of the Costco portfolio. It was wearying, as investors had to not only absorb the bad news of Costco's exit from the American Express fold upon the initial announcement but also relive it every three months. Last quarter, with the end in sight, CFO Campbell even admitted, "I know we are all looking forward to next quarter on that front."
This quarter, not only were the numbers solid and clean, with no adjustments necessary, but, even better, the company raised its full-year earnings guidance from a range of $5.60-$5.80 to a new range of $5.80-$5.90. With Costco's shadow no longer hanging over the quarter, and with the increased guidance, the clouds are parting enough to let investors finally see blue skies on the horizon.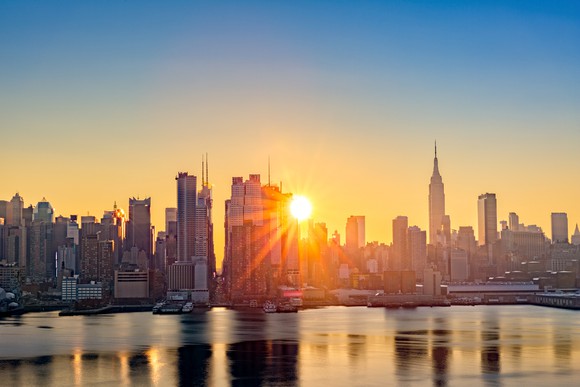 It's a new morning for American Express shareholders. No longer do earnings need to be adjusted with the loss of Costco's co-brand business. Image source: Getty Images.
3. A sharp increase coming in credit write-offs?
As noted, American Express again proved it is simply the best at issuing credit and worthy of a premium to other credit issuers when it reported a 1.8% net write-off rate for the quarter. What might worry investors a little, however, is that the company's provision for losses, the money it sets aside for future credit defaults, rose to $769 million, good for a much higher than expected 52% increase year over year. When asked in the conference call, in light of this figure, if American Express was expecting higher net write-offs in the immediate future, Campbell tried to assuage concerns:
Look, there's no question, this was a big reserve build this quarter. ... We are pleased with the loan growth we're seeing overall. The shift in portfolio mix is an important part of what is driving tremendous growth in net interest yield, and that comes with some growth in the write-offs. And we are getting, as I explained earlier, to this point where a significant number of the newer accounts we brought on 18 to 24 months ago are getting to the kind of key part of the time line as they season. And so we're building some reserves for that, and that's part of what's driving the yield up as well.
Basically, Campbell attributes the increase in loss provision reserves to a corresponding increase in the company's loan portfolio and the maturity of these loans, which he claims are at a crucial stage in their life cycle. Is this something to worry about? Not yet. With such a low net write-off, it almost seems absurd to suggest American Express has a credit problem. But it's something for investors to watch in the quarters ahead to see if that net write-off number jumps higher.
American Express has a lot going for it, and investors should be pleased with the latest quarterly results, increased guidance, and the passing of the giant Costco shadow. Of course, that doesn't mean there are no questions facing the company. Shareholders will want to watch how incoming CEO Squeri performs when he takes the reins early next year, and whether net write-offs begin to steadily increase. Ultimately, those two questions matter far more to the company's future than one quarter of solid results.
10 stocks we like better than American Express
When investing geniuses David and Tom Gardner have a stock tip, it can pay to listen. After all, the newsletter they have run for over a decade, Motley Fool Stock Advisor, has tripled the market.*
David and Tom just revealed what they believe are the 10 best stocks for investors to buy right now... and American Express wasn't one of them! That's right -- they think these 10 stocks are even better buys.
Click here to learn about these picks!
*Stock Advisor returns as of October 9, 2017
Matthew Cochrane has no position in any of the stocks mentioned. The Motley Fool recommends American Express and Costco Wholesale. The Motley Fool has a disclosure policy.