Why Aaron's Plunged 21% Thursday Morning
What happened
Shares of Aaron's, Inc. (NYSE: AAN), a leading provider of lease-to-purchase options across the U.S., Canada, and its e-commerce platform, are plunging over 17% Thursday morning after the company released mixed fourth-quarter results.
So what
Revenue increased slightly compared to the prior year to $1 billion, just missing analysts' estimates calling for $1.01 billion. Adjusted earnings per share (EPS) checked in at $1.15, good enough to top analysts' estimates of $1.06 per share. Comparable-store revenue increased 0.4%, and while that result might not seem like a win, it's favorable compared to analysts' estimates of a 0.5% decline. On the downside, comparable-store traffic was down 4.8%, offset by an improved collections performance, among other factors. "Aaron's finished the year on a positive note with record annual revenues, adjusted EBITDA [earnings before interest, taxes, depreciation, and amortization] and non-GAAP EPS. Progressive's invoice growth accelerated significantly in the fourth quarter, up 34.4% compared to the prior year." said CEO John Robinson in a press release.
Now what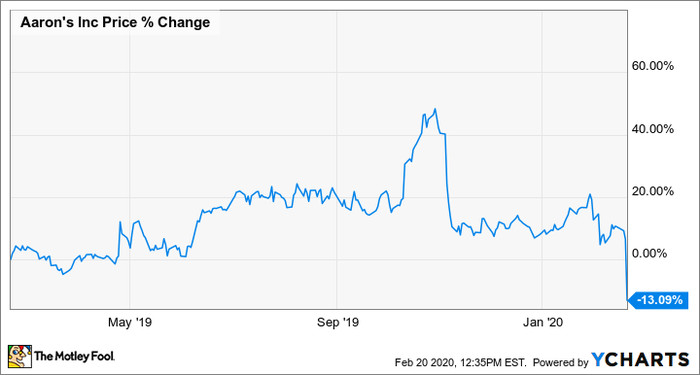 This wasn't a horrible quarter, but it was far from an inspiring result, and one likely reason for investor pessimism today is the company's lackluster top-line guidance in a struggling brick-and-mortar retail industry. Aaron's expects full-year 2020 revenue of $4.15 billion to $4.30 billion compared to consensus $4.49 billion and also a 2% to 4% decline in comparable-store sales. Management did an excellent job supporting its top line with better collections performance during the fourth quarter, but after two fairly disappointing quarters in a row, it needs to find a way to re-ignite comparable-store sales and traffic.
10 stocks we like better than Aaron's
When investing geniuses David and Tom Gardner have a stock tip, it can pay to listen. After all, the newsletter they have run for over a decade, Motley Fool Stock Advisor, has tripled the market.*
David and Tom just revealed what they believe are the ten best stocks for investors to buy right now... and Aaron's wasn't one of them! That's right -- they think these 10 stocks are even better buys.
*Stock Advisor returns as of December 1, 2019
Daniel Miller has no position in any of the stocks mentioned. The Motley Fool has no position in any of the stocks mentioned. The Motley Fool has a disclosure policy.
Source