3 Unknown but Amazing Dividend Stocks
Investments that pay, and grow, dividends can be a reliable path to creating long-term wealth. Retirees may want dividends for current income needs, but they can also pay off in a big way for young investors who own a base of dividend-paying stocks. They supplement returns, and reinvesting those funds will allow compounding to work over time.
It's easy to look at dividend yield alone, but that can be misleading if a stock price has dropped for a good reason. A deeper look at the business and its ability to grow payouts to shareholders is a good way to locate some amazing companies that should be high on the list of dividend stocks. Here are three companies that form a diverse mix to benefit any investor's portfolio.
1. Garmin: Solid growth with plenty of cash
Garmin Ltd. (NASDAQ: GRMN) may not be an unknown name, but investors may not be aware of the transition the company has made in the last decade. Garmin was once best known for its personal navigation devices that many used in vehicles, but as GPS has become ubiquitous, that market segment has weakened considerably. The company's other segments now make up the vast majority of sales and are the force behind its growth. The table below shows the share of overall sales each segment generates and how the mix has shifted over the past 12 years.
| Segment | Fiscal 2019 | Fiscal 2013 | Fiscal 2007 |
| --- | --- | --- | --- |
| Outdoor | 24.4% | 15.6% | 5.4%* |
| Fitness | 27.9% | 13.5% | 5.4%* |
| Marine | 13.5% | 8.5% | 6.4% |
| Automotive/mobile | 14.6% | 49.5% | 73.6% |
| Aviation | 19.6% | 12.9% | 9.3% |
Data source: Garmin financial filings. *Data shown as even split between outdoor and fitness segments, which were previously reported as a single unit.
Even with the sharp decline in the automotive segment, the compound annual growth rate (CAGR) of total sales has been a solid 7.4% since 2015. And strong margins have made Garmin a cash-generating machine. As of the end of 2019, the company had $2.6 billion in cash, cash equivalents, and marketable securities, with zero debt.
A five-year chart shows the increase in dividend payouts, even as the payout ratio -- the percentage of earnings paid in dividends -- decreases. With plenty of cash flow to also invest back in the business, Garmin shareholders can feel good about both continued growth in the business and the safety of the dividend.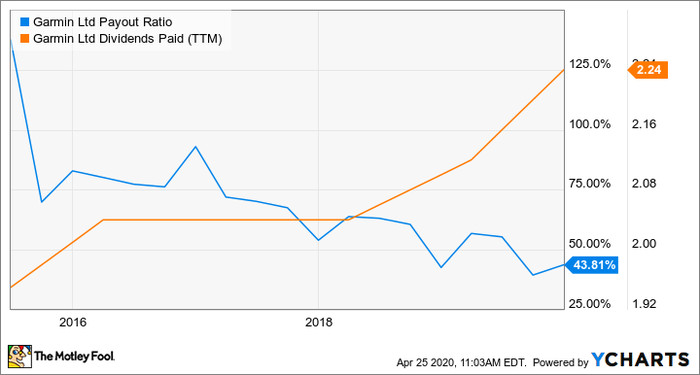 GRMN Payout Ratio data by YCharts
2. Stag Industrial: An REIT with assets in high demand
Industrial properties in mostly mid-size markets may not sound like a real estate investment trust (REIT) sector in high demand. But Stag Industrial (NYSE: STAG) acquires and operates single-tenant properties used as warehouses, distribution centers, and manufacturing facilities. Its properties are spread out across 38 states, and 43% of its portfolio is tied to e-commerce.
The company is riding the wave of e-commerce warehouse demand but stays diversified. As of Dec. 31, 2019, it owned 450 properties with no geographic market representing more than 8.5% of base rental revenue, and no single industry more than 11.1%.
The REIT has a strong balance sheet with $755 million in liquidity entering 2020. It has suspended acquisitions in the first quarter due to the volatility and uncertainty brought on by the coronavirus pandemic but says that only 5% of tenants have requested rent relief as of March 31, 2020.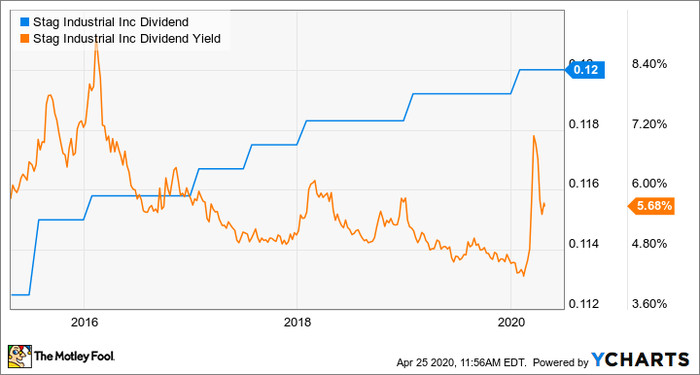 STAG Dividend data by YCharts
As seen in the above graph, the company has a history of increasing the dividend and still maintains a strong dividend yield, even as the stock price has trended up over the past five years.
3. Dover Corp.: Dividend royalty
The Dividend Kings are a group of nearly 30 companies that have increased dividends for at least 50 consecutive years. One that doesn't get much attention is Dover Corp. (NYSE: DOV). The diversified industrial company has raised its dividend for 64 straight years.
Dover has five operating segments: engineered products, fueling solutions, imaging and identification, pumps and process solutions, and refrigeration and food equipment. It delivers equipment, components, supplies and parts, as well as digital and software solutions and associated support services to a diverse group of businesses.
Dover had over $7 billion in revenue last year, with free cash flow increasing 23% over 2018 levels. Cash flow from operations has increased at a rate of over 13% since 2017. Its dividend growth record speaks for itself.
So while the COVID-19 pandemic will inevitably affect the business, management expressed confidence in its first-quarter earnings release on April 21, 2020, saying, "Dover has a long and tested history of cash flow generation and we are further stepping up our capital management discipline without changing our strategic allocation priorities."
Growing businesses in diverse sectors
Dividend payers like Garmin, Stag Industrial, and Dover can give investors the best of both worlds. All are growing businesses in diverse sectors that allocate a sizable amount of earnings to shareholders in the form of dividends. Whether you are looking for those returns to compound and build wealth, or bring more immediate income, these three stocks should benefit anyone's portfolio.
10 stocks we like better than Dover
When investing geniuses David and Tom Gardner have a stock tip, it can pay to listen. After all, the newsletter they have run for over a decade, Motley Fool Stock Advisor, has tripled the market.*
David and Tom just revealed what they believe are the ten best stocks for investors to buy right now... and Dover wasn't one of them! That's right -- they think these 10 stocks are even better buys.
*Stock Advisor returns as of April 16, 2020
Howard Smith owns shares of Garmin and Stag Industrial. The Motley Fool owns shares of and recommends Stag Industrial. The Motley Fool has a disclosure policy.
Source