Why Nikola Stock Is Down Today
What happened
Shares of embattled electric truck start-up Nikola (NASDAQ: NKLA) were trading lower on Friday, after steel company Worthington Industries (NYSE: WOR) revealed in a regulatory filing that it had sold its entire stake in the company.
As of 1 p.m. EST, Nikola shares were down about 6.2% from Thursday's closing price.
So what
In an 8-K filing released after the market closed on Thursday, Worthington said that its subsidiary WI Ventures had sold its entire remaining stake in Nikola, just over 7 million shares, for about $147 million.
Worthington was an early investor in Nikola, providing the start-up with some of its initial funding back in 2015. This transaction was the third sale of its Nikola stock; in total, it realized over $600 million, selling at an average of about $34 per share.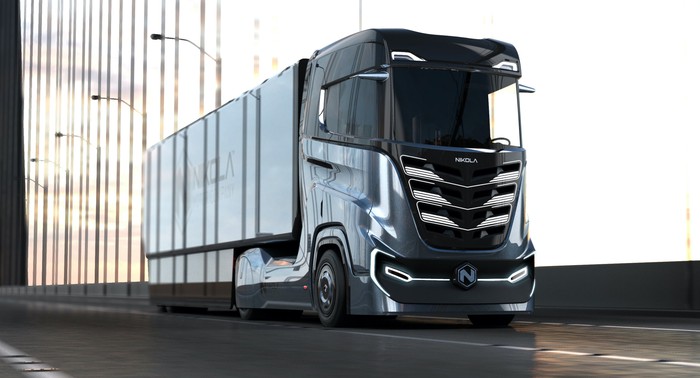 Nikola is still hoping to get its electric semis to market over the next couple of years. Image source: Nikola.
To be clear, it's not the sale itself that drove Nikola's price down on Friday -- Worthington actually sold its stake on Wednesday -- but the news that yet another company connected with Nikola had effectively severed ties.
Now what
Nikola still has a connection to Worthington: Its CEO, Mark Russell, was formerly president and chief operating officer of the steel maker. But clearly the managers of WI Ventures didn't think the company's prospects warranted holding its stake any longer, despite Russell's leadership.
Auto investors hoping for an update from Russell can look ahead to Nikola's fourth-quarter earnings report, likely in mid-February.
10 stocks we like better than Nikola Corporation
When investing geniuses David and Tom Gardner have a stock tip, it can pay to listen. After all, the newsletter they have run for over a decade, Motley Fool Stock Advisor, has tripled the market.*
David and Tom just revealed what they believe are the ten best stocks for investors to buy right now... and Nikola Corporation wasn't one of them! That's right -- they think these 10 stocks are even better buys.
*Stock Advisor returns as of November 20, 2020
John Rosevear has no position in any of the stocks mentioned. The Motley Fool has no position in any of the stocks mentioned. The Motley Fool has a disclosure policy.
Source