Why Tripadvisor Stock Fell 10% on Tuesday
What happened
Shares of travel-planning company Tripadvisor (NASDAQ: TRIP) closed Tuesday's trading 10.2% lower, having fallen as far as 11.1% earlier in the day. The company reported third-quarter results early in the morning, and investors were not impressed by the reported figures.
So what
Tripadvisor's third-quarter sales doubled year over year to $303 million, with the caveat that the year-ago period saw very limited interest in travel due to the raging coronavirus pandemic. Adjusted earnings swung from a net loss of $0.17 per share to a profit of $0.16 per share, both on an adjusted basis. Your average Wall Street analyst was expecting earnings near $0.24 per share on revenue in the neighborhood of $308 million, and Tripadvisor fell short of both targets.
On top of the disappointing earnings report, co-founder and CEO Steve Kaufer chose this moment to announce his retirement after more than 20 years with Tripadvisor. Kaufer will stay in the captain's chair until a suitable successor has been found at some point in 2022.
Now what
Tripadvisor's experiences and dining segments have essentially returned to the revenue levels they saw in 2019 before the COVID-19 health crisis. The hotel and media division is lagging behind in its recovery, producing just 72% of the top-line sales it generated in the third quarter of 2019. More to the point, the hotel operation's recovery seemed to hit a snag during this reporting period as September's results came in below July and August's.
The stock's strong recovery in the early spring proved to be short-lived, and Tripadvisor has now fallen 52% below those yearly highs. It's difficult to get excited about the 75% year-over-year return when you take a second look at the coronavirus caveat -- this rebound started from rock-bottom prices.
Furthermore, Tripadvisor's stock was experiencing a painful downward slide long before COVID-19 showed up. Getting back to what was normal in 2019 would not necessarily inspire me to buy this troubled stock. There are many better picks in the travel sector whether you're looking for a fundamentally solid business or an exciting turnaround play.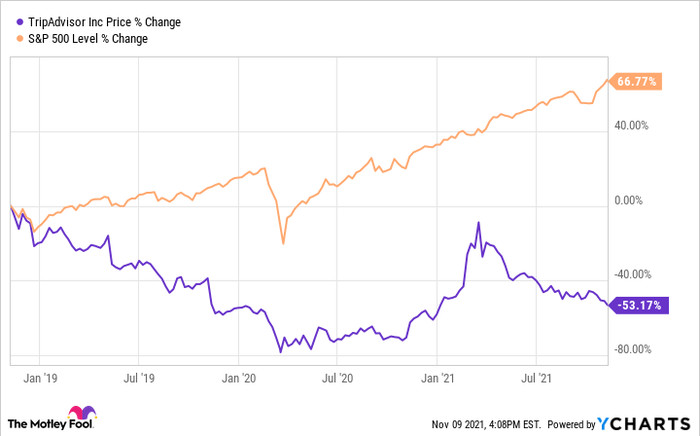 10 stocks we like better than TripAdvisor
When our award-winning analyst team has a stock tip, it can pay to listen. After all, the newsletter they have run for over a decade, Motley Fool Stock Advisor, has tripled the market.*
They just revealed what they believe are the ten best stocks for investors to buy right now... and TripAdvisor wasn't one of them! That's right -- they think these 10 stocks are even better buys.
*Stock Advisor returns as of October 20, 2021
Anders Bylund has no position in any of the stocks mentioned. The Motley Fool owns shares of and recommends TripAdvisor. The Motley Fool has a disclosure policy.
Source