Why 3D Systems Stock Fell 23% in March
What happened
Shares of 3D Systems (NYSE: DDD), a diversified 3D printing company, dropped 23.4% in March, according to data from S&P Global Market Intelligence.
For context, the S&P 500 index returned 4.4% last month.
So what
We can attribute 3D Systems stock's weak performance last month largely to investor disappointment related to the company's March 1 release of its fourth-quarter and full-year 2020 results. Shares plunged 19.6% the next day.
The two main reasons investors were likely not happy:
Results were only preliminary, as the company was delayed in filing official (audited) results.
Management didn't issue revenue or earnings guidance.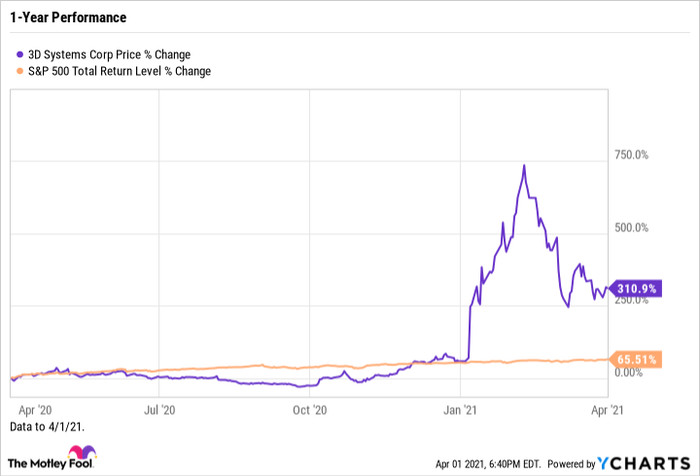 Data by YCharts.
Now what
Reiterating what I wrote in my Q4 earnings article:
3D Systems made good progress in its turnaround in 2020: It cut costs, it paid off its debt, and it ended the year on a solid note. In Q4, it grew revenue year over year (albeit very modestly) and was profitable on an adjusted basis. Moreover, it also achieved slightly positive GAAP [generally accepted accounting principles] operating income.

That said, investors shouldn't throw all caution to the wind. The stock is very loftily priced after soaring 270% in 2021 through Monday's [March 1] regular trading session.
For the first quarter of 2021, Wall Street is expecting 3D Systems to post adjusted earnings per share (EPS) of $0.01 on revenue of $136.4 million. In the year-ago period, the company had an adjusted loss per share of $0.04 on revenue of $134.7 million.
10 stocks we like better than 3D Systems
When investing geniuses David and Tom Gardner have a stock tip, it can pay to listen. After all, the newsletter they have run for over a decade, Motley Fool Stock Advisor, has tripled the market.*
David and Tom just revealed what they believe are the ten best stocks for investors to buy right now... and 3D Systems wasn't one of them! That's right -- they think these 10 stocks are even better buys.
*Stock Advisor returns as of February 24, 2021
Beth McKenna has no position in any of the stocks mentioned. The Motley Fool recommends 3D Systems. The Motley Fool has a disclosure policy.
Source