Airbus Unveils Zero-Emission Hydrogen Airplane Concept
Airbus (OTC: EADSY) on Monday unveiled three hydrogen-powered plane design concepts, part of the European aerospace giant's push to reduce aviation-related carbon emissions by the middle of the next decade.
Two of the three designs Airbus debuted are similar to existing models, including a turbofan design that could hold up to 200 passengers and travel upwards of 2,000 nautical miles and a turboprop capable of transporting up to 100 passengers less than 1,000 miles. Both would be powered by engines modified to run on liquid hydrogen.
A third design is a "blended-wing" concept that looks like a flying V, with wings that merge with the main body of the aircraft. The wide fuselage opens up different options for cabin layout and fuel storage, but it's also the most exotic design.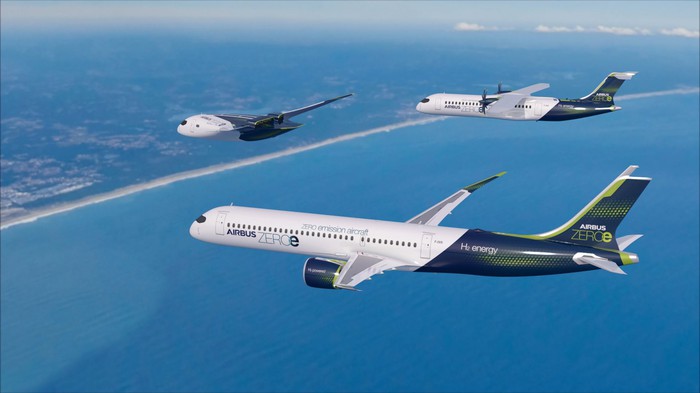 Illustration of Airbus' ZEROe hydrogen concepts including turbofan, turboprop, and blended wing designs. Image source: Airbus.
Airbus is pushing hydrogen as it looks to develop emission-free flying. The company is partially owned by the governments of France and Germany and has been under pressure from its owners and customers to find ways to let airlines to reduce emissions in the years to come.
Germany, for example, attempted to tie climate change targets to a COVID-19 bailout package proposed for Lufthansa.
"These concepts will help us explore and mature the design and layout of the world's first climate-neutral, zero-emission commercial aircraft, which we aim to put into service by 2035," Airbus CEO Guillaume Faury in a statement. "Together with the support from government and industrial partners we can rise up to this challenge to scale-up renewable energy and hydrogen for the sustainable future of the aviation industry."
Boeing (NYSE: BA) has also been exploring ways to reduce emissions, introducing an ecoDemonstrator program that uses a series of specially modified aircraft to test technologies that can improve fuel efficiency and reduce noise. But the company has other issues to deal with right now, including getting the grounded 737 Max airborne.
Airbus is embracing hydrogen over other options because it believes hydrogen has the fewest compromises. Electric planes for example require heavy batteries, which limits their range and usability.
But even if the company is ready to produce hydrogen-powered planes by 2035 there is a lot of other work that needs to get done before they fly, including the build out of hydrogen transport and refueling infrastructure.
10 stocks we like better than Airbus
When investing geniuses David and Tom Gardner have a stock tip, it can pay to listen. After all, the newsletter they have run for over a decade, Motley Fool Stock Advisor, has tripled the market.*
David and Tom just revealed what they believe are the ten best stocks for investors to buy right now... and Airbus wasn't one of them! That's right -- they think these 10 stocks are even better buys.
*Stock Advisor returns as of August 1, 2020
Lou Whiteman has no position in any of the stocks mentioned. The Motley Fool has no position in any of the stocks mentioned. The Motley Fool has a disclosure policy.
Source