2 Reasons to Buy Nvidia and 1 Reason to Sell
Nvidia (NASDAQ: NVDA) investors are having a rough 2022 as the once-high-flying chipmaker has shed more than 42% of its stock value so far despite maintaining its impressive growth streak this year.
That's not surprising as the mood in the stock market is gloomy in general because of multiple factors such as surging inflation and fears of a recession. Additionally, Nvidia's warning that its sales are about to take a big hit this quarter from macroeconomic headwinds is worrying investors.
But then, there's still a lot to like about Nvidia despite its woeful stock market performance in 2022. The company serves fast-growing markets such as data centers, gaming, and automotive with its chips. What's more, it occupies a dominant position in those markets. However, those headwinds cannot be ignored, either.
So what should investors do in the wake of Nvidia's big drop in 2022? Should they buy this semiconductor play, or should they sell it to cut their losses? Let's check out two reasons to buy Nvidia stock and then see why it might be a good idea for investors to sell it right now.
Two solid reasons to buy Nvidia stock
Nvidia became famous thanks to its graphics cards that power games on personal computers, but the chipmaker has expanded the application of its chips into other lucrative areas. Data centers are one such market where there is a massive demand for Nvidia's graphics processing units (GPUs).
As it turns out, the data center business was Nvidia's biggest source of revenue in the first quarter of fiscal 2023 (which ended on May 1). The segment produced $3.75 billion in revenue, a huge jump of 83% over the prior-year period. So Nvidia's data center business is currently clocking an annual revenue run rate of $15 billion. And investors should note that the company is scratching the surface of a massive revenue opportunity in data centers.
There are two major types of opportunities for Nvidia in the data center market: GPUs and central processing units (CPUs). The company is the dominant player in the data center GPU space with an estimated market share of 80%, according to investment bank Jefferies. This bodes well for Nvidia as the data center GPU market could generate $29.8 billion in annual revenue by 2025.
Nvidia's data center business should continue to expand rapidly if it can hold on to its healthy share of this market. And given the company's product development moves, it won't be surprising to see it maintain its dominant grip in this space.
Graphics cards, however, are just one part of Nvidia's data center game plan. The company's move into the data center CPU market is the second major reason the stock is worth buying. Nvidia will launch its Grace data center CPUs in 2023. This move is going to open a whole new addressable market for the company as Nvidia doesn't sell a data center CPU yet.
Nvidia's rival Advanced Micro Devices, a key player in the data center CPU market, estimates that there is a long-term total addressable opportunity worth $42 billion in this space. So if Nvidia can corner even a small chunk of this market from next year, its data center business could get a big shot in the arm.
Nvidia has already landed multiple original equipment manufacturers that are expected to deploy Grace CPUs in their platforms. So don't be surprised to see it taking share away from its rivals in the data center CPU market and adding another solid growth driver to an already-booming business.
Why you might want to sell the stock now
Nvidia's steep slide this year has made the stock relatively more affordable than before. It is now trading at 46 times trailing earnings, which is half of last year's multiple. However, the stock is still richly priced as compared to the broader market.
The S&P 500, for instance, has an average price-to-earnings multiple of 20, indicating that Nvidia remains overvalued. Of course, the company has been growing at a terrific pace over the past few years to justify that expensive valuation.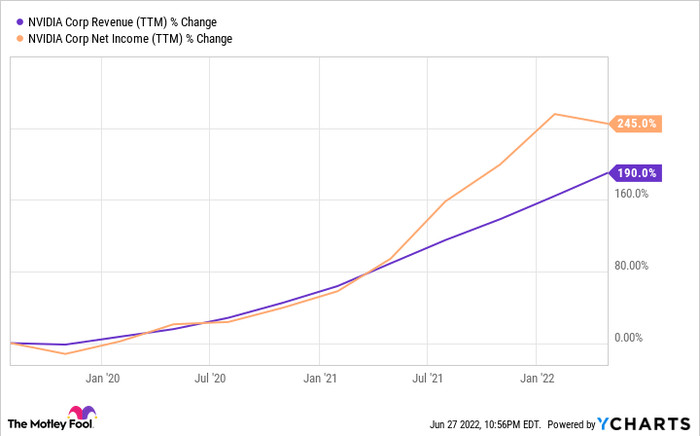 NVDA revenue (TTM). Data by YCharts. TTM = trailing 12 months.
But if macroeconomic headwinds continue to slow Nvidia's growth, then the stock could head lower in the near term because investors would be anticipating solid growth quarter after quarter from the company to justify its earnings multiple.
For instance, Nvidia's revenue in the current quarter is expected to increase 28% year over year to $8.1 billion after accounting for the $500 million hit caused by coronavirus-related lockdowns in China and no sales in Russia. The bottom line is expected to jump 21% year over year to $1.26 per share. While the year-over-year growth is respectable, it is worth noting that Nvidia's fiscal 2023 first-quarter revenue had increased 46% year over year, while earnings had shot up 49%.
This anticipated deceleration in Nvidia's growth could send the stock lower considering its rich valuation. That's why risk-averse investors might want to cut their losses and exit Nvidia. But they may want to keep a close watch on this tech stock and buy it if it gets cheaper amid the sell-off, considering its sunny long-term prospects.
10 stocks we like better than Nvidia
When our award-winning analyst team has a stock tip, it can pay to listen. After all, the newsletter they have run for over a decade, Motley Fool Stock Advisor, has tripled the market.*
They just revealed what they believe are the ten best stocks for investors to buy right now... and Nvidia wasn't one of them! That's right -- they think these 10 stocks are even better buys.
*Stock Advisor returns as of June 2, 2022
Harsh Chauhan has no position in any of the stocks mentioned. The Motley Fool has positions in and recommends Advanced Micro Devices, Jefferies Financial Group Inc., and Nvidia. The Motley Fool has a disclosure policy.
Source