Why Stitch Fix Stock Jumped Higher on Wednesday
What happened
Stitch Fix (NASDAQ: SFIX) shares were up 14.7% as of 10:32 a.m. EDT on Wednesday, after another blowout quarter. The company delivered solid earnings results for the fiscal fourth quarter. Revenue grew 29% year over year to reach $571 million, beating the consensus estimate calling for $547 million. The company even delivered a surprise profit, reporting earnings per share of $0.19, compared to analysts' expectations for a loss of $0.13.
The latest results follow the previous quarter's revenue growth of 44% year over year. Despite signs of momentum building in the previous quarter, the stock had been spiraling downward in recent weeks, reflecting very low expectations for the fiscal fourth quarter.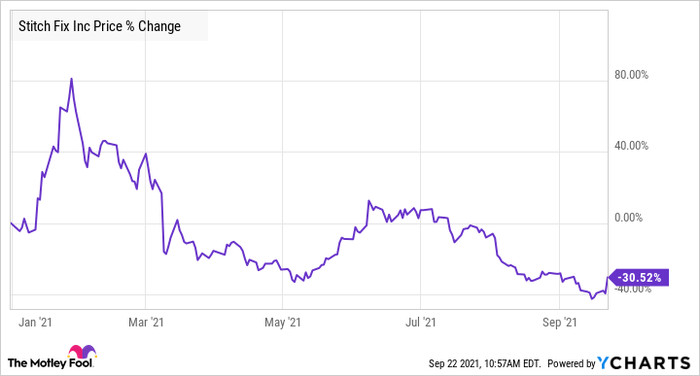 So what
Stitch Fix credited its growth to momentum in Women's Fix, growth in the kids segment, international expansion in the U.K., and the acceleration of its new Freestyle service.
CEO Elizabeth Spaulding said the triple-digit revenue growth results in fiscal 2021 in the U.K. "validated our international opportunity and have us excited for what's to come."
Freestyle is basically a progression of Stitch Fix's direct buy initiative that allows all clients to buy individual items directly from the company without having to order a Fix. This new offering has been instrumental in the company's recent momentum. In fiscal 2021, revenue from Freestyle more than doubled, reaching nearly 30% penetration among female clients.
Now what
With active client growth clocking in at 18% year over year, stable from the previous quarter's 20% rate, Stitch Fix appears to have made a full recovery from the pandemic. It achieved the same level of client growth in the same quarter two years ago before the pandemic.
Management's full-year guidance for fiscal 2022 calls for revenue to increase by a minimum of 15%. Based on the opportunities to drive greater purchase frequency with Freestyle in the year ahead, not to mention further growth internationally, the outlook might be on the conservative side.
10 stocks we like better than Stitch Fix
When our award-winning analyst team has a stock tip, it can pay to listen. After all, the newsletter they have run for over a decade, Motley Fool Stock Advisor, has tripled the market.*
They just revealed what they believe are the ten best stocks for investors to buy right now... and Stitch Fix wasn't one of them! That's right -- they think these 10 stocks are even better buys.
*Stock Advisor returns as of September 17, 2021
John Ballard owns shares of Stitch Fix. The Motley Fool owns shares of and recommends Stitch Fix. The Motley Fool has a disclosure policy.
Source