Why Stocks Like HubSpot, Datadog, Fastly, CrowdStrike, and Criteo All Pulled Back Sharply Today
What happened
While it's too soon to call this a bear market, the Nasdaq index officially entered correction territory on Thursday. A correction usually refers to a drop of 10% or more. As of 3 p.m. EST, the Nasdaq was down about 10.2% from all-time highs set in February. Therefore, with the tech-heavy index down so sharply, it wasn't surprising to see certain tech-stock darlings down today as well.
Stocks like customer relationship management company HubSpot (NYSE: HUBS), data-analytics business Datadog (NASDAQ: DDOG), content delivery network Fastly (NYSE: FSLY), cybersecurity operator CrowdStrike Holdings (NASDAQ: CRWD), and advertising-technology company Criteo (NASDAQ: CRTO) were all down between 5% and 10% as of this writing. Some had minor news to report. But by and large, they sold off with the market.
So what
In some cases, there's actually some material news to report. Ad-tech companies like Criteo are reeling after Alphabet's Google announced big changes to how ads will be delivered. Last year, the company said the days of the third-party browser cookie were limited. But this tool was something it and other ad-tech companies relied on to deliver targeted ads to consumers for their customers.
The end of the third-party browser cookie prompted The Trade Desk to spearhead a movement called Unified ID 2.0, a project Criteo and many other companies had signed on to. However, in yesterday's announcement from Google, the company made it clear that it didn't believe in the cookie alternatives being developed. Rather, it seems keen on pursuing something called interest-based advertising (officially known as "federated learning of cohorts" or FLoC for short).
Many are taking this news from Google as a bad thing for Criteo and company. But this take is likely premature -- we don't know what the outcome will be yet. In fact, an analyst with Craig-Hallum thinks independent ad-tech companies like Criteo actually stand to benefit from Google's decision. But on down days for the market, investors prefer to focus on the negatives.
To further prove this point, consider CrowdStrike stock today. This morning, the company announced brand new features for its CrowdStrike Falcon platform. On days when greed is running wild on Wall Street, it wouldn't be surprising to see CrowdStrike stock pop on news like this. It's hard to know the financial impact, but new features that automate mundane tasks and improve the user experience could help CrowdStrike continue to gain market share in the industry.
However, when fear is running rampant (as it is today), nothing seems to make a stock go higher. And fear is why technology stocks like HubSpot, Datadog, Fastly, CrowdStrike, and Criteo were down today.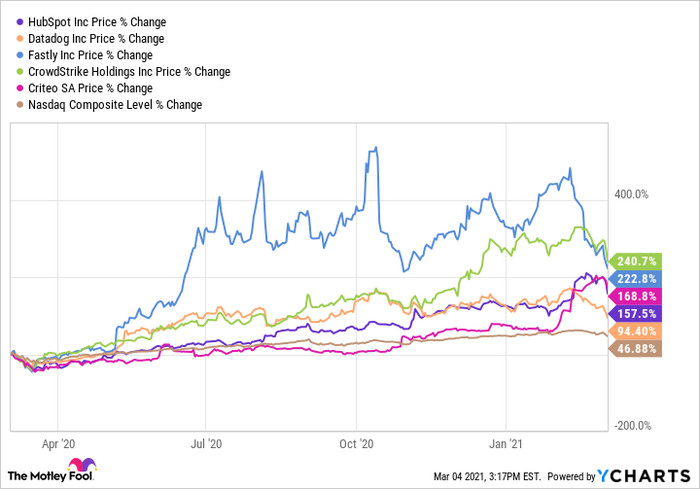 One-year returns for these technology stocks compared to the Nasdaq index. HUBS data by YCharts
Now what
On days like today, it's helpful to go back to the basics and remember some important truths. First, even after falling today, HubSpot, Datadog, Fastly, CrowdStrike, and Criteo have all been market-crushing investments over the past year. With market-beating investments like this, it's normal to expect sharp pullbacks now and again. In fact, we should be expecting them. And when stocks fall, they fall hard.
Here's some other sound investing principles to remember: If you were day trading, today would be devastating. Therefore, invest in good companies with the intention of holding them for years. And when investing with a long-term horizon, don't invest money you might need soon for a critical purchase and don't use margin. Otherwise, you may find yourself needing to sell at inopportune times.
When you're heeding solid principles like these, days like today don't wipe you out, allowing you to start looking for stocks you may want to buy at a discount. While we still have a long way to go for before stocks are screaming bargains, there's still plenty of good companies to invest in for less than you would have paid even just a couple weeks ago.
Finally, we can't predict whether today is the absolute bottom or not. Therefore, it's best to strap in and mentally prepare for more stock market volatility at some point in 2021.
Find out why CrowdStrike Holdings, Inc. is one of the 10 best stocks to buy now
Motley Fool co-founders Tom and David Gardner have spent more than a decade beating the market. After all, the newsletter they have run for over a decade, Motley Fool Stock Advisor, has tripled the market.*
Tom and David just revealed their ten top stock picks for investors to buy right now. CrowdStrike Holdings, Inc. is on the list -- but there are nine others you may be overlooking.
Click here to get access to the full list!
*Stock Advisor returns as of February 24, 2021
Suzanne Frey, an executive at Alphabet, is a member of The Motley Fool's board of directors. Jon Quast owns shares of Nasdaq. The Motley Fool owns shares of and recommends Alphabet (A shares), Alphabet (C shares), CrowdStrike Holdings, Inc., Datadog, Fastly, HubSpot, and The Trade Desk. The Motley Fool recommends Criteo and Nasdaq. The Motley Fool has a disclosure policy.
Source