More Good News for Winnebago Ahead of its Q2 Earnings Report
Shares of Winnebago (NYSE: WGO) have been soaring since hitting their pandemic low around $45 per share in November. The recreational vehicle giant restarted production after a brief pause last spring, and demand has never been stronger as consumers looked for products to help them spend more time outdoors.
Winnebago won't announce second-quarter results until late June. But investors recently got a preview of some potentially good news for the business from rival Thor Industries (NYSE: THO).
The industry is healthy
The big-picture takeaway is that the RV industry is suffering no slowdown as the pandemic threat wanes. Instead, Thor's results imply accelerating growth today.
Sales set a record, jumping more than 100% compared to coronavirus-impacted results a year ago. Thor is having trouble meeting demand at its dealerships. In fact, customers in some cases are committing to the products before delivery so they can secure their RVs. Backlog crossed $14 billion in early 2021, which means the manufacturer is already booked through at least early 2022.
For context, Winnebago in March hinted at a big finish to its fiscal year. Thor's results bolster that optimistic growth prediction: The company implied that sales would have been stronger this quarter if its manufacturing pace could fully keep up with demand.
Prices and bottlenecks
The sales spike at dealerships means margins are expanding in the industry because promotions aren't necessary to keep inventory moving. Thor reported higher gross profit margins in its towable and motor-home divisions, which supported a record $3.29 per share of earnings this quarter.
Winnebago might ride the same tailwind toward its own record profit haul later this month. Heading into the report, investors are expecting to see earnings rise to $1.76 per share compared to a $0.26-PER-SHARE loss a year ago.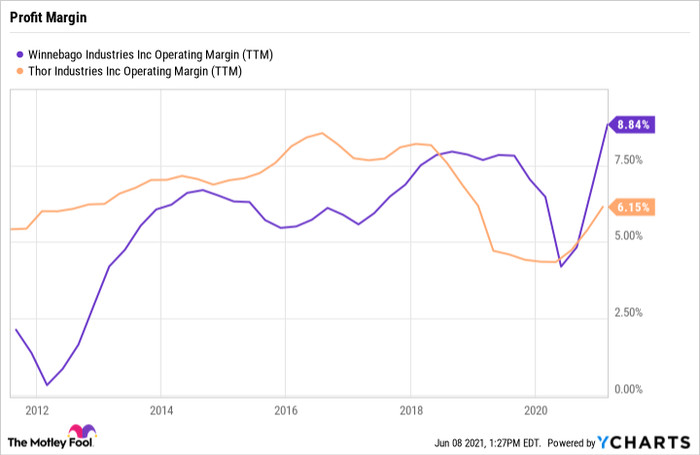 WGO Operating Margin (TTM) data by YCharts. TTM = trailing 12 months.
One big question is whether Winnebago succeeded at ramping up its production. If it did, and if shortages of vehicle components didn't create manufacturing bottlenecks, then the company is likely to show some head-turning improvements in efficiency, cash flow, and net income.
Looking ahead
Thor warned that supply-chain constraints could challenge growth over the next few months while adding risk by forcing the company to temporarily hold higher unfinished inventory. But its wider outlook is bright. The first-quarter sales figures "reflect the continued strong demand for our RVs," Thor's management said in the release. Consumer interest in recreation vehicles is still on the upswing as weather turns warmer in key markets like the U.S. and Europe.
Look for Winnebago to echo that bullish reading when it announces its updated results in a few weeks. Sure, the industry leader won't be able to avoid the supply chain challenges that Thor described. But its bigger sales base might give it room to work with suppliers and dealerships to deliver many more RVs to shoppers this year.
That's just the start of a long-term relationship, though, that usually results in a trade-up to more-premium towables and motor homes every few years. Thus, this consumer discretionary specialist has brighter prospects that go beyond just 2021's operating results.
10 stocks we like better than Winnebago Industries
When investing geniuses David and Tom Gardner have a stock tip, it can pay to listen. After all, the newsletter they have run for over a decade, Motley Fool Stock Advisor, has tripled the market.*
David and Tom just revealed what they believe are the ten best stocks for investors to buy right now... and Winnebago Industries wasn't one of them! That's right -- they think these 10 stocks are even better buys.
*Stock Advisor returns as of June 7, 2021
Demitri Kalogeropoulos has no position in any of the stocks mentioned. The Motley Fool has no position in any of the stocks mentioned. The Motley Fool has a disclosure policy.
Source