This Government Contractor Can Bounce Back After Losing Its Biggest Contract
Perspecta (NYSE: PRSP) faced a daunting challenge coming into its quarterly earnings report. Just a week prior, shares of the government services firm plunged after the Navy decided against renewing a contract that accounts for more than 15% of Perspecta revenue.
The company responded on Feb. 12 with an upbeat, but candid, earnings release and call that laid out the effect of the loss and how management intends to proceed from here.
"This is a setback to our plans, no question," CEO Mac Curtis told investors on the call. "As a company, we will weather the storm. We are confident we can grow our business."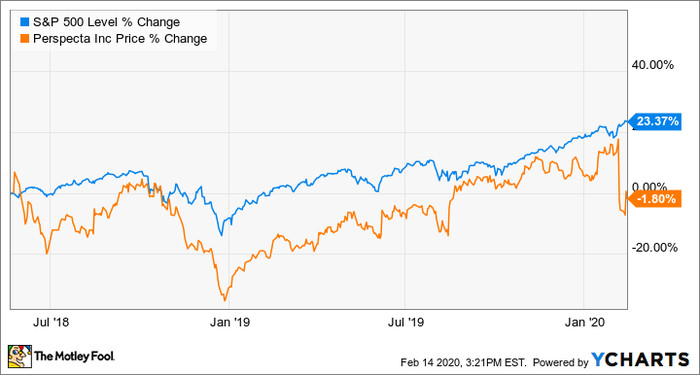 PRSP vs. S&P 500 data by YCharts
Uncertainty surrounding the so-called NGEN contract renewal, valued at up to $7.7 billion, has weighed on Perspecta since the company was formed via a three-way merger in June 2018. Now that the contract has been awarded, it's time to take a hard look at what comes next for Perspecta.
A slow, gradual unwind
Perspecta is still in the early stages of analyzing what went wrong with its NGEN bid and should gain more clarity on Feb. 24 when company officials are scheduled to meet with the Navy for a contract debriefing. Following that meeting, Perspecta will have five days to decide whether to protest or move on.
If Perspecta was to file a protest the award would likely be delayed, although contractors have to be careful not to file frivolous challenges that could sour relations and make it more difficult to win future business. Even if the company does not protest, it is under contract through the end of September at least, with three one-month options, meaning the revenue will not dry up overnight.
Though the effect might be delayed, the loss of NGEN would be substantial. Perspecta expects the program to contribute 18% to 19% of total fiscal 2020 revenue, or about $800 million, and $70 million to $80 million in fiscal 2020 free cash flow. Because of the long wind-down, the contract will continue into Perspecta's fiscal 2021 and contribute about $250 million in sales.
The loss could eventually also weigh on Perspecta's credit agreements, but those agreements calculate leverage ratio looking at trailing earnings numbers. So, the company won't see the full financial effect of the lost business on its net leverage numbers until late in its fiscal 2022, giving Perspecta time to try to backfill the lost business.
An otherwise strong quarter
Perspecta's fiscal third quarter results, though overshadowed by the NGEN discussions, hardly paint a picture of a company on the decline. Perspecta reported adjusted earnings of $0.55 per share for the quarter on revenue of $1.13 billion, beating analyst expectations for $0.53 per share on revenue of $1.1 billion.
Revenue was up 5% year-over-year, adjusted EBITDA was up 7%, and the company's free cash flow conversion rate was 109% of adjusted net income. Defense and intelligence work led the way, offsetting a slowdown in the company's civilian and healthcare segments.
Perspecta's bookings for the quarter came in at an impressive 1.42 times what it billed. Total bookings grew to $1.6 billion, with 77% of that total new business. Perspecta's bid pipeline at quarter's end stood at $80 billion, with $17 billion awaiting decision.
Perspecta raised the low end of its full fiscal year revenue guidance by $25 million to a range of $4.45 billion to $4.5 billion and increased the low end of its full fiscal year earnings per share guidance by $0.02 to a new range of $2.12 to $2.18.
Although the NGEN award was a large contributor to revenue, it was not a source of expected growth. Company officials also noted that with NGEN now behind it, Perspecta has minimal recompete risk on the horizon. Only about 8% of current business comes up for renewal in the next three years, freeing management to focus on winning new business instead of playing defense.
Can Perspecta navigate out of rough waters?
The challenge now for Perspecta is to continue to grow bookings to offset NGEN as it rolls off the books. On the call, Curtis sounded confident:
Over the last two quarters, we've been awarded $1.3 billion of awards, adding three new customers and we're focused on continuing to grow our program portfolio. The Perspecta value proposition created provides a solid foundation for continued growth. We are confident we can grow our business.
The market, however, is skeptical: Perspecta today trades at an enterprise value just 8.1 times forward EBITDA, well below the multiples of rivals including Booz Allen Hamilton (15.9 times), Leidos Holdings (15.4 times), or CACI International (14.5 times).
There is obviously significant risk for investors here, but for those who can tolerate the uncertainty it feels like a good time to buy in. Perspecta's strong pipeline should be able to at least partially backfill the NGEN loss, assuming there is no successful protest. And even if the company fails to convert that pipeline into wins, its existing book of business, in a consolidating industry, would make Perspecta an attractive target for a larger defense contractor.
The Navy torpedoed Perspecta's momentum. But given time, this company can still be an outperformer.
10 stocks we like better than Perspecta Inc.
When investing geniuses David and Tom Gardner have a stock tip, it can pay to listen. After all, the newsletter they have run for over a decade, Motley Fool Stock Advisor, has tripled the market.*
David and Tom just revealed what they believe are the ten best stocks for investors to buy right now... and Perspecta Inc. wasn't one of them! That's right -- they think these 10 stocks are even better buys.
*Stock Advisor returns as of December 1, 2019
Lou Whiteman owns shares of Perspecta Inc. The Motley Fool has no position in any of the stocks mentioned. The Motley Fool has a disclosure policy.
Source