Buy This Undervalued Stock Before Everyone Else Does
It's not often you can point to a stock with a valuation roughly twice the broader S&P 500 index and call it undervalued. It makes more sense when the company has grown revenue and profits by 300% and 527%, respectively, over the past decade. Factor in a 1,900% gain in the stock price over that time, and you might start calling it downright cheap.
MarketAxess (NASDAQ: MKTX) is the company that put up those numbers and appears to have a long runway ahead. Despite that, the stock trades at the same multiple it has in past years. Investors who pay attention to history can see that could be a recipe for more massive returns over the next five years and beyond.
A cheap valuation
The smartest investors accept that great companies almost always seem expensive. It's important to go further and show why.
When a company grows quickly for a long time, it can often end up producing earnings that are hard to account for with traditional metrics like a price-to-earnings (P/E) ratio. That's even true for valuation multiples that look out one year. MarketAxess is a great example of how this dynamic can play out over the long term.
| End of Year | P/E Ratio | Five-Year Forward P/E Ratio | Five-Year Stock Returns |
| --- | --- | --- | --- |
| 2020 | 56 | N/A | 430% |
| 2015 | 58 | 19 | 416% |
| 2010 | 31 | 10 | (18%) |
| 2005 | 39 | 10 | N/A |
Data Source: MarketAxess. N/A = not applicable.
Over the last decade, investors who were able to take a longer-term view made huge gains. The company was consistently growing earnings fast enough to make existing multiples less relevant. Although the current P/E is a lofty 56, MarketAxess grew revenue and earnings 35% and 46%, respectively, last year. That could justify the price, and then some.
Analysts' consensus is for earnings to only grow 2% this year. Even if that's true, it seems unlikely to last.
Why the growth will continue
Management has been able to grow the top line at almost 17% per year over the past decade, and there's a good reason why. The company operates an electronic bond trading platform that replaces the antiquated system of settling prices over the phone.
While relationships are important in the fixed-income market, price transparency and costs trump all. The company's platform delivers. It allows buyers and sellers to find each other at a cost that's 10% to 30% cheaper, according to dealers.
As volume on the platform has grown, much of the additional revenue has dropped to the bottom line. After all, once the platform is operating, it doesn't require a lot of additional investment. That's driven profitability above levels enjoyed by another dominant platform -- Facebook.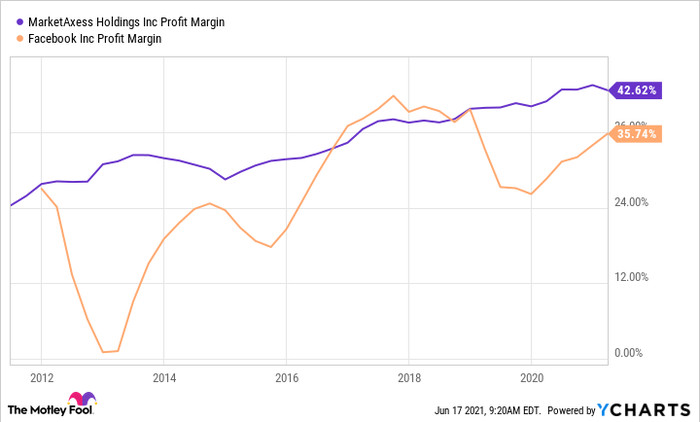 MKTX Profit Margin data by YCharts.
What to watch
To remain confident growth will continue, investors will want to keep their eyes on two things: market share and expansion. As more of the bond market moves to electronic trading, the company should continue to see its share of high-grade and high-yield bonds grow. Compared to the first quarter of last year, management reported share gains in both categories during its most-recent earnings call.
| Bond Category | Q1 2021 | Q1 2020 |
| --- | --- | --- |
| U.S. High-Grade | 20.5% | 20% |
| U.S. High-Yield | 15.6% | 12.2% |
Data Source: MarketAxess.
In addition to the growth in the U.S., MarketAxess is seeing robust growth internationally. The company's more than 900 clients grew volume 18% year over year in the first quarter of 2021. Asia-Pacific was a bright spot, with 57% growth.
Another area of expansion has been municipal bond trading. These securities issued by state and local governments to finance public projects represent a $4 trillion market. Although electronic trading only represented 9% of volume in 2019, that number was up from 6% in 2017. The company's trading in this category was up 75% year over year during the first quarter.
A crystal ball
Only time will tell if the combination of growth and a huge market opportunity will translate into market-beating returns. The company faces more competition than it did a decade ago, and logic would suggest that every subsequent percent of market share it gains will get tougher over time.
That said, the stock sits at the same seemingly high valuation it did five and 10 years ago. Investors who bought shares and held them were rewarded with life-changing returns. The situation appears very similar today.
10 stocks we like better than MarketAxess Holdings
When our award-winning analyst team has a stock tip, it can pay to listen. After all, the newsletter they have run for over a decade, Motley Fool Stock Advisor, has tripled the market.*
They just revealed what they believe are the ten best stocks for investors to buy right now... and MarketAxess Holdings wasn't one of them! That's right -- they think these 10 stocks are even better buys.
*Stock Advisor returns as of June 7, 2021
Randi Zuckerberg, a former director of market development and spokeswoman for Facebook and sister to its CEO, Mark Zuckerberg, is a member of The Motley Fool's board of directors. Jason Hawthorne owns shares of MarketAxess Holdings. The Motley Fool owns shares of and recommends Facebook and MarketAxess Holdings. The Motley Fool has a disclosure policy.
Source