My Top Renewable Energy Stock to Buy for 2022 (and It's Not Even Close)
After being one of the best-performing industries of 2020, renewables have since struggled amid supply chain issues, uncertainty regarding the future of solar subsidies and tax credits, and rising interest rates and inflation.
One of the few renewable energy stocks that had been performing well was SolarEdge Technologies (NASDAQ: SEDG). After reporting its Q3 2021 earnings on Nov. 2 2021, shares of SolarEdge proceeded to reach a new intraday all-time high of $389.71 on Nov. 22, 2021. But in just two months, the stock has plummeted over 45% and is currently trading around a 52-week low.
Here's why shares of SolarEdge are too good of a deal to pass up, even if the U.S stock market keeps falling.
Leading products
Over the last few years, SolarEdge has expanded its product offering. It now offers an integrated suite of residential and commercial solar solutions.
On the residential front, SolarEdge's bread and butter are solar inverters that convert the direct current (DC) energy generated by solar panels into alternating current (AC) energy used in homes. It also makes smart modules with power optimizers, smart energy devices that allow a user to monitor energy consumption and efficiency in the mySolarEdge app, electric vehicle (EV) charging solutions, and energy bank batteries to support EV charging. The commercial front is similar in that SolarEdge is selling power optimizers and inverters to larger customers.
Role in the solar energy industry
SolarEdge is a technology company that has developed leading solutions in the solar industry. This is a different business model than, say, a utility like NextEra Energy (NYSE: NEE), which is a vertically integrated rate-regulated utility that funds and operates utility-scale solar projects and then sells and distributes electricity to other utilities, local electricity providers, residential customers, businesses, etc. Companies like Clearway Energy or Brookfield Renewable invest and finance renewable energy projects and then pay dividends to shareholders based on project returns. A company like First Solar sells solar modules. Array Technologies makes ground-mounted tracking systems to improve solar panel efficiency.
The point here is that SolarEdge is a leaner, less capital-intensive, higher-margin business than other players in the solar industry. It isn't investing in massive projects or selling electricity. Rather, it's making and selling technology and hardware that supports the industry.
Record financials
Between 2016 and 2020, SolarEdge grew revenue at a 31% compound annual growth rate (CAGR) and emerged as the industry-leading inverter company in the U.S. residential solar space.
SolarEdge's relatively capital-light business model, effective cost management, and improved manufacturing allow it to maintain a consistently high gross margin even as it ramps revenue.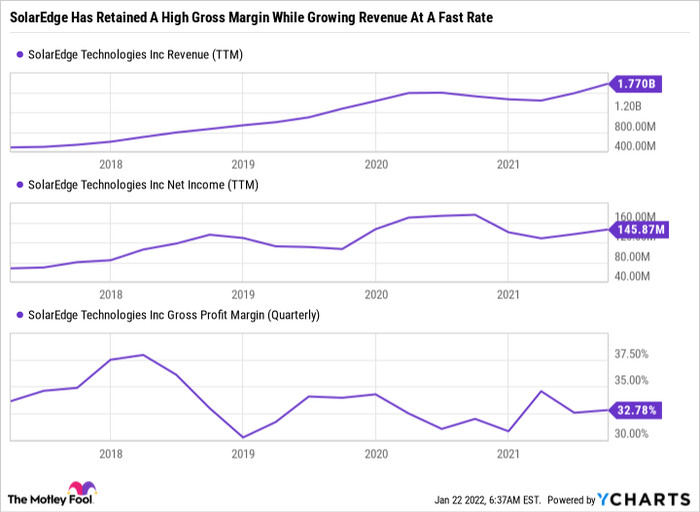 SEDG Revenue (TTM) data by YCharts.
Even though SolarEdge's gross margin is on the low end of its roughly 30% to 38% five-year range, it's still in good shape considering its costs have increased due to inflation. On its Q3 2021 earnings call, SolarEdge cited higher logistics costs as a reason for lower profitability. It chose not to pass along these costs to customers that had ordered products ahead of time. However, SolarEdge could increase prices in 2022 if inflation continues.
SolarEdge has consistently posted a gross margin that exceeds 30% due to strong demand for its inverters and power optimizers, as well as its ability to tap into the larger pool of the integrated residential and commercial solar ecosystem by expanding its product offering. SolarEdge is producing good results in a difficult market, and its products remain some of the best in the business.
Healthy balance sheet
Rising interest rates and inflation are particularly bad news for growth companies that lack profits and depend on debt. Many solar projects depend on debt financing, so it's no wonder why the renewable energy industry is struggling right now. However, SolarEdge is doing a good job with what it can control: its balance sheet.
As of Sept. 30 2021, SolarEdge had $526 million in cash and cash equivalents and another $631 million in deposits and investments compared to $621 million in debt outstanding -- which shows its business isn't overly dependent on debt. It's also a profitable business with positive free cash flow, so it doesn't depend on debt to grow.
An industry leader that is on sale
Given SolarEdge's strong performance and position in a growing space, it seems that the stock is being dragged down due to a slowdown in its industry, which is outside SolarEdge's control. Picking up a few shares of SolarEdge at a discount offers an attractive opportunity for investors that have been waiting to buy one of the solar industry's highest-quality businesses on sale.
10 stocks we like better than SolarEdge Technologies
When our award-winning analyst team has a stock tip, it can pay to listen. After all, the newsletter they have run for over a decade, Motley Fool Stock Advisor, has tripled the market.*
They just revealed what they believe are the ten best stocks for investors to buy right now... and SolarEdge Technologies wasn't one of them! That's right -- they think these 10 stocks are even better buys.
*Stock Advisor returns as of January 10, 2022
Daniel Foelber has no position in any of the stocks mentioned. The Motley Fool owns and recommends Brookfield Renewable Corporation Inc. The Motley Fool recommends Adobe Inc., First Solar, NextEra Energy, and SolarEdge Technologies. The Motley Fool has a disclosure policy.
Source